Traffic & Travel Tips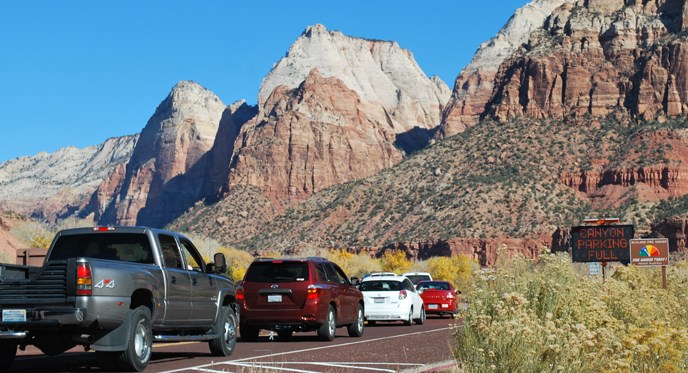 The daily shuttle service began on March 13, 2021 in both the park and Springdale. Shuttle service will operate daily until Fall. The Scenic Drive is closed to private vehicles when shuttles are in service.
The Springdale in-town shuttle line resumed on March 13, 2021. This free service provides transportation from the town of Springdale to the pedestrian entrance near the Zion Canyon Visitor Center.

Zion National Park shuttle ticket system is discontinued. In response to updated guidance on transit systems in National Parks and Covid-19, Zion National Park is discontinuing the temporary shuttle ticket system for Zion Canyon. Tickets for the shuttle will no longer be needed starting Friday, May 28, 2021. Previously purchased tickets will be given priority in shuttle line.
Overview
Visitation to Zion has increased to over four million visitors a year. The park established a seasonal shuttle system to eliminate traffic and parking problems. However, during high visitation there are long lines at the entrance gates and limited parking inside the park.

During non-shuttle season, Zion still experiences crowding. The Zion Canyon Scenic Drive will close to traffic once all legal parking spaces are full to ensure that emergency vehicles are able to access trailheads and to protect fragile vegetation along the road. Be prepared with an alternate plan during December, January, and February.
Where the Crowds Are
From early February through late November, visitation at Zion is extremely high. There may be significant delays entering the park, and once inside there is limited parking. Parking is usually full by 8-9 am. The best way to avoid delays entering Zion is to park in Springdale and ride the town shuttle to the park.

The Zion Canyon Visitor Center is also very busy with lines that regularly stretch to the visitor center doors. You can avoid long lines at the visitor center by planning your trip ahead and downloading the current Map and Guide.

There are other places to explore in the park that are not as busy as Zion Canyon, such as Kolob Canyons, the Kolob Terrace Road, and the east side of the park.

If you do visit during peak season, expect to see a lot of other people on the trails and shuttle. It is not uncommon for hundreds of people to hike to Angels Landing or The Narrows. The following holidays and weekends are especially busy:

1. Memorial Day (last Monday in May)
2. Easter week (date varies - usually in April)
3. Labor Day (first Monday in September)

Parking
Please park legally and responsibly in Zion National Park and the Town of Springdale
Zion National Park has limited parking space. Please park only in designated stalls. Vehicles parked outside of designated stalls are subject to citation and may be towed. Once all designated parking stalls in Zion are full, visitors should park in the town of Springdale and ride the town shuttle to access the Park. There is a charge for parking in the Town of Springdale. The pay stub for parking in town is not a Park entrance pass. Similarly, a Park entrance pass is not a town parking validation. Thank you for parking responsibly during your visit.

When parking lots in Zion are full, please remember:
Park in designated areas only. Do not park along roadways!
If a lot is full, do not wait for spots to open; move on and try again later.
Never park on vegetation or in a manner that blocks traffic.
Don't block the flow of traffic by waiting for a parking spot.
Your best option is often going to be paying for parking in Springdale. Then use the town shuttle bus to reach the park.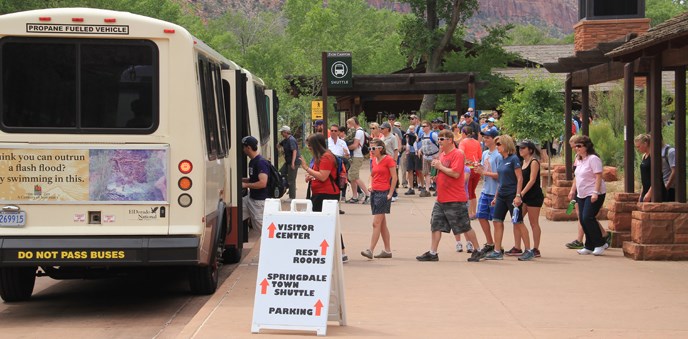 How to Avoid the Crowds
Avoid visiting on the holidays/weekends listed above.

Park in Springdale and ride the town shuttle to the park and enter though the pedestrian entrance.

Consider visiting during the off season when temperatures are cool and visitation is lower.

Visit less crowded areas of the park.

Avoid long lines at visitor centers by planning your trip ahead and download the Map and Guide.

Riding your bicycle on the Zion Canyon Scenic Drive is a enjoyable option.
Last updated: February 15, 2022