Traffic & Travel Tips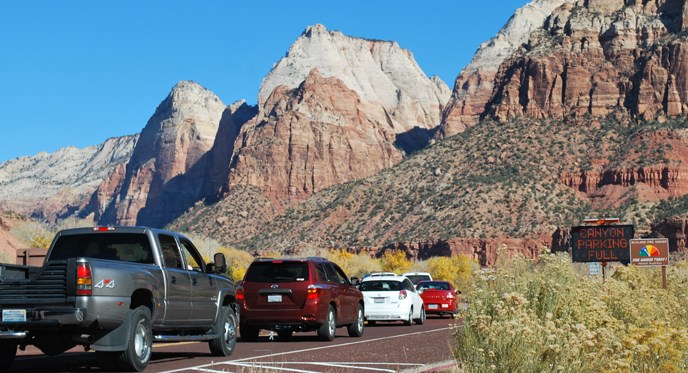 Overview
The park established a seasonal shuttle system to reduce traffic and parking problems. However, during high visitation there can be long lines at entrance gates and limited parking inside the park. In 2021, Zion recorded more than 5 million visits.

During non-shuttle season, when drivers are allowed on Zion Canyon Scenic Drive, it is often still busy at Zion. When the shuttle is not running, Zion Canyon Scenic Drive closes when there are no more legal parking spaces. This is to:
Reduce illegal parking that can hurt plants and animals.
Avoid gridlock that can slow medical responders, search and rescue team members, and law enforcement rangers responding to emergency call.
The road often closes in December, January, and February.
Where the People Are
From early February through late November, Zion can be very busy. There may be a wait at park entrance stations, and parking often fills by early- or mid-morning. You can avoid delays if you park in Springdale and ride the free shuttle to the park.

The Zion Canyon Visitor Center is also very busy with lines that regularly stretch to the visitor center doors. Avoid long lines at by planning your trip ahead of time and downloading our current Information Guide.
Other destinations
If it is too busy to go to Zion Canyon, consider visiting Kolob Canyons, the Kolob Terrace Road, and the east side of the park.

If you visit between February and November, expect to see a lot of other people on trails and the park shuttle. It is not uncommon for hundreds of people a day to hike on the Emerald Pools Trail or to The Narrows. Remember, everyone who goes to Angels Landing needs to have a permit.
Holiday weekends are especially busy
When you plan your trip, remember that Zion is a very popular place to visit on holidays. Some of the most popular weekends to come here include:
Easter week (date varies - usually in April)
Memorial Day Weekend (last Monday in May)
Independence Day (July 4)
Pioneer Day (July 24)
Labor Day Weekend (first Monday in September)
Parking
Please park legally and responsibly in Zion National Park and the Town of Springdale
Zion National Park has limited parking space. Please park only in designated stalls. Vehicles parked outside of designated stalls are subject to citation and may be towed. Once all designated parking stalls in Zion are full, visitors should park in the town of Springdale and ride the town shuttle to access the Park. There is a charge for parking in the Town of Springdale. The pay stub for parking in town is not a Park entrance pass. Similarly, a Park entrance pass is not a town parking validation. Thank you for parking responsibly during your visit.

When parking lots in Zion are full, please remember:
Park in designated areas only. Do not park along roadways!
If a lot is full, do not wait for spots to open; move on and try again later.
Never park on vegetation or in a manner that blocks traffic.
Don't block the flow of traffic by waiting for a parking spot.
Your best option is often going to be paying for parking in Springdale. Then use the town shuttle bus to reach the park.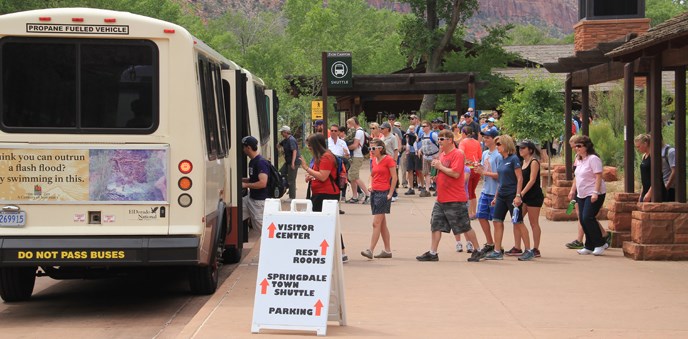 How to Avoid the Crowds
Remember that weekends are usually busier than weekdays, and holidays can be especially busy.

Park in Springdale and ride the free shuttle to Zion.

Consider visiting in December (except around the holidays) or in January (except Martin Luther King Jr. Weekend).

Visit less crowded areas of the park.

Avoid long lines at visitor centers by planning your trip ahead and downloading the Information Guide.

Ride your bicycle to avoid shuttles, but remember that bike riders must yield to bus traffic.
Last updated: December 20, 2022