Bicycling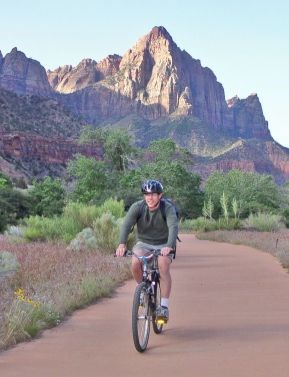 Help us protect the park and ensure a safe and enjoyable bicycling experience by following the rules and regulations below:
Bicycling is permitted on all park roadways and on the Pa'rus Trail. All other park trails, off-trail routes, and the Zion-Mt. Carmel Tunnel are closed to bikes.
Cyclists attempting to travel through the Zion-Mt. Carmel Tunnel must obtain a ride through the tunnel, which is often possible by hitchhiking. Rangers are not allowed to arrange for, or transport cyclists through the tunnel.
Bicycles must ride single file on the right side of park roads.
Bikes on the Zion Canyon Scenic Drive must yield to approaching shuttle buses in your lane of travel. Come to a complete stop out of the roadway to let them pass. Do not pass a moving shuttle bus.
Wear your helmet!
Cyclists are limited to groups of 6 bikes or less. Larger groups prevent vehicles from passing them in a safe manner on the narrow park roads. Groups of more than 6 bikes can split into smaller groups but must be separated by one quarter mile or more.
Last updated: May 29, 2019