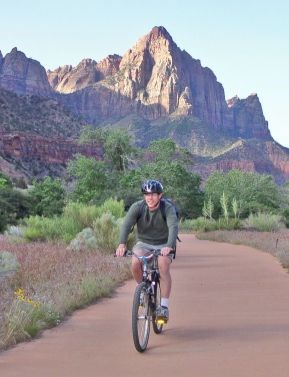 Help us protect the park and ensure you have a safe and enjoyable bicycling experience by follow the rules and regulations below.

Bicycling is permitted on all park roadways and on the Pa'rus Trail. All other park trails, off-trail routes, and the Zion-Mt. Carmel Tunnel are closed to bicycling.


Bicyclists attempting to travel though the Zion-Mt. Carmel Tunnel must obtain a ride through the tunnel, which is often possible by hitchhiking. Rangers are not allowed to arrange for, or transport cyclists through the tunnel.
Bicycles must ride single file on park roads and stop to let shuttle buses pass. Do not pass a moving shuttle bus.
Each shuttle bus has a rack for at least two bicycles.
Frequently Asked Questions about Bicycling