Bicycling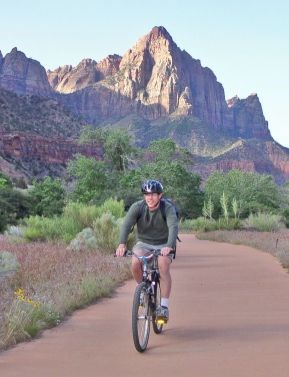 Help us protect the park and ensure a safe and enjoyable bicycling experience by following the rules and regulations below:
General Regulations
Bicycling is permitted on all park roadways and on the Pa'rus Trail. All other park trails, off-trail routes, and the Zion-Mount Carmel Tunnel are closed to bikes.
Bicycles must ride single file on the right side of park roads.
Wear your helmet!
Cyclists are limited to groups of 6 bikes or less. Larger groups prevent vehicles from passing them in a safe manner on the narrow park roads. Groups of more than 6 bikes can split into smaller groups but must be separated by one quarter mile or more.
Zion Canyon Scenic Drive
Bikes on the Zion Canyon Scenic Drive must yield to approaching shuttle buses in your lane of travel. Come to a complete stop out of the roadway to let them pass. Do not pass a moving shuttle bus.
Be especially careful when biking through Weeping Rock and Canyon Junction. These areas have limited sight and narrow lanes.
Pa'rus Trail
Bicyclists must obey all traffic signs including stop signs. The side trail to the Human History Museum is not open to bicycles.
There are lots of turns, bridges, blind corners, and wildlife along the trail. Cyclists must warn pedestrians before passing, either verbally or with a horn or bell. Pedestrians have the right of way. Bikes must stop if the path is not clear.
Be careful when passing dogs. The speed and sound of a bicycle can startle animals.
All Other Park Roads
Cyclists attempting to travel through the Zion-Mount Carmel Tunnel must obtain a ride through the tunnel, which is often possible by hitchhiking. Rangers are not allowed to arrange for, or transport cyclists through the tunnel.
These roads (Zion-Mount Carmel Highway, Kolob Canyons Road, and Kolob Terrace Road) have steep grades, sharp curves, and narrow sections with no shoulder. Use caution.
E-Bikes
Effective August 30, 2019, Class 1 pedal-assist E-bikes are allowed in the same locations as regular bicycles, and must follow all of the same rules. A Class 1 E-bike is defined as an electric bicycle equipped with a motor that provides assistance only when the rider is pedaling and that ceases to provide assistance when the bike reaches the speed of 20 miles per hour.

Frequently Asked Questions about Bicycling
Last updated: October 2, 2019