Accessibility
Accessibility in Zion
The park visitor centers, museum, restrooms, shuttle buses, picnic areas, and the Zion Lodge are accessible. Several campsites are reserved for people with disabilities, and the Pa'rus Trail and Riverside Walk offer accessible hikes. Service dogs are permitted on a leash throughout the park.

The orientation film offers captioning and the frontcountry trails video has an audio description. Accessible programs are indicated in the Ranger-led Program Schedule. Assistive listening devices are available by reservation for all ranger-led programs. Please visit the Zion Human History Museum for more information.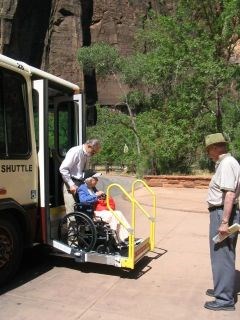 Zion Canyon Visitor Center
Located 0.2 miles from the South Entrance. Reserved parking spaces are available with accessible walkways leading to the building. Accessible unisex restroom, sales displays, water fountain, and information desk.
Zion Human History Museum
Located 1 mile from the South Entrance. Reserved parking spaces are available with a ramp leading to the building. Accessible unisex restroom, museum, sales display, and water fountain. The orientation film is open-captioned.
Kolob Canyons Visitor Center
Exit 40, Interstate 15. Reserved parking spaces are available with a ramp leading to the building. Accessible restrooms, sales displays, and exhibits.

Zion Canyon Transportation
From early March through mid-November access into Zion Canyon is by shuttle bus only. All shuttle buses are wheelchair accessible. Use of personal vehicles is restricted to those individuals requiring additional vehicle supported medical devices or when the shuttle bus cannot accommodate the individual due to weight or size restrictions. A special permit for personal vehicle use can be obtained from the visitor center or museum information desks by providing documentation of the medical condition.

Zion Lodge
The Zion Lodge is located in Zion Canyon. Access to Zion Lodge is restricted to wheelchair accessible shuttle buses from early March through mid-November. During the winter, reserved parking spaces are available with a ramp leading to the building. The snack bar, gift shop, restrooms, auditorium, and dining room are all accessible. Four hotel rooms are accessible. A wheelchair is available for loan. Contact the Zion Lodge for more information.
Picnic Areas
Visitor Center Picnic Area: Located 0.3 miles from the South Entrance on the outer edge of the visitor center parking lot. Picnic sites are level but unpaved. Most tables are extended. Accessible unisex restroom is available near the visitor center.
Grotto Picnic Area: Located 3.5 miles up the Zion Canyon Scenic Drive and accessible only by shuttle bus from early March through mid-November. Reserved parking spaces are available in the off months. Picnic grounds are level but unpaved. Accessible, unisex bathroom.
Kolob Canyons Picnic Area: Located at the end of the 5 mile scenic drive. Restrooms accessible. Tables located up steep, unpaved path.
Watchman Campground Accessibility
Watchman Campground has two accessible sites and multiple other flat sites with easy access to six accessible restrooms. The road access route to the Visitor Center and Shuttle Stop has grades of up to 5% for 30 foot stretches, but has trench drain covers across sections of road with openings wider than 1inch in certain locations. An alternate concrete and asphalt-paved pathway adjacent to the amphitheater through the river entrance plaza has slopes of up to 18% for 5' stretches and slopes up to 8% for 39 foot stretches. The amphitheater has accessible seating located on the top row.

South Campground Accessibility
South Campground has three flat sites, but no accessible facilities such as restrooms or trails. Campers staying in South Campground can travel .3 miles to the Watchman Campground to utilize accessible restrooms if necessary.

Trails
Riverside Walk: The Riverside Walk is 1 mile long, paved, and is accessible for the first 0.4 miles. This section has typical slopes of 1% to 2% and maximum slope of 5%, cross slopes vary from 1% to 2%, and it is 5 feet wide on average. There is an accessible resting / turnaround area identified with signage at the 0.4 mile point. Beyond the resting area, short sections of the trail exceed a 20% slope, the trail varies in width from 3 to 5 feet, and sand on the trail may make the surface slippery.
Pa'rus Trail: The Pa'rus Trail is a 1.5 mile, paved, 8 foot wide multi-use trail between the Zion Canyon Visitor Center and Canyon Junction with minimal grade change. The quarter mile closest to the Visitor Center is asphalt and may have cracking, but the remainder is concrete and mostly smooth and level. The majority of the trail has between a 2% and 5% slope, but one 30 foot section of the trail has an 18% slope and the ascent into Canyon Junction has a 14% slope for 60 feet. Much of the trail is exposed to direct sunlight throughout the day, and bridge surfaces may be slippery. Access from the Pa'rus Trail to the Human History Museum is uneven and rocky with large log steps and tight turns.
Service Animals
Service Animals are permitted on a leash anywhere in the park, including trails, backcountry, and buildings.
Learn more about Service Animals
Elevations
Park elevations range from 3,666 feet (Coalpits Wash) to 8,726 feet. (Horse Ranch Mountain).

Approximate elevations of common locations (in feet):
Zion Canyon Visitor Center: 4,000
Zion Lodge: 4,300
Temple of Sinawava: 4,500
East Entrance/Checkboard Mesa Viewpoint: 5,700
Kolob Canyons Visitor Center: 5,200
Kolob Canyons Picnic Area: 6,200
Last updated: October 8, 2018