Plan Your Visit
Please park legally and responsibly in Zion National Park and the Town of Springdale
Zion National Park has limited parking space. Please park only in designated stalls. Vehicles parked outside of designated stalls are subject to citation and may be towed. Once all designated parking stalls in Zion are full, visitors should park in the town of Springdale and ride the free shuttle to access the Park. There is a charge for parking in the Town of Springdale. The pay stub for parking in town is not a Park entrance pass. Similarly, a Park entrance pass is not a town parking validation. Thank you for parking responsibly during your visit.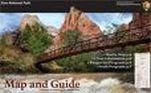 Map and Guide
Planning a trip to Zion National Park can be as challenging as exploring the park itself. The park newspaper contains a wealth of information to help you plan your visit.

Directions
Zion National Park is located on State Route 9 in southwest Utah.

Operating Hours and Seasons
Zion National Park is open all year.

Fees and Passes
All park visitors are required to purchase a recreational use pass upon entering Zion National Park.

Things To Do
Find out what there is to do in Zion, from hiking to horseback riding.

Brochures
The Map and Guide and other park brochures are available to view or download.

Your Safety
Your safety is your responsibility.


Last updated: January 31, 2019