Plan Your Visit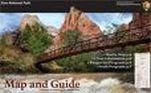 Maps and Information
Planning a trip to Zion National Park can be as much fun as exploring the park. Read our publications to get oriented and learn about things to do.

Shuttle Bus Information
The National Park Service provides free shuttle service in the town of Springdale and Zion Canyon. From early spring until late fall, visitors need to ride a shuttle to visit Zion Canyon. Learn more about where to park your car and when the shuttle runs on our
shuttle information page
.

Directions
Zion National Park is located on State Route 9 in southwest Utah.

Operating Hours and Seasons
Zion National Park is open all year.

Fees and Passes
All park visitors are required to purchase a recreational use pass upon entering Zion National Park.

Things To Do
Find out what there is to do in Zion, from hiking to horseback riding.

Brochures
The Map and Guide and other park brochures are available to view or download.

Your Safety
Your safety is your responsibility.


Last updated: April 5, 2023