The Narrows Permits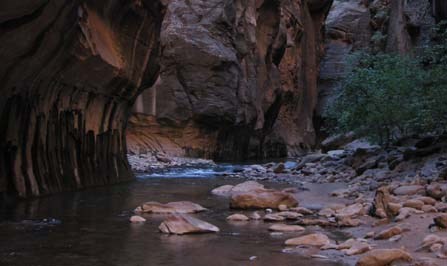 Hiking The Narrows from the top down, either in one day or two days, requires a Wilderness Permit.
Advance Reservations: up to 2 months in advance
Over half of all available Narrows permits are available using a calendar reservation system. Reservations are available online during a two-month time frame. On the fifth day of every month at 10:00 am MT, reservations for the next month become available. If they are still available, they can be made until 5:00 pm MT on the day before your trip.
There is a $5.00 non-refundable fee for an online calendar reservation, and there is an additional charge for a permit that is determined by the size of your group.
Last Minute Drawing: 7 to 2 days in advance
If there are no advanced reservations for the one day available, the Last Minute Drawing will become an option 7 to 2 days before your trip date. If spaces remain after the Last Minute Drawing, walk-in permits become available the day before your trip date.

Apply for the Last Minute Drawing for the day hike from top to bottom.
Walk-in Permits:
Some backpacking sites may be available as walk-in permits. Please inquire at the Zion Canyon Visitor Center the day before your trip.

Hours of Operation
Permit Costs:
$15.00 - 1-2 people
$20.00 - 3-7 people
$25.00 - 8-12 people
Zion Express Membership
Zion Express Membership allows visitors who regularly visit the park, and are familiar with the park resources to obtain a login account to create online reservations and convert them into Wilderness Permits from home.

To become a member, applicants must watch three orientation films at the Zion Canyon Visitor Center Wilderness Desk. (Membership cannot be obtained in the Kolob Canyons.)

After watching the films, applicants will sign a Zion Express Program Agreement form and obtain a username and password for their member account.

Before creating a reservation, members must login to their Zion Express account. Online reservations that are created before obtaining a Zion Express Membership, or without first logging in, CANNOT be converted into a Wilderness Permit from home.

There is no cost for enrollment. Membership is valid for the remainder of the current year and for the next two calendar years.

Memberships may be cancelled if any regulations are violated.
Last updated: March 1, 2021