The Narrows Permits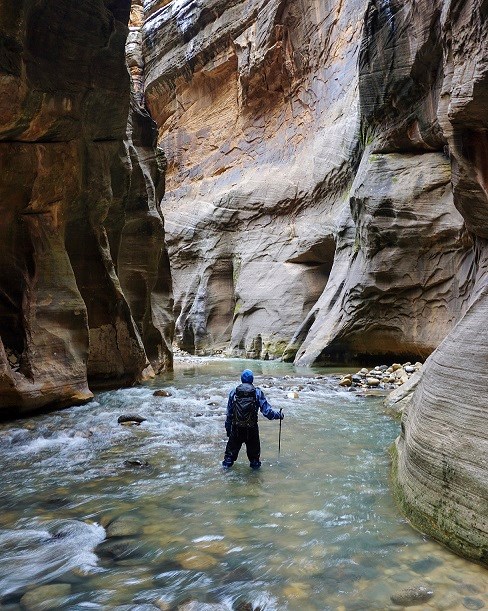 Wilderness Permits for the Virgin River Narrows:
Bottom-up day hiking trips (Permit not required)
(Step 1) Plan Ahead and Prepare
Top-down 16-mile trips through the Virgin River Narrows can be done as a very long single-day hiking trip, or as an overnight backpacking trip. Multi-night backpacking trips through the Narrows are not permitted. While preparing for your trip, consider your interests, time, and the ability level of your group. Come up with backup plans in case your first and second choices are not available. The Narrows may close at any time due to high water, flash flooding, and/or cyanobacteria toxins. Always have a backup plan in mind. Use the pages below to help plan your experience:
(Step 2) Check Availability of Reservations Online
Reservations are available online during a two-month time frame. On the 5th day of every month at 10:00am mountain time, reservations for the next month become available. If available, reservations can be made until 5:00pm mountain time, the day before your trip. Please be aware that most spaces will become fully booked for the next month within minutes of reservations opening on the 5th of each month.
Before making a reservation, check to determine which campsites and/or dates are available.

Check Availabilty for: Top-Down 16-Mile Narrows Day Hiking Trip
or
Check Availabilty for: Top-Down 16-Mile Narrows Overnight Backpacking Trip

Available dates will appear in green, and you will be able to click on the date in the top right corner. Dates that have already been reserved by another party will appear in red. The number in the bottom left corner is the group size limit for that site or area.
(Step 3) Apply for a Calendar Reservation
Make a reservation for your trip by going to the Zion Wilderness Reservations Login page. Click Create Account and enter your information. If you have an existing Zion Wilderness Reservations account, log in.
*Password should be exactly eight characters and include: an upper case letter, lower case letter, number, and special symbol (i.e. & % * ! $ #)
Once you are logged in to your account you can then make a reservation for your trip. Carefully read through and complete your reservation application. You will be required to pay a non-refundable $5.00 fee for your reservation. An additional fee will be paid when you obtain your Wilderness Permit.

Apply for a Calendar Reservation for: Top-Down 16-Mile Narrows Day Hiking Trip
or
Apply for a Calendar Reservation for: Top-Down 16-Mile Narrows Overnight Backpacking Trip
(Step 4) Once Calendar Reservations are Full
Last-Minute Drawing for Top-Down Narrows Day Hiking Trips: 7 to 2 days in advance
An online Last-Minute Drawing is an option when the Calendar Reservations for the are fully booked. Individuals can apply for the Last-Minute Drawing to obtain any remaining reservations for permits. The Last-Minute Drawing is limited to one request per individual, per canyon. Applications can be submitted seven days prior to a trip date, until two days before at 12:00pm MT. The online drawing is held at 1:00 pm MT, two days before the trip date. Applicants will then be sent a notification email with information about the status of their request. Any spaces not taken through the Last-Minute Drawing will be available as Walk-in Permits the day before a trip date.
Apply for the Last-Minute Drawing for: Top-Down 16-Miles Narrows Day Hiking Trip
Walk-In Permits for Top-Down Overnight Backpacking Trips: 1 day in advance
Six backpacking sites in the Virgin River Narrows are available as walk-in permits the day before your trip. All other backpacking sites in the park are available by online reservation only.
(Step 5) Obtain your Top-Down Virgin River Narrows Wilderness Permit
All Wilderness Permits for trips through the Narrows must be obtained in-person at the Zion Canyon Visitor Center Wilderness Desk.
Top-down Narrows day hiking permits must be obtained the day before the trip.
Top-down Narrows overnight backpacking permits may be obtained the day before, or early morning of your trip.
Come prepared with your trip itinerary and vehicle(s) information: make and model, color, state, and license plate number.
⚠️

Wilderness Permits cannot be obtained at the Kolob Canyons Visitor Center.
Wilderness Permit Fee:
$15.00 for 1 to 2 people

$20.00 for 3 to 7 people

$25.00 for 8 to 12 people
Zion Express Membership
Zion Express Membership allows visitors who regularly visit the park, and are familiar with the park resources to obtain a login account to create online reservations and convert them into Wilderness Permits from home.

To become a member, applicants must watch three orientation films at the Zion Canyon Visitor Center Wilderness Desk. (Membership cannot be obtained in the Kolob Canyons.)

After watching the films, applicants will sign a Zion Express Program Agreement form and obtain a username and password for their member account.

There is no cost for enrollment. Membership is valid for the remainder of the current year and for the next two calendar years.

Memberships may be cancelled if any regulations are violated.
Last updated: May 6, 2021