News Release
Zion prepares for a busy Labor Day Weekend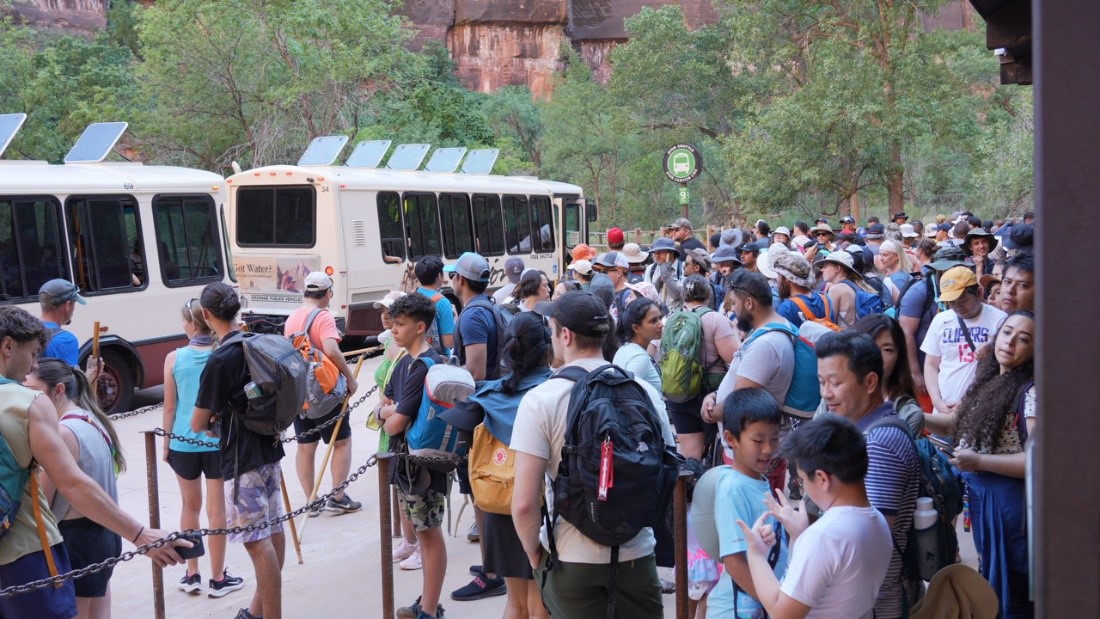 News Release Date:
August 28, 2023
SPRINGDALE, Utah – Zion National Park is expecting a busy Labor Day weekend Friday, September 1 through Monday, September 4, 2023. Expect long lines and traffic congestion in and near the park. 
 
Vehicle parking  Plan ahead to find a parking spot in Zion or Springdale 
Conserve plants by only using designated lots and never on unpaved areas where hot vehicles could start a wildfire. 

Parking is limited and often fills early. 

Park in Springdale to take the free Springdale Shuttle to the park's pedestrian entrance.

When parking in Zion is full, we may limit vehicle entry so that National Park Service shuttles and emergency vehicles are not stopped by congestion. 

Check current conditions for the latest updates. 

Shuttle service 
The Zion Canyon Shuttle System provides free rides in the park and Springdale to get you where you need to go. 
Springdale Line:  
The first shuttle leaves Majestic View Lodge at 7 a.m. The last shuttle leaves Zion Canyon Village at 8 p.m.  
Zion Canyon Line:  
The first shuttle leaves Zion Canyon Visitor Center at 6 a.m. The last shuttle leaves Zion Canyon Visitor Center into Zion Canyon at 7 p.m., and the last shuttle out of the canyon from the Temple of Sinawava leaves at 8:15 p.m. 

Know Before You Go 
Check the distance and difficulty of trails to make sure you're prepared for hikes. 

Drink a gallon of water per day, and pack salty snacks to avoid heat-related illness. 
Bring appropriate gear like sunscreen, a hat, hiking shoes, and walking sticks. 

Check the forecast before you get to Zion. Pay special attention to temperatures and the likelihood of flash floods. 

Getting around 
For non-recreational-drivers, the best way through the park is to go around the park. There will likely be heavy traffic all weekend, and there may be times through-travel is not possible.  
If you need to travel through the park during the holiday weekend and you do not plan to stop for recreation, consider alternate routes such as: 
Utah 20. 

Utah 14. 

US 89 – Arizona 389 – Utah 59. 

Attend a free ranger program 
Spruce up your park knowledge by attending a free ranger program! Zion offers guided hikes, talks at amphitheaters, ranger guided shuttle rides, and more. Find a ranger program that's right for you on our website: go.nps.gov/ZionRangerPrograms 

Photos and Video
Get public domain photos and b-roll of visitation.
www.nps.gov/zion
About the National Park Service. More than 20,000 National Park Service employees care for America's national parks and work with communities across the nation to help preserve local history and create close-to-home recreational opportunities. Learn more at www.nps.gov, and on Facebook, Instagram, Twitter, and YouTube
Last updated: August 28, 2023