Your Dollars At Work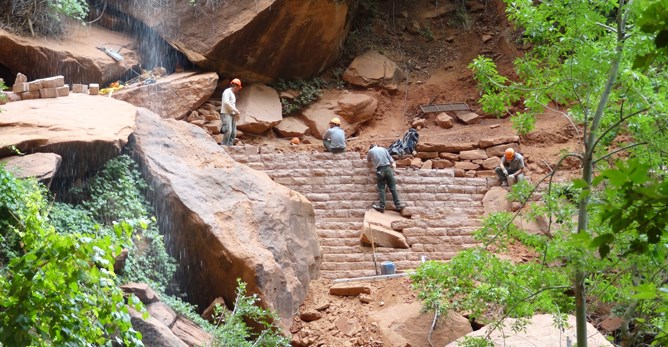 Zion National Park is being cared for today and for future generations by the National Park Service. Protecting our natural and cultural heritage while ensuring that visitors have a safe, enjoyable, and educational experience is expensive. As the number of visitors to parks continues to climb, government funding available for necessities such as road and building repairs, campground maintenance, visitor protection, resource protection and other services has not kept pace with demand.

In 2004, to address these needs, Congress signed the Federal Lands Recreation Enhancement Act (FLREA) which allows the U.S. Department of the Interior to implement an interagency Fee Program in three of its agencies-the National Park Service, the Bureau of Land Management, and the U.S. Fish and Wildlife Service. The program also includes the U.S. Department of Agriculture's Forest Service. The program directs funds collected from park visitors towards the maintenance of the facilities they are utilizing.
Zion National Park is a participant in the Interagency Recreational Fee Program. The program authorizes Zion National Park to keep up to 80% of the fees collected. These funds have been and will continue to be used for maintenance, repair projects, public service programs, signage, and natural and historical resource preservation, as listed below. The remaining revenue is generally distributed to parks that do not collect fees but have similar needs and to fund other servicewide initiatives.

Ongoing Projects
Design and Install New Water System at Kolob Canyon Visitor Center
Replace Left Fork Vault Toilet with Prefabricated Structure
Install Accessible Ramp from Lower Parking Lot at Human History Museum
Repair Drainage Structures on the Zion-Mount Carmel Highway
Repair Middle Emerald Pools Trail
Modify Pa'Rus Trail for Full Universal Access
Rehabilitate Watchman Campground Loop B
Renovate and Expand Kolob Visitor Center Restrooms
Replace & Expand South Entrance Fee Station
Repair Masonry Walls and Curbing on Riverside Walk
Create and Develop Historical Map Guides for Distribution to the Public
Remove Hazard Trees in Main Visitor Areas of the Park
Repair and Replace Lower Emerald Pools Trail Retaining Walls and Tread
Modify Temple & Grotto Shuttle Stops for Ease of Visitor Use & Accessibility Compliance
Create and Implement Landscape Management Plan at Zion Canyon Visitor Center
Replace Asphalt Paths Throughout Visitor Center & Watchman Campground with Concrete
Restripe and Replace Shoulder Base on Multiple Park Roads
Repave Switchbacks on Route 9 from Sandwich Rock to Nevada Pullout
Re-route and Repair Sand Bench Trail
Create a Demonstration Garden at the Human History Museum to Enrich Visitor Experience
Implement a Respect Wildlife, Watch Wildlife Program in Zion National Park
Replace Split Rail Fence on Seven Zion Canyon Trails
Create and Develop Virtual Museum Exhibit and Lesson Plans
Rehabilitate Big Bend Shuttle Stop to Facilitate Bus Options
Implement Redesign of Zion South Entrance Area
2020 Projects
Repair Drainage Systems and Tread Surface on Zion Canyon's Busiest Trails
Repair Historic and Non-Historic Rock Walls in Zion Canyon
2019 Projects
Upgrade Nature Center Exhibits for Visitor Benefit
Create Cultural and Natural Resource Websites and an App, and Image the Museum Collections
Provide Accessible Components in Watchman Campground
Redesign and Repair Culvert Head Walls on the Upper Zion Canyon Scenic Drive
Automate Riverwater Pump System & Renovate Visitor Center Irrigation
Remodel Motel B and A (Watchman and Sentinel) Vanity Areas
Repair Sand Bench Trail
Replace Hallway Ceiling Light Fixtures in Motel A and B at Zion Lodge
Rehabilitate Watchman Campground Loop A
Renovate Visitor Center Plaza to Reduce Maintenance & Maintain Shade Structures
Repair Flood Damaged Trail in Refrigerator Canyon
2018 Projects
Provide Stewardship by Restoring Hanging Gardens for Improved Visitor Experience and Education
Repair Trail Fences to Protect Critical Resources
Removal of Invasive and Nuisance Weed Species, Resource Condition Stewardship & Visitor Experience
Resurface and Replace Watchman Campground Roads
Create Virtual Hiking Trails for Park Visitors
Replace Cedar Shake Shingles on Zion Visitor Facilities' Roofs
Upgrade and Replace Portions of the Lodge Area Water Distribution System
Repair and Replace the Emerald Pools and Weeping Rock Trailhead Parking Lots
Repair West Rim Trail and the Sand Bench Trail
Replace Water Main from Grotto Tank to Zion Lodge
Pave & Light Existing Path to RV Parking
Rehabilitate Surface and Drainage Structures on Sand Bench Trail
Install Erosion Control Systems to Protect Roadways


Last updated: June 23, 2022