Contact Us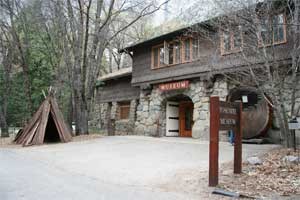 The Yosemite Research Library is a National Park Service (NPS) facility. It is located in Yosemite Valley in the Museum Building on the second floor. This building is next to the Yosemite Valley Visitor Center and adjacent to the NPS Administration Building. The Research Library began acquiring books in 1923. The collection emphasis is human and natural history of Yosemite National Park. It consists of books, "separates"/vertical file materials, periodicals, photographs, maps, news clippings, ephemera and video/audio tapes.
The library's resources are available to all park personnel and visitors; circulating volumes may be checked out by NPS, Nature Bridge and Yosemite Conservancy personnel. Other park employees may check out books on the same basis after making a one-time refundable deposit of $25.00.
Hours of Operation
The library is open to the public by appointment only.
There is no public parking in Yosemite Village, unless you have a handicap placard. Please park in a visitor parking area and use the free shuttle to access the museum.
Address
Physical address:
9037 Village Drive, Yosemite Valley, CA 95389
Mailing address:
Research Library, PO Box 577, Yosemite, CA 95389
Accessibility
The historic building that houses the YRL does not have an elevator. If you are interested in visiting the library and have accessibility needs contact the Yosemite Research Library directly.
Phone/Fax/Email
209/372-0280 (phone)
209/372-0255 (fax)
Last updated: October 16, 2019