Weddings and Other Ceremonies
Weddings and other ceremonies may be permitted in certain areas of Yellowstone National Park depending on location, group size, and the time of year or day. While the park can be an unforgettable backdrop for your special day, if you want to have a large, exclusive or decorated celebration, please consider locations outside of the park for your event.
A Special Use Permit is required for your ceremony to take place in any area of the park. Applications will be accepted up to 12 months in advance and no later than 2-4 weeks before the requested ceremony date. Due to changing conditions and resource issues, permits will not be issued more than a few weeks in advance; the approved permit must be with you during your event.
How to Apply and Fees
A $250 non-refundable application fee is required for your activity to be considered. Applications and payment must be submitted at least 2-4 weeks in advance depending on the time of year. More complex uses or activities may need more time, however, most applications will not be accepted greater than one year before your event.
Contact Us
National Park Service Special Use Permit Office
Open Monday through Friday, 8:00 am to 5:00 pm (MT)
Closed federal holidays
Office: (307) 344-2722
Wedding permits: (307) 344-2110
Fax: (307) 344-2112
e-mail us
Mammoth Chapel
Reservations (in addition to an SUP)
Phone: (307) 344-2110
Yellowstone National Park Lodges
Conference Service Manager
Phone: (307) 344-5519
Locations
Yellowstone National Park does not permit exclusive use of any area and there will be normal visitor activity during your ceremony.
Group size, season, and time of day will determine the approval of your requested location. In popular areas, such as Old Faithful or the Canyon Overlooks, there are designated locations to avoid congestion in these busy locations.
Canyon Area
Artist Point (in the treed area on lower platform). Maximum 40 people. Carpooling recommended for this location; parking is limited. Request may be denied during the busy season/ times of day.
Old Faithful Area
Designated location is on east side of Old Faithful Geyser (in gravel area directly in front of the Old Faithful Lodge). Maximum 40 people.
Parkwide Amphitheaters
Amphitheaters are a good place for a larger group gathering, however, please remember that you may not alter, change or decorate the space.
Thermal Areas
Limited space on boardwalks paired with high visitor use makes thermal areas a difficult place to safely hold a ceremony; most requests to get married in thermal areas will not be approved.
Mammoth Chapel
In addition to a wedding permit, a reservation (and additional reservation fee) is also required to use the Mammoth Chapel. Please make a reservation by calling (307) 344-2110.
Wedding Photographers and Caterers
Paid wedding photographers must obtain a Commercial Use Authorization; hired videographers must contact the permitting office for requirements as an additional permit may be required. Outside caterers are not permitted; please see below for dining options for your ceremony guests.
Indoor Ceremonies and Receptions
While the National Park Service will not "reserve" locations for your event or allow ceremonies to take place in government buildings (ex. ranger stations or visitor centers), Yellowstone National Park Lodges may be able to accommodate receptions or assist with indoor ceremonies. For more information on use of the concessioner facilities, please contact Yellowstone National Park Lodges' Conference Service Manager at (307) 344-5519.
Event Information
Entrance fees into the park are not waived for either ceremony participants or guests.
Site use is on a first-requested, first-served basis. If the location requested has already been booked or is unavailable, permittee will be contacted to discuss an alternative location or preferred date.
The ceremony permit does not allow your event to prohibit other park visitors from using your chosen location nor does it guarantee you a specific site.
The ceremony permit does not override current closures. If there are closures due to wildlife, weather, or other causes, please contact our office immediately to revise the permitted ceremony location. If we know about the closure in advance, we will contact the permit holder.
Visitor use may impact your ceremony; we recommend morning or evening event times in areas with high visitation and will advise you on this throughout the permitting process.
Paid photographers must contact our office for additional guidance and requirements.
The use of hardy flower bouquets and boutonnières are preferable, to ensure seeds do not fall and germinate. The use of native flower arrangements is also preferred; picking flowers from inside the park is prohibited.
Please respect park resources and tread lightly.
Car-pooling is recommended as parking may be limited.
Prohibited Activities
Please review our park regulations. In addition, the following activities often associated with weddings are prohibited:
The use of amplified music, microphones, or speakers.
The release/dispersal of living or inanimate objects (e.g. butterflies, bird seed, rice, or flower petals).
Unattended food items.
Outside caterers.
Decorations (e.g. balloons, archways) or directional signage.
The use of chairs, tables, or other furniture at the ceremony site (consideration is given to those with special needs). Use existing picnic tables and benches where available.
Restricting visitor use or blocking the flow of traffic.
Pets are not allowed on boardwalks, trails, or paths. Pets may accompany you in developed areas of the park. This includes any areas within 100 feet (30.5 meters) of roads, parking areas, and campgrounds (excluding thermal areas). Pets must always be kept under physical control - caged, crated, or on a leash not to exceed six feet in length. Please check with our office for specific areas.
More Information
Marriage License Requirements: The National Park Service does not require that a marriage license has been obtained for wedding ceremonies to take place within the park; please follow state requirements. Keep in mind that Yellowstone National Park is in Wyoming (Park County or Teton County), Idaho (Fremont County), and Montana (Park County).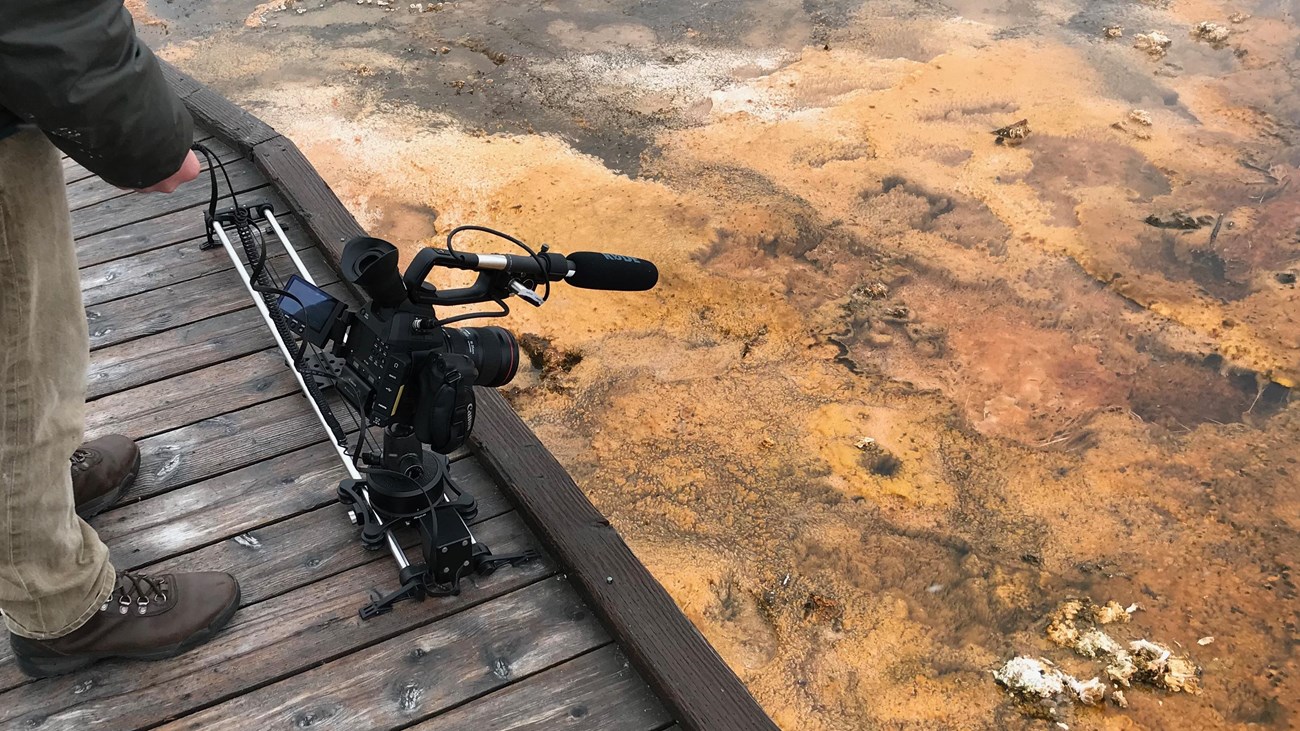 Special Use Permits
The National Park Service may require a special use permit (SUP) for certain activities to occur in Yellowstone. Learn more about SUPs.