Wilderness Ethics
"A thing is right when it tends to preserve the integrity, stability, and beauty of the biotic community. It is wrong when it tends otherwise."
-- Aldo Leopold, American ecologist and environmentalist
Is it possible to feel connected to a wilderness area that many other people love too? Yes! Wilderness offers many means for connection and appreciation. To help ensure that everyone has a positive and inspiring experience in wilderness, visitors should practice wilderness-friendly behaviors, as developed through the national Leave No Trace Outdoor Skills and Ethics Program.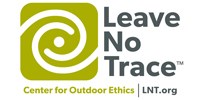 WHAT IS LEAVE NO TRACE?
Think about your favorite wilderness area: what do you appreciate most about it? Chances are, you enjoy seeing and hearing nature uninterrupted - plants, animals, sounds. Perhaps you like knowing that you may not see many people on the trail or other signs of heavy human use. These things are made possible, in part, by visitors that make conscientious choices to enjoy wilderness while minimizing their personal impact on the area. Leave No Trace helps promote these behaviors and offers ways for visitors to be informed, thoughtful wilderness stewards.

Leave No Trace includes 7 Principles:
1. Plan ahead and prepare
2. Travel and camp on durable surfaces
3. Dispose of waste properly
4. Leave what you find
5. Minimize campfire impacts
6. Respect wildlife
7. Be considerate of other visitors
Outdoor Ethics in the NPS
Last updated: April 2, 2019