Day Hiking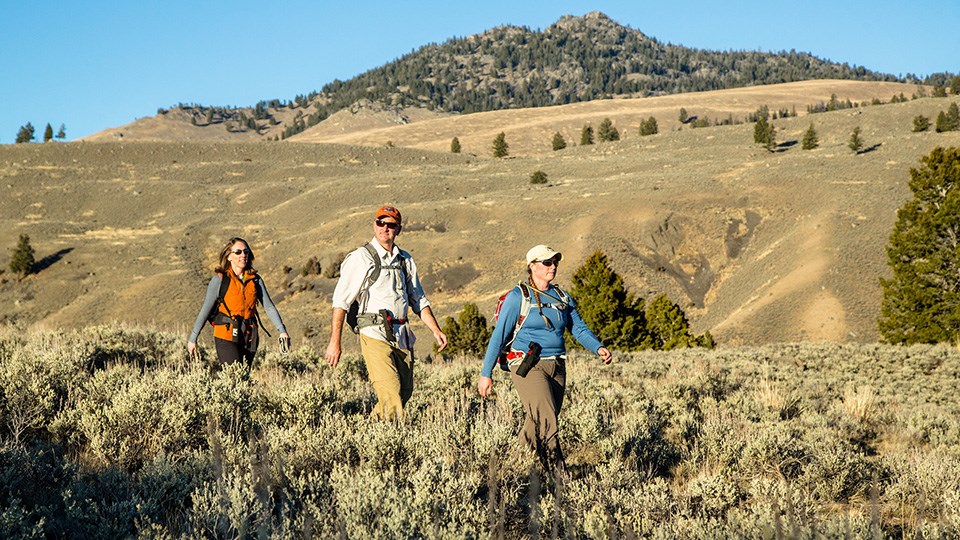 Yellowstone National Park is one of America's premier wilderness areas. The park encompasses more than 2.2 million acres, has more than 900 miles (1,449 km) of hiking trails, and is primarily managed as wilderness. Day hiking does not require a permit.
When planning a hike, remember that many of Yellowstone's trails are more than 7,000 feet above sea level. Most areas retain snow until late May or early June, and some (especially mountain passes) are snow-covered until late July. Also, many routes require fording rivers that can be 25 feet wide, 3 to 6 feet deep, extremely cold, and swiftly running during our late spring runoff. It's hard to tell from a map whether a stream will be a raging torrent or merely a swollen creek. Check our backcountry situation report for the most up-to-date information on park trails.
Find a Hike
Learn about day hikes in different areas of the park (including trail descriptions, maps, and printable PDF day hike guides by area) or click on the numbers of the map below to read brief descriptions of day hikes around the park.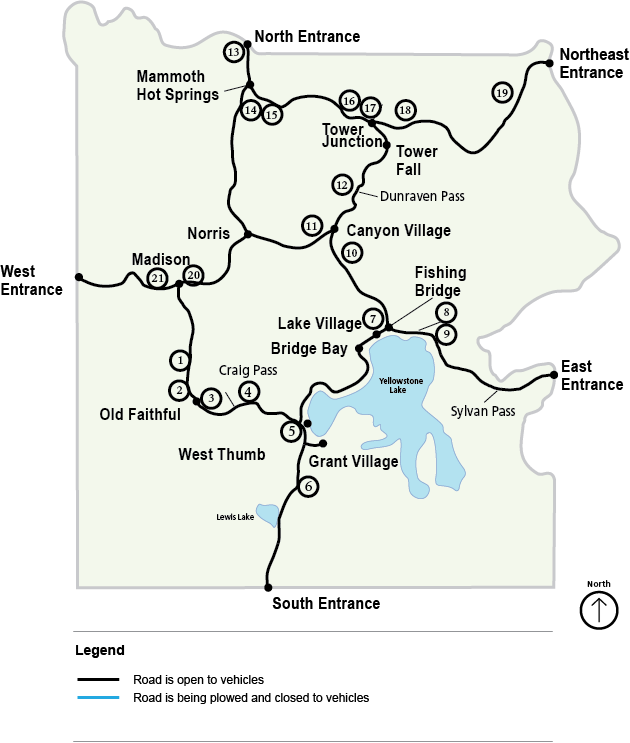 Your Safety
Visiting wilderness means experiencing the land on its terms. Here are some tips for exploring the natural wonders of Yellowstone on foot:
Begin your hike by stopping at a ranger station or visitor center for information or updates on trail conditions and area closures.
Tell someone about your plans, including your destination, route, and estimated time of return.
At a minimum, carry water, a raincoat or poncho, a warm hat, an insulating (non cotton) layer of clothing, insect repellent, sunscreen, and a first aid kit.
Stay on trails: taking shortcuts causes trail erosion and is dangerous. In hydrothermal areas, stepping on thin crust can plunge you into boiling water.
Stay alert in burned areas. Wind may topple standing dead trees.
Learn the best practices for traveling safely in bear country: hike in groups of three or more, make noise, and carry bear spray.
As a safeguard against Giardiasis, other parasites and bacteria, we recommend that you boil, filter, or chemically treat all water found in the backcountry before drinking it.
Lightning storms are common during summer: stay away from ridges, exposed areas, and isolated trees when lightning is present.
Read more about safety in Yellowstone...
Guided Trips
Not sure where to go or what to bring? Several commercial businesses offer guided day hikes in Yellowstone.
Visit our keyboard shortcuts docs for details
Duration:

4 minutes, 22 seconds
Most people visit Yellowstone from their cars. When they stop, it is at one of the park highlights which is crowded with visitors. The wise visitor sets aside some time for a longer dayhike.
Last updated: May 3, 2018