Current Exhibit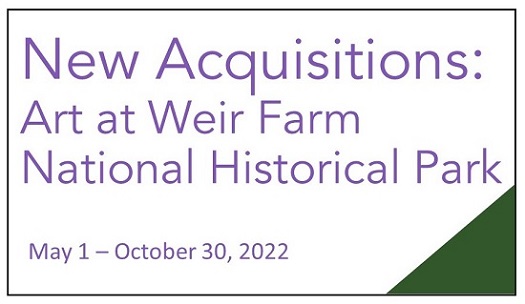 Weir Farm National Historical Park's permanent art collection consists of over 300 pieces. This includes large oil paintings by Julian Alden Weir and Sperry Andrews, bronze sculptures by Mahonri Young, and a growing collection of artworks by Dorothy Weir Young and Caroline Weir Ely.

The art owned by the park is in the public domain and it is widely shared in exhibits, interpretive programs, on social media and through loans to other museums. The park's mission is to preserve and interpret the art collection associated with the legacy and landscape of artists who lived and visited here. While they all found artistic inspiration in the beauty of Branchville's landscape, the emergence of the American impressionism movement also blossomed.

Weir Farm cannot purchase art using federal funds because of a clause written into the park's enabling legislation. To fill this gap, Weir Farm relies on the generosity of partners and individuals who donate art to the permanent collection and money to the acquisition account. Special thanks to the following individuals and groups for their generous gifts featured in this exhibit include:

The Weir Farm Art Alliance, The Friends of Weir Farm, Dr. Ballard Andrews, BEA, LLC., Caro Smith Bick, David Dufour, Lisa Lamson, Charles Lay, James Olinkiewicz and Lydia Ely Smith. A very special thank you also to those visitors who have donated to the park's acquisition account. It is through the generosity of these partners and individuals that Weir Farm National Historical Park's art collection has grown from its first acquisition in 1992 to over 300 works today.

New Acquisitions: Art at Weir Farm National Historical Park is on view in the Burlingham House Visitor Center from May 1 - October 30, 2022, 10:00 am to 4:00 pm Wednesdays to Sundays.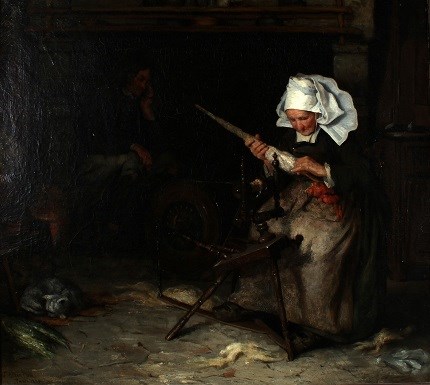 Julian Alden Weir (1852-1919)
Interior - House in Brittany
Oil on canvas
1875

Julian Alden Weir studied with Jean-Léon Gérôme in Paris and was greatly influenced by his classic artistry. Weir was so impressed, he attempted to study Gerome's artistic process, going so far as to rent a country home to paint, pay a model to spin all day, and even purchasing the costume she wore. Weir often wrote to his father and brother about the painting and received notes and criticism from them. In March 1875 it was finished and shipped to New York City for the National Academy of Design's annual exhibition.Weir considered this his "first picture" and gave it to Ann Coleman Alden, his benefactor, after the National Academy of Design exhibit.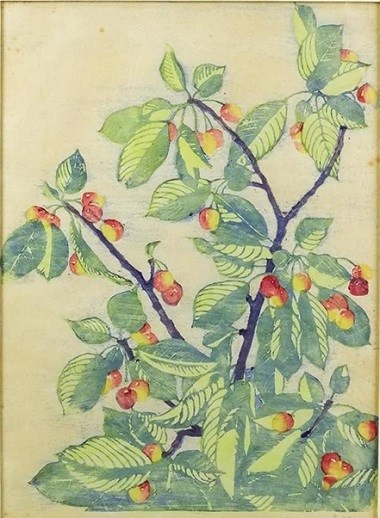 Dorothy Weir Young (1890-1947)
Cherry Tree Branch
Ink on Paper
Ca. 1930

A study of Dorothy Weir Young's linocuts, also called linoleum block prints, shows her progression as an artist. Linocuts flatten perspective and Young's earliest prints clash against the perspective rendering it an unsuccessful portrait. In Cherry Tree Branch, Young's style has matured and she demonstrates the successful use of a linocut to create a still-life in the most minimal form - a single tree branch placed on an empty background. Young uses overlapping leaves and vertical perspective successfully, resulting in the top of the branch receding into space.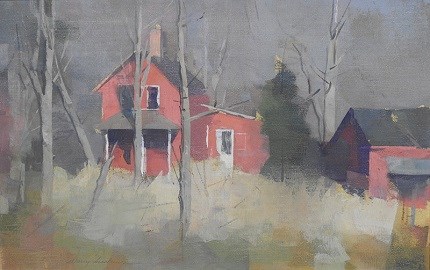 Sperry Andrews (1917-2005)
Gully House
Oil on canvas
1960

Gully House is painted in Sperry Andrew's early cubist style and shows the Caretaker's Cottage and Garage at Weir Farm. The title of the painting references the Gully family; William Gully was the last caretaker who lived and worked on the property with his wife Mary and their ten children from 1947 to 1958.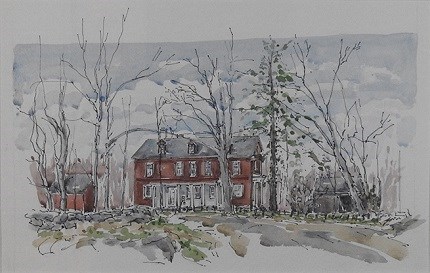 Doris Andrews (1920-2003)
Weir House
Watercolor on paper
n.d.

Doris Bass studied art at the Art Students League in New York after serving in the U. S. Army Corps of Engineers as a telegraph operator during World War II. She met fellow student Sperry Andrews in 1946 and they married in 1947. Like many female artists at the time, Andrews all but gave up her art career to raise their children and assist Sperry with his career.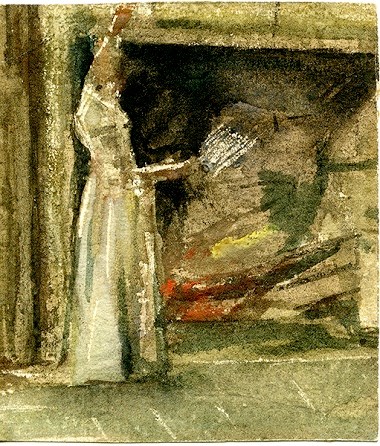 Julian Alden Weir (1852-1919)
Anna in front of Fireplace at Haddon Hall
Oil and gouache on paper
1889

Anna was probably standing in the Banqueting Hall at Haddon Hall when Julian sketched this moment.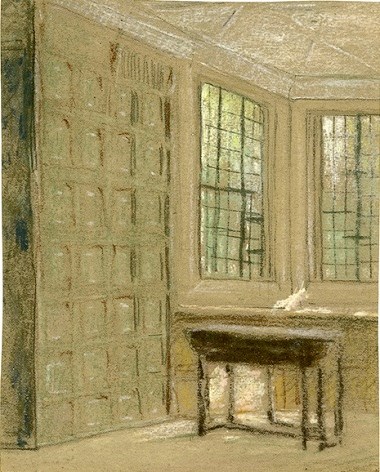 Julian Alden Weir (1852-1919)
Haddon Hall
Pastel on Paper
1889

In 1889 Julian, Anna, Caroline, and Gertrude Massery, a nurse for Caroline, traveled to England in an attempt to escape their grief after the death of Anna and Julian's son, Julian Alden Weir, Jr. One location they visited was Haddon Hall, a medieval estate north of London. Weir completed several drawings featuring Haddon Hall on this trip including the sketch above. Haddon Hall's gothic architecture and gardens provided him with a never-ending source of artistic inspiration.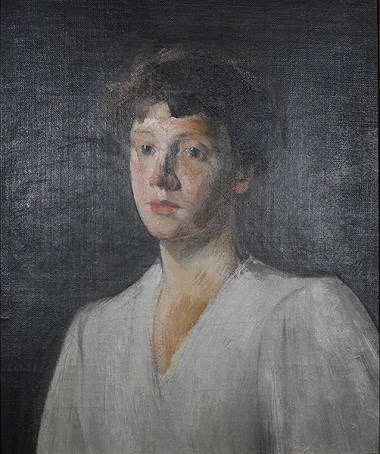 Julian Alden Weir (1852-1919)
Anna Dwight Weir in White
Oil on board
Ca. 1890-1892

Dorothy Weir Young records that this painting was "cut down from a full-length portrait" because "it was the only part finished." The portrait was likely left unfinished because of Anna's death in 1892; there are at least two additional paintings of Anna from that same time that Weir left unfinished.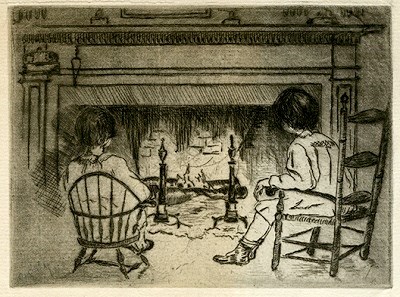 Caro Weir Ely (1884-1973)
Ann & Lyn in Front of Fire at Windham
Ink on paper
ca. 1925-1927

Caro Weir Ely was fascinated with etching after watching her father pour "the thrilling green acid" when she was just a child. She later studied etching with Joseph Pennell at the Art Students League in New York City in 1912. Even though we are viewing the children from behind, Ely created a scene so familiar and comforting, that the viewer feels they are sitting in front of the roaring fireplace in the same room with the sisters.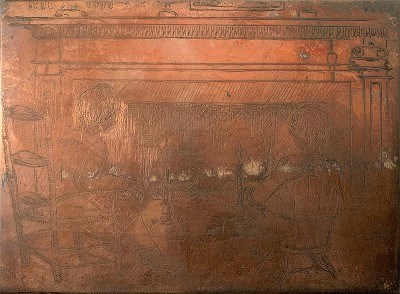 Caro Weir Ely (1884-1973)
Etching plate for Ann & Lyn in Front of Fire at Windham
Copper
Ca. 1925-1927

To learn how an artist creates an etching, please visit the Young Studio to view the short video Printmaking with the Copper Etching Process.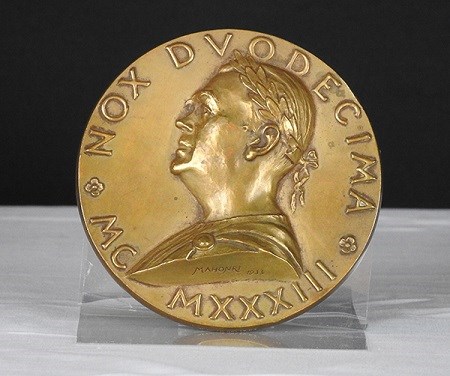 Mahonri Young (1877-1957)
Twelfth Night Celebration Medallion
Bronze
1933

The Century Association is a private club in New York City that defines itself as "made up of more than two thousand authors, artists, and amateurs of letters and fine arts." Mahonri Young was admitted as a member in 1917 and the Century was an important part of his social and professional life until his death in 1958. Young created several medallions for the organization, including this one that celebrated the Association's annual Twelfth Night celebration.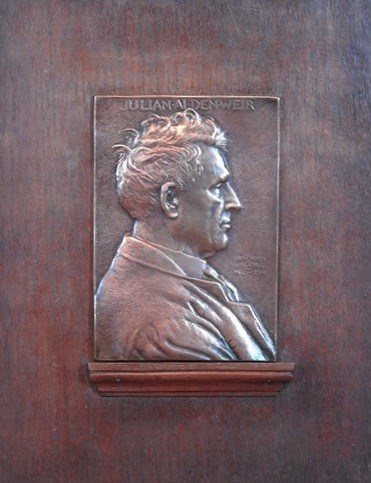 John Flanagan (1865-1952)
Julian Alden Weir
Bronze and wood
1918

John Flanagan, one of the preeminent medalists of the early twentieth century, was a student of the sculptor Augustus Saint-Gaudens. Flanagan created portraits of several respected American artists, including Childe Hassam, Joseph Pennell, Augustus Saint-Gaudens and Paul Wayland Bartlett. This portrait reveals stylistic influences from the work of Augustus Saint-Gaudens, especially in the treatment of the uppercase lettering punctuated by bullets.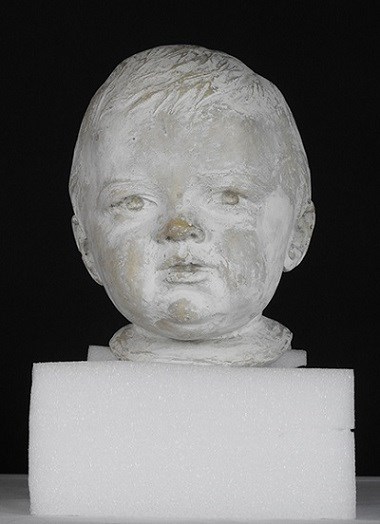 Mahonri Young (1877-1957)
Charles Lay as a Toddler
Plaster Cast
Ca. 1940

Mahonri Young worked on a small scale to create this tender, portrait bust of his grandson, Charles Mahonri Lay which is in contrast to his monumental works depicting his grandfather, Brigham Young. Lay fondly remembers visiting Weir Farm as a child and especially how his grandfather would "set up my sister and I with some clay from the large bathtub…and get us started on our own projects."

To see how artists use plaster casts please visit the Young Studio to view the video Bronze Casting Using The "Lost Wax" Technique.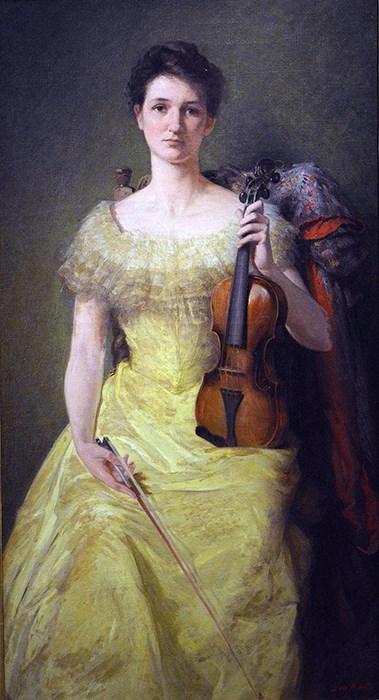 John Ferguson Weir (1841-1926)
The Rest (Edith Dean Weir)
Oil on canvas
1900

Edith Dean Weir Perry, an accomplished miniaturist, and the daughter of John Ferguson Weir, studied at the Yale School of Fine Art and the Art Students League. She received an Honorable Mention for her miniatures at the 1901 Pan-American Exposition in Buffalo, NY. Like Doris Andrews, she stopped painting after her marriage to raise her family. John Ferguson Weir is generally not known for his portraits; however, art historians consider The Rest (Edith Dean Weir) one of his best.
Last updated: May 5, 2022