Alerts & Conditions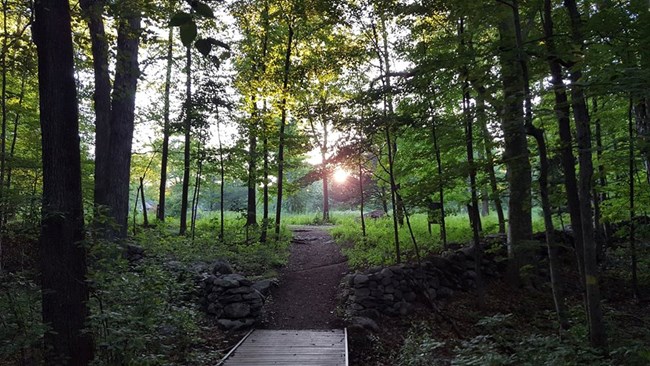 Off-Season (November - April)
Park Grounds and parking lot are open daily, sunrise to sunset, year-round. Currently, all buildings and facilities, including restrooms, are closed for the season. Visit the park on your own using maps, brochures, self guided tours, the National Park Passport Stamp, and Junior Ranger activities located on the front porch of the visitor center. Visitors can enjoy dog-walking, hiking, exploring the historic painting sites with a self-guided tour brochure, creating art with their own supplies, and more. Weir Farm is beautiful in any season!
COVID-19 and Mask Requirement: To protect the health of those who live, work, and visit national parks and National Park Service (NPS) facilities, and in support of President Biden's Executive Order on Protecting the Federal Workforce and Requiring Mask-Wearing, NPS is immediately implementing a mask requirement for employees, visitors, partners and contractors. At Weir Farm National Historical Park, face masks are now required in all park buildings and facilities. Masks are also required on NPS-managed lands when physical distancing cannot be maintained, including the Weir Pond trail. The public can find information about the requirement on the park website and on signs throughout the park. In addition, the following public health measures and temporary closures remain in effect:
All buildings and facilities are closed for the off-season. Please plan accordingly as there are no restrooms and no drinking water available. Park grounds and trails are open sunrise to sunset.
Short visits are encouraged so that as many visitors as possible can enjoy the park, get outdoors, and recreate responsibly.
Parking is limited and groups in 3 or more cars require a reservation. Small group visits (up to 10 people) permitted by reservation – call 203-834-1896 x11
As conditions are subject to change, visitors should check the park's website and social media channels for details on operations before they visit. Other tips to recreate responsibly are available on NPS.gov. Park rangers are on duty to provide information, protect visitors and park resources and uphold this requirement.

We have amazing virtual resources for Weir Farm NHP - check out options for a virtual visit, including our new virtual Junior Ranger program and online art exhibit.
Last updated: February 4, 2021