Mahonri Young
Mahonri Mackintosh Young was born in 1877 in Salt Lake City, Utah. After producing his first sculpture at thirteen, Mahonri pursued formal art education in Salt Lake City, New York, and Paris. In 1905, he'd settle in Salt Lake City, where he married Cecilia Sharp and had two children. Considered a member of the Social Realism movement in art, Mahonri enjoyed sculpting the working class and their labors. The death of Mahonri's wife Cecilia in 1917, prompted him to return to Paris for study. Upon his return to New York City, Mahonri Young would become quick friends with Julian Alden Weir's daughter, Dorothy Weir. The two shared a love for art. Soon after Dorothy and Mahonri would fall in love and marry in 1931. They would then move to the Branchville farm, where Mahonri worked on his largest commission, a monument entitled "This is the Place". Throughout his life, Young's work ranged from large monuments; to smaller sculptures of laborers and boxers in the Social Realist style; to intimate sketches of daily life at Weir Farm.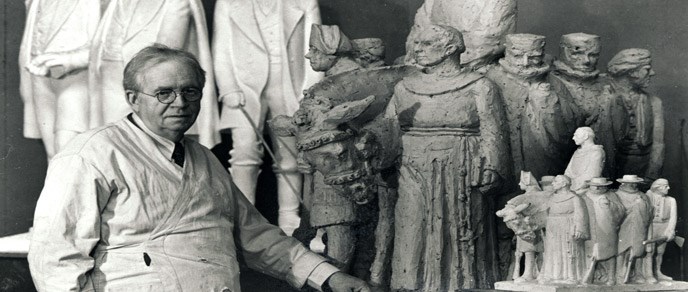 The World of Art (1877 to 1912)
Mahonri Mackintosh Young was born in Salt Lake City, Utah in 1877, into a well-known family; he was the grandson of the Mormon leader Brigham Young. His mother bought him a woodcarving set when he was thirteen, and he used it to create his first sculpture—a relief of Julius Caesar carved from an old wooden fence post. After more formal art studies in Salt Lake City and briefly at the Art Students League in New York, Mahonri spent several years in the art schools of Paris. During this period, he developed into a fully-formed artist, and he decided to focus on sculpture. Already, a series of studies he had done of Parisian laborers were attracting much attention.

In 1905, Mahonri returned to the United States, settling for a time back in Salt Lake City. Two years later, he married Cecelia Sharp, with whom he would have two children in the coming years. In 1911, he moved with his family back to New York. Here, he worked on two large commissions: one was the Seagull Monument, commissioned by the Mormon Church and bound for Salt Lake City, while another was a series of dioramas of the Hopi, Navajo, and Apache Indians for the American Museum of Natural History. The research for these dioramas included trips to the Southwest, which would inspire many sketches, paintings and sculptures. Also in New York, Mahonri held his first significant one-man show in 1912. One of the attendees was Julian Alden Weir. The fact that a leading artist like Weir found it worthwhile to attend the show was evidence of his growing reputation. "His friends ran the whole gamut of the art world," Mahonri gushed. Weir's attendance at the show was of note for another reason as well—unbeknownst to them, in twenty years, Mahonri would marry Weir's daughter Dorothy and become his son-in-law.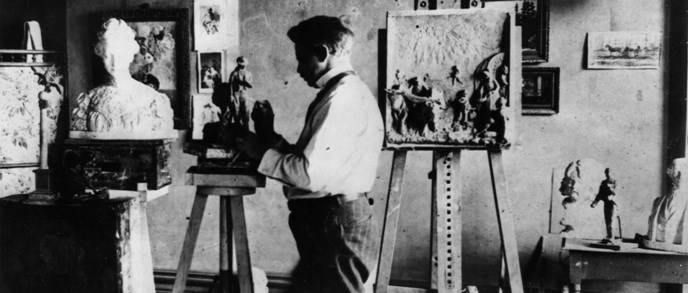 Tragedy and Triumph (1912 to 1947)
Personal tragedy came for Young in 1917 when he lost his wife Cecilia to cancer. He spent more time in Paris to recover, and once again returned to New York City. It was there, at a dinner in 1921 given by art collector Duncan Phillips, where Young first met Julian Alden Weir's daughter, Dorothy Weir. Her father had died in 1919, but Dorothy herself was an artist and involved in promoting her father's legacy. More coincidental meetings with the two followed, which then turned into planned meetings in Branchville, Paris and New York City as acknowledged friends. Young and Dorothy married in 1931, and he moved to Branchville in 1932. "No matter how friendly [J. Alden] Weir always was to us of the younger artists, he never introduced us to any of his three charming daughters," Young recalled. "We never met any of them until after he died. But it was no use. I married the most beautiful, the finest, the most talented of them, Dorothy." In 1932, Young commissioned his son-in-law Oliver Lay to build a new sculpture studio on the grounds of the Branchville farm. It was in here that Young would create his largest work. In 1939, he was awarded a long-awaited commission from the Mormon Church and the State of Utah for a monument commemorating Utah's early history. The monument he created, entitled "This is the Place," derives its name from the words Brigham Young said on entering Emigration Canyon, near Salt Lake City. Mahonri Young did all the work on the sculptures in his Weir Farm studio with the help of one assistant, Spero Anargyros. Although he considered the monument his crowning achievement, it was not accomplished without frustrations: his relationship with members of the monument commission was cantankerous; World War II made travel and working conditions difficult; and he was afraid his creative powers were waning. In the end, he had to fight to be paid. Nevertheless, at the dedication on July 24, 1947, he made the simple, poignant statement: "Next month, come the ninth of August, I will be 70 years old. This is the greatest day of my life."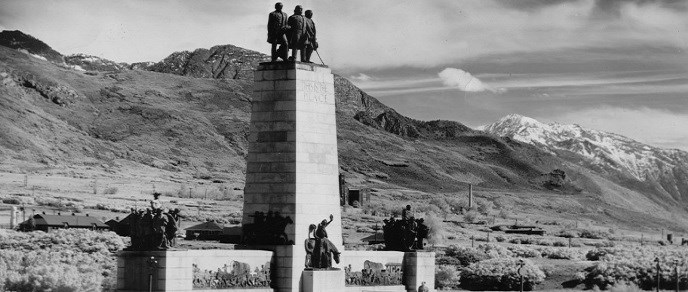 Art and Life (1947 to 1957)
What was the greatest day of Young's life was missing a very important person-his wife, Dorothy Weir, who had died two months previous to the monuments dedication. Young continued to live alone at the Branchville farm after her death, completing one last major commission. He was asked by the State of Utah to create a monument to Brigham Young, the state's choice for representation in Statuary Hall of the United States Capitol Building. The six-foot sculpture of a seated Brigham Young was unveiled in Washington, D.C. in 1950.
Besides the large monuments that Young created during his lifetime, many of his sculptures were smaller figures. Young was considered a Social Realist; he enjoyed sculpting the working class and their labors. Farmers, stone masons, construction workers were all popular sculpting and sketching topics. Boxers, too, fascinated Young. His sculptures of legendary boxers made his a well-known figure in the boxing sport, being "one of the few artists of the day whose work was discussed on both the arts and sports pages." Additionally, Young created many animal sculptures, featuring the goats and horses he encountered during his travels in the Southwest.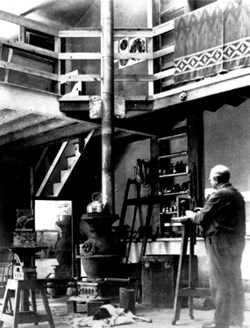 While many of Young's many projects kept him in his studio, he, like Weir before him, was too taken with the beauty of the Branchville farm landscape to remain indoors. Young had always been a prolific sketcher, even having his suit pockets specially-made to fit a sketchbook and pens. At the farm, his sketching flourished, with Young himself commenting that he "saw pictures everywhere." As a result, he always carried a sketchbook around with him to capture any particular inspirational scene. These pen and ink drawings are a valuable source of information about the landscape and life at the farm. Often, these sketches became watercolor and oil paintings as well, adding to the tradition of creating artwork on en plein air at Weir Farm.

Throughout his life, Young's work ranged from large monuments; to smaller sculptures of laborers and boxers in the Social Realist style; to intimate sketches of daily life at Weir Farm. Near the end of his life, Mahonri would befriend local artists Doris and Sperry Andrews. The Andrews family would help preserve the artistic legacy that was started by Julian Alden Weir. Young died on November 2, 1957, a few months after his eightieth birthday. As his son commented afterward, he "was a man who lived with no disconnection between life and art. His life and his art were a seamless web. One just flowed right into the other. He talked about art, he thought about art, and made art. Art in a very sense was his life."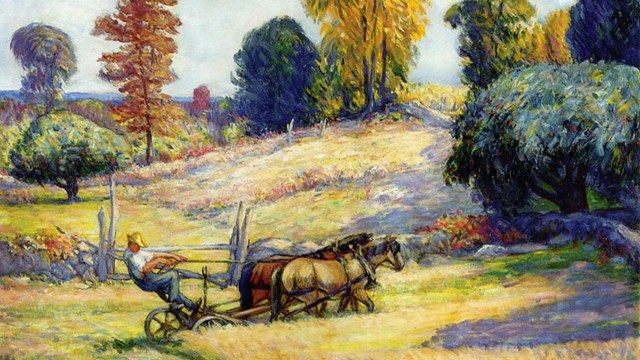 Mahonri Mackintosh Young (1877 - 1957)
Born in Salt Lake City, Mahonri Young married Dorothy Weir in 1931. His work ranged from large monuments to intimate sketches of daily life.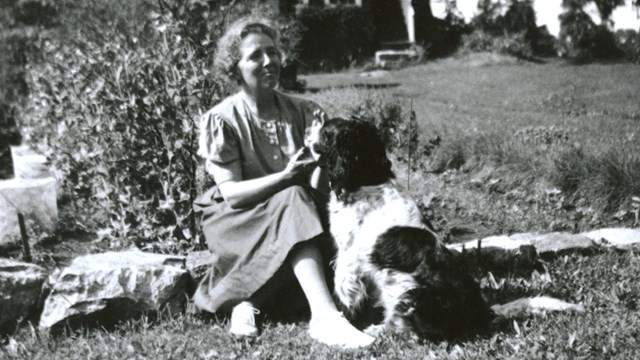 Dorothy Weir Young (1890-1947)
Weir's second daughter Dorothy continued her father's artistic legacy and and worked to preserve his inspiring story and work.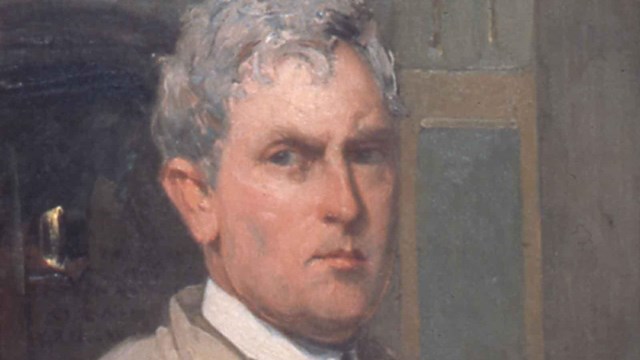 Meet the Artists
Learn about the prominent artists and their family members who lived and worked here.


Last updated: December 18, 2020