News Release
Weir Farm NHP Announces 2023 Art in the Park Contest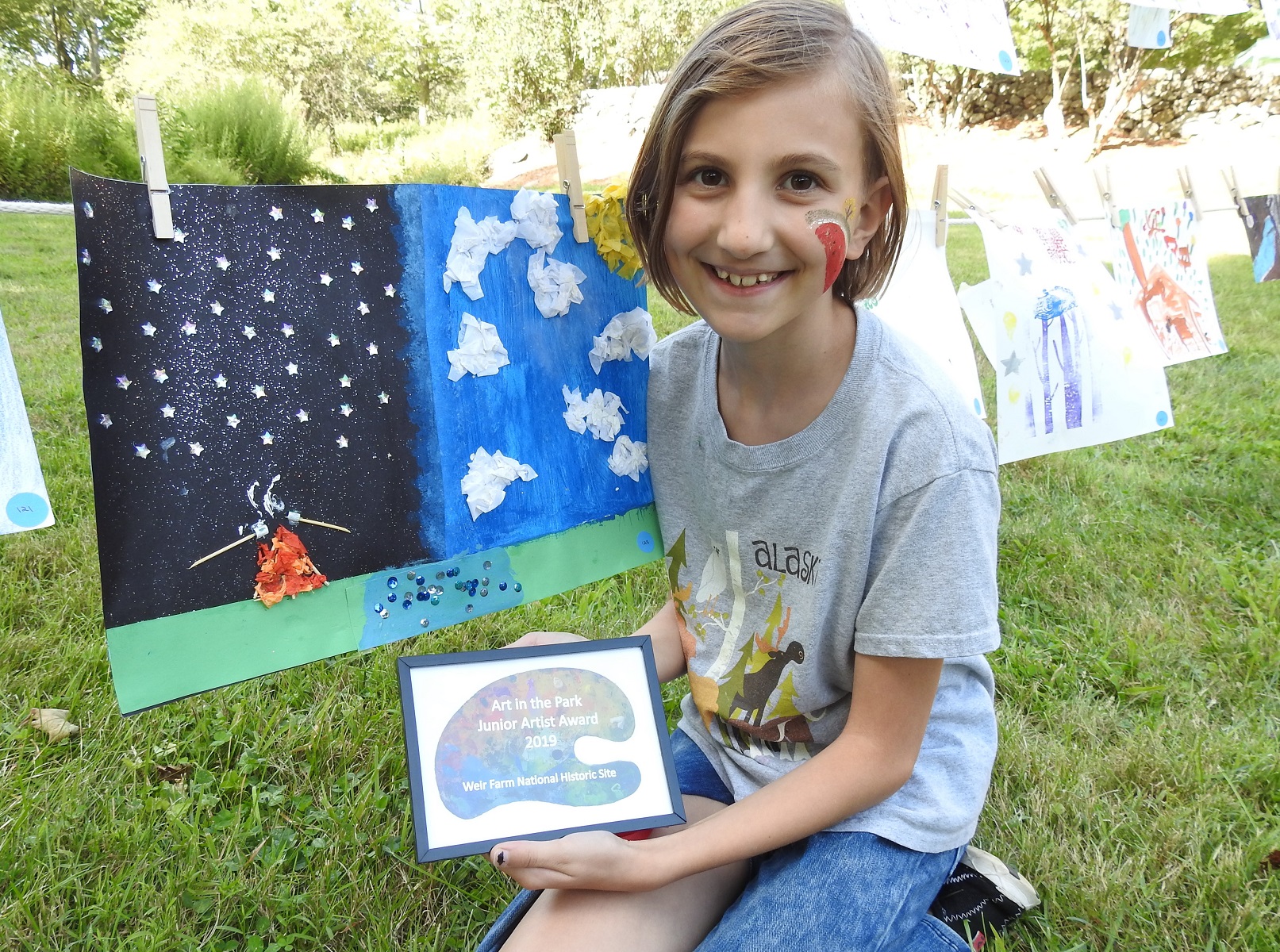 News Release Date:
June 2, 2023
WILTON/RIDGEFIELD, Conn. – Weir Farm National Historical Park's Seventh Annual Art in the Park Contest and Exhibit is officially underway! Join us in celebrating creativity at Weir Farm by participating and submitting a work of art. Any original work created at or inspired by Weir Farm in any visual art medium may be entered into the contest. This includes paintings, drawings, pastels, fabrics, sculpture, photographs, mixed media, and more! Submissions will be accepted online through September 1, 2023. Once entered, artwork will become part of a virtual exhibit that is focused on showcasing artistic inspiration and creativity at Weir Farm, launching on our website on October 1, 2023. Become part of our long lasting artistic tradition by sharing your artwork with us today!

To view last year's Art in the Park Contest Exhibit and winners: Click here!
Art in the Park Contest Rules:
Participants enter by filling out 

this form

 and by uploading an image of their artwork to

weirfarmart.com

. Uploaded images will also be added to the digital gallery in the Burlingham House Visitor Center. Teachers and group leaders can skip this form and email their group submissions.
All artwork must be submitted by end of day Friday, September 1, 2023.
Only digital submissions will be accepted, no in person submissions.
One submission per person.
Any original work created at or inspired by Weir Farm in any visual art medium may be entered into the contest. This includes paintings, drawings, pastels, photographs, fabrics, sculpture, mixed media. Works depicting other locations (ie Block Island, etc.) will not be accepted.
Entries will be judged on the use of color, quality of work, originality, creativity, and how well the work represents Weir Farm.
Contest categories include Junior Artist, Teen Artist, Beginner Adult Artist, and Advanced Artist for the public, and a NPS Staff, Partner and Volunteer category. There will also be a special category for Photography open to all ages. Judges reserve the right to move entries into different categories as they deem appropriate - for example in past years many intermediate or advanced adults submitted to the beginner category - this year any advanced work (such as a framed painting, work on canvas, work submitted by an artist with a website) may be moved from the Beginner Adult to the Advanced category.
The winner of the Advanced Artist category will receive the Weir Masterpiece Award.
All works will be included in a virtual exhibit on Weir Farm's website at 

www.nps.gov/wefa

, that will go live on October 1, 2023.
By entering the contest, the artist gives permission for the park to use images of the work on the park's website, social media, and print media. Advanced artists may request crediting or limitations on use.
Any questions about the contest? Email amanda_thibault@nps.gov.

A big thank you to Weir Farm NHP partners, G&B Cultural Center, Weir Farm Art Alliance, and Friends of Weir Farm for their support of all Art in the Park programs and this year's contest and exhibit!
 

About Weir Farm National Historical Park: Visit the home and studio of America's most beloved Impressionist, J. Alden Weir, and walk in the footsteps of a world-class artist. Set against a rural Connecticut landscape that has been painted by thousands of artists from 1882 to the present, Weir Farm is a national legacy of American Impressionism, the creative spirit, and historic preservation. Explore this National Park for Art and experience what Weir described as "The Great Good Place." Learn more at www.nps.gov/wefa and visit us on Facebook www.facebook.com/WeirFarmNPS, YouTube www.youtube.com/WeirFarmNHS, and Instagram @WeirFarmNPS.

About the National Park Service: More than 20,000 National Park Service employees care for America's 424 national parks and work with communities across the nation to help preserve local history and create close-to-home recreational opportunities. Visit us at www.nps.gov, on Facebook at www.facebook.com/nationalparkservice, Twitter www.twitter.com/natlparkservice, and YouTube www.youtube.com/nationalparkservice.
Last updated: June 2, 2023