Tour the Encampment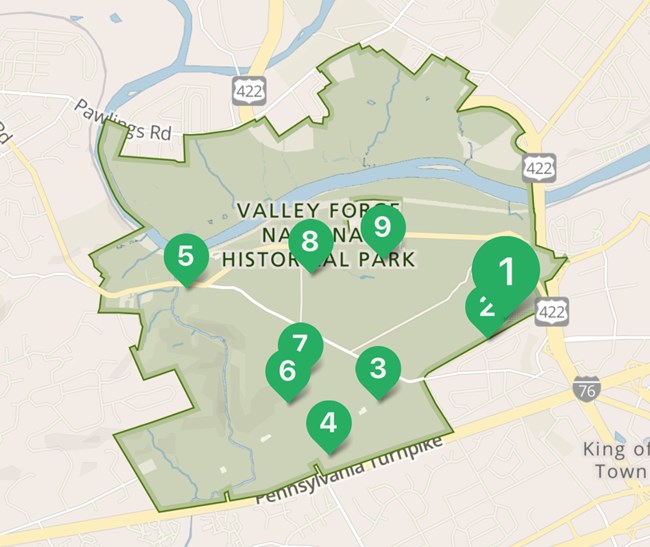 Encampment Tour Route
There are 9 major stops that comprise the Valley Forge Encampment Tour route. The route makes a loop and is 10-miles in length. On a first-time visit the route is best experienced by driving in a vehicle.
The self-guided driving route can take anywhere from 20 minutes to 2-3 hours to complete, depending on how often you stop and how much time you spend at each location. The Encampment Tour route includes some of the most scenic views of the park as well as many of the historic sites and monuments.
Ways to Experience the Tour Route
The Audio Tour is a 60-minute program that you can listen to in your vehicle while driving the Encampment Tour route. The character voices and period music of the program guide you as you drive to the park's historic locations and help you to envision the encampment at Valley Forge during the winter of 1777–1778. The Audio Tour is available for purchase as an audio CD, a downloadable MP3 file, or for streaming using a smartphone or tablet. You can purchase and listen to the Audio Tour by visiting The Encampment Store website.
When is the last time you took out your phone and actually dialed a phone number? Okay, it's not that wild of an idea, but maybe for some of us it's been a pretty long time — but if you find yourself wondering about the stories behind the monuments, historic buildings, or statues at Valley Forge, you can dial in to the Cell Phone Guide to learn more!
Last updated: April 27, 2021