Tour the Encampment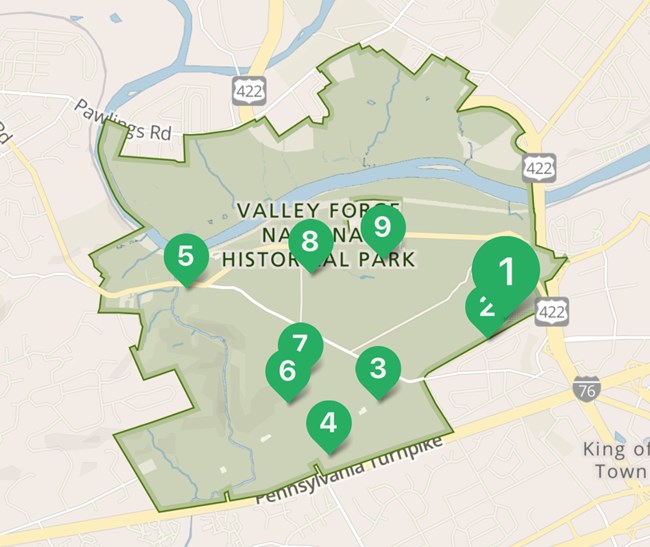 What is the Encampment Tour Route?
The Encampment Tour route is a 10-mile driving loop comprised of 9 major tour stops plus additional opportunities to stop and explore Valley Forge. On a first-time visit the route can be best experienced by vehicle.
Driving the route in your own vehicle can take anywhere from 20 minutes to 2-3 hours to complete, depending on how often you stop and how much time you spend at each location. The route features some of the most scenic views of the park as well as many of the historic sites and monuments.
Ways to Experience the Tour Route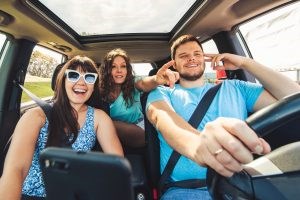 The Audio Tour is a 60-minute program that you can listen to in your vehicle while driving the Encampment Tour route. The character voices and period music of the program guide you as you drive to the park's historic locations and help you to envision the encampment at Valley Forge during the winter of 1777–1778.
The Audio Tour is available for purchase as an audio CD, a downloadable MP3 file, or for streaming using a smartphone or tablet. You can purchase and listen to the Audio Tour by visiting The Encampment Store website.
When is the last time you took out your phone and actually dialed a phone number? Maybe for some of us it's been a pretty long time — but if you find yourself wondering about the stories behind the monuments, historic buildings, or statues at Valley Forge, you can dial in to the Cell Phone Guide to learn more!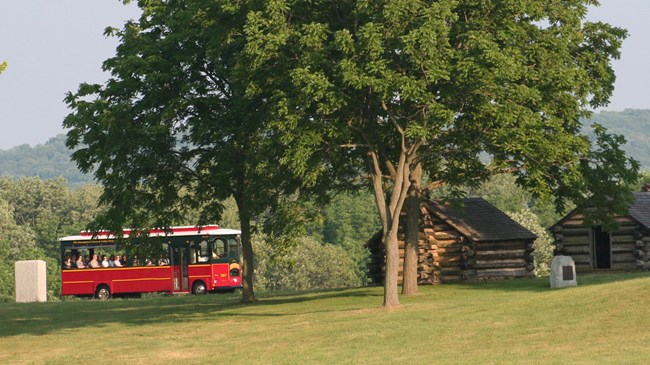 Enjoy a 90-minute guided tour of Valley Forge! Trolley tours depart from the front of the Visitor Center and make extended stops at Muhlenberg's Brigade and Washington's Headquarters. Trolley Tours are ADA accessible and administered by The Encampment Store.
Call The Encampment Store at 610-624-5010 for additional tour information and to reserve tickets.
Advance reservations are recommended. Tickets must be picked up at The Encampment Store gift shop in the Visitor Center at Valley Forge. Reserved tickets that have not been claimed are released five minutes prior to scheduled tours. Please plan to arrive at the Visitor Center no later than 30 minutes prior to the tour's departure.
Please note: Visitors are required to wear masks for the duration of the tour and groups will be spaced a row apart to maintain social distance.
Fall/Winter 2021 Schedule
Dates: Saturdays and Sundays in November (November 6, 2021 to November 21, 2021), plus Thursday, November 11, 2021 (Veterans Day)
Times: 11:45am, 1:45pm

Additional Holiday Dates and Times: Friday, November 26, 2021 (Day After Thanksgiving) to Sunday, November 28, 2021.
Sunday, December 26, 2021 to Friday, December 31, 2021 (New Year's Eve).
Trolleys run at 11:45, and 1:45 each day.
Ticket Prices
$18.00 – adults
$16.00 – students / seniors (62+) / military
$10.00 – children 11 & under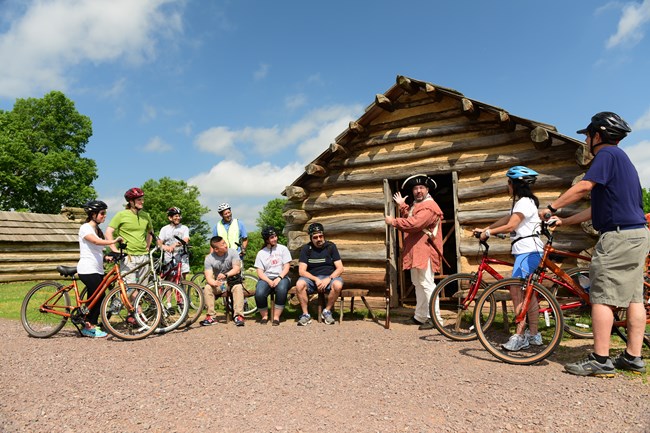 For those who want to explore Valley Forge on two wheels, The Encampment Store offers bike rentals, weather permitting. To rent bicycles, please call 610-551-7870 to make reservations, or visit the Bike Rental Shop at the Visitor Center lower parking lot.
For additional details or questions, please contact The Encampment Store..
Last updated: December 1, 2021