Tour the Encampment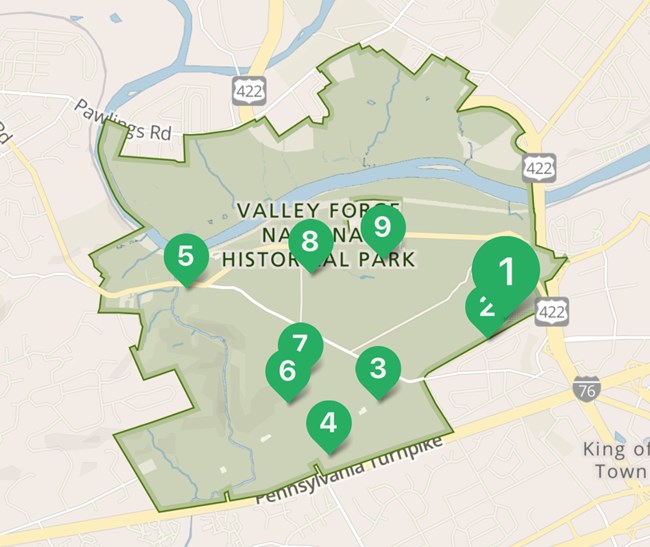 What is the Encampment Tour Route?
The Encampment Tour route is a 10-mile driving loop comprised of 9 major tour stops, plus opportunities to stop and explore additional monuments, statues, and locations of historical importance. On a first-time visit the route can be best experienced by vehicle.
Major Tour Stops
Visitor Center at Valley Forge

Muhlenberg's Brigade

National Memorial Arch

Wayne Statue

Washington's Headquarters

Redoubt 3

Artillery Park

Von Steuben Statue

Washington Memorial Chapel
Driving the route in your own vehicle can take anywhere from 20 minutes to 2-3 hours to complete, depending on how often you stop and how much time you spend at each location. The route features some of the most scenic views of the park as well as many of the historic sites and monuments.
Commercial Tour Registration for Large Groups
Registering your commercial tour group helps the park to know when you're coming and allows the tourism office to help you plan your visit and recommend area accommodations and other local resources. The Valley Forge Tourism and Convention Board is an official partner organization of Valley Forge National Historical Park.
The registration service is free, as is admission to all park facilities. Simply complete the on-line form managed by the park's tourism office partner Valley Forge Tourism and Convention Board, linked below; you will receive a registration confirmation within 48 business hours. Whenever possible, please try to give at least 30 days notice of your group's arrival.
Last updated: December 20, 2022