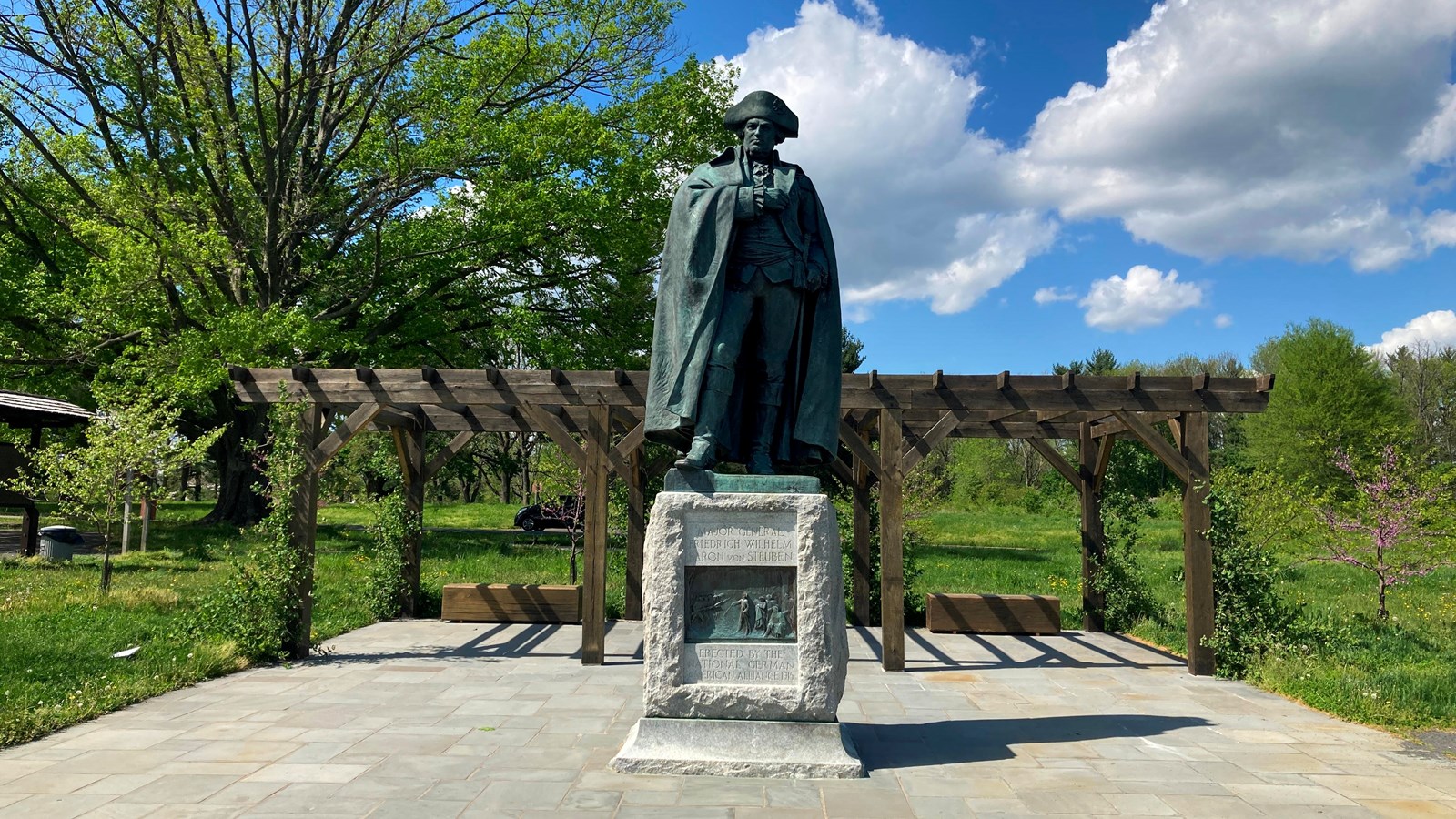 Location:
Along Rt 23, adjacent to the parking lot for Varnum's Quarters and the trailhead for the Grand Parade trail.
Significance:
Commemorates the contributions of Baron von Steuben and German Americans to the founding of the United States during the American Revolutionary War.
Designation:
Stop 8 along the Encampment Tour route.
Accessible Sites, Benches/Seating, Cellular Signal, Historical/Interpretive Information/Exhibits, Information Kiosk/Bulletin Board, Parking - Auto, Trailhead, Wheelchair Accessible
The bronze statue of Friedrich Wilhelm August Heinrich Ferdinand von Steuben, more commonly known as Baron von Steuben, overlooks the Grand Parade at Valley Forge. This monument's imposing presence is due in part to its height, with an 8 ½ foot tall statue mounted on top of a 6 foot 8 inches tall granite pedestal. Despite its larger-than-life appearance, the statue is realistic, simple, elegant, and detailed without being ornate. In the biography of J. Otto Schweizer, the statue's sculptor, the monument is described as depicting a:
sturdy figure clad in the uniform of a Continental General covered with a heavy coat. The general strikes a watchful posture, his right foot resting on a slight elevation of the ground. The thumb of his left hand rests nonchalantly on the hilt while the other fingers hold the sheath. The well formed right hand reaches over the chest and grasps the left facing of his coat in a Napoleon-like gesture. The powerful head with its turned up hat reveals a grim determination albeit softened by human kindness.
The von Steuben monument at Valley Forge is an exact replica of a statue in Utica, New York, except for the addition of a bronze plaque mounted on the pedestal, which depicts General von Steuben drilling the soldiery. In the plaque, von Steuben stands in the center. To the left, he drills the troops. To the right Schweizer depicted a camp scene complete with soldier huts, cannon, a headquarters building, and more soldiers.
The statue was originally located on Outer Line Drive beyond the Anthony Wayne Statue. Photographs of the monument in its original location show it surrounded by trees - supposedly linden trees - which began life as seedlings from Germany. The monument was moved to its current location along Route 23 on September 10, 1979.
Visit our keyboard shortcuts docs for details
Duration:

8 minutes, 18 seconds
Ranger Dave discusses how statues and monuments often reflect the ideas and values of the people who build and dedicate them even more than they embody anything factual about their subjects. He tells the story of the Baron von Steuben statue in order to illustrate the idea. Content Note: This video contains examples of WWI-era propaganda with strong imagery.
Last updated: April 7, 2022