Alerts & Current Conditions
Visiting Valley Forge During COVID-19
The National Park Service (NPS) is working servicewide with federal, state, and local public health authorities to closely monitor the COVID-19 pandemic and using a phased approach to increase access on a park-by-park basis. Based on guidance from the White House, Centers for Disease Control and Prevention (CDC), and state and local public health authorities, access to the park is as follows:


What's Open:
Roads, trails, grounds, and parking lots.

Some restrooms. Open restrooms include: Visitor Center parking lot, Artillery Park parking lot, Washington's Headquarters parking lot, Wilson Road parking lot, and Betzwood parking lot. Please be aware that these restrooms may be closed periodically for cleaning.

Services are limited and the return to normal, full operations will take place using a phased approach. Open areas are accessible during normal park hours, from 7AM to 30 minutes past sunset every day.

What's Closed:
Public buildings. Closed buildings include Washington's Headquarters and restroom facilities not listed above.
Varnum's Picnic Area and Restroom. Closed for the winter season.
Wayne's Woods Restroom. Closed for the winter season.
Public programming. Suspended programs include in-person educational and interpretive talks, tours, demonstrations, etc.
Visit the Virtual Visitor Center to learn more about what to see and do currently at Valley Forge.
Tips for Visiting and Protecting the Park

Please RecreateResponsibly, follow local area health orders, practice Leave No Trace principles, and avoid crowding and high-risk outdoor activities.
If you choose to visit, please park in designated spots. If a parking lot is busy, please find another legal place to park.
Vehicles parked illegally will be ticketed. Vehicles that block emergency vehicle access (such as on roads or in front of gates) will be towed, as they present a serious safety hazard.
Please take all trash with you. Trash cans will be limited so please come prepared to carry out your trash.
Please continue to practice social distancing, avoid large groups, and stay 6 feet away from others. Cover your coughs and sneezes.
Please use the restroom before you arrive.
The CDC has offered guidance to help people recreating in parks and open spaces prevent the spread of infectious diseases. We will continue to monitor all park functions to ensure that visitors adhere to CDC guidance for mitigating risks associated with the transmission of COVID-19 and take any additional steps necessary to protect public health.
Formal Program Postponement
Following guidance from the CDC and recommendations from state and local public health authorities in consultation with NPS Public Health Service Officers, all park-sponsored public programs and events are postponed until further notice, including:
Landscapes and Structures Photography Program

March Out of the Continental Army

Join the Continental Army
We will work to reschedule these activities, for a future date(s), once park operations resume in accordance with all relevant public health and local/state guidance. We look forward to inviting you to participate in these programs in the future. In the interim we encourage you to learn more about the history and significance and the natural resources of Valley Forge National Historical Park online.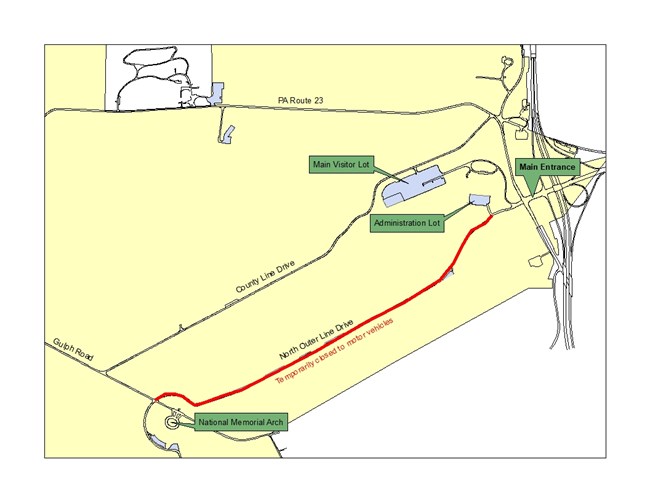 Roads and Trails
On Saturdays and Sundays, North Outer Line Drive may be temporarily closed to motor vehicles during periods of heavy recreational use. Please use an alternative driving route.
Effective immediately, a short portion of the Chapel Trail, beginning 1/2 mile east of the Washington Memorial Chapel to the intersection with the Sullivan's Bridge Trail, will be closed through Summer 2020 due to the U.S. 422 Schuylkill River Bridge construction project and additional construction along Cinder Lane.
As an alternative, visitors can use the Joseph Plumb Martin trail that parallels the approximate route of the Chapel Trail - on the south side of Valley Forge Park Road / PA Route 23. You can find almost 30 miles of additional trail options on our trail map, available at https://www.nps.gov/vafo/planyourvisit/maps.htm
An unauthorized social trail on Mt. Joy will be permanently closed and remediated beginning on July 10th. A map of the trail closure, along with authorized neighboring trails on Mt. Joy, is available here.

The trail is being removed because it crosses over some of the original earthworks built by the Continental Army in 1777-78. Repeated walking, erosion, and wear is damaging these historic earthworks. Additionally, the trail cuts through a forest restoration area, allowing for invasive species to spread and eliminating any natural regeneration that was occurring. This repeated trampling destroys vegetation and compacts any remaining soil leaving the area bare. The current trail is too steep and serious soil erosion is occurring, washing soil and nutrients onto park roads and trails.

Please help us protect the natural and cultural resources in your park and stay on the 35 miles of official park trails. The official trails are designed to provide access to the different habitats and cultural sites in the park, to connect to other trails and allow users to make loops, to be of varying difficulty, and to be sustainable and manageable by the park.
Last updated: December 20, 2020