Alerts & Current Conditions
What's Open and Closed at Valley Forge
What's Open:
Roads, trails, grounds, and parking lots.

The visitor center and museum exhibit. The Visitor Center at Valley Forge and The Encampment Store are open 7 days a week, 9 AM to 5 PM. Closed on Thanksgiving, Christmas, and New Year's days.

Park Theater. The 19-minute orientation film Determined to Persevere: The Valley Forge Encampment is shown on the hour and the half-hour from 9:30 AM to 4:30 PM daily. Learn more here, or ask a ranger at the visitor center for details. The park's visitor orientation film can also be viewed online here.

Washington's Headquarters and Historic Valley Forge Station. Washington's Headquarters and the exhibit in the train station are open daily, 10 AM to 5 PM.

Public restrooms in parking lots. Open restroom facilities include:
- Artillery Park parking lot
- Washington's Headquarters parking lot
- Betzwood picnic area parking lot
- Wilson Road parking lot.
- Wayne's Woods Picnic Area parking lot
- Varnum's Picnic Area parking lot
Please be aware that these restrooms may be closed periodically for cleaning. See below for information on the visitor center lower lot restroom rehabilitation.
Outdoor areas are accessible during normal park hours, from 7 AM to 30 minutes past sunset every day.
What's Closed:
Restrooms at the Visitor Center Lower Parking Lot will be closed beginning January 9th, 2023 for an improvement project. During this closure, portable restrooms will be available nearby, as well as the restrooms inside the visitor center itself from 9AM to 5PM. The facility renovation will include the addition of a family restroom, a new roof, and improved climate and moisture control.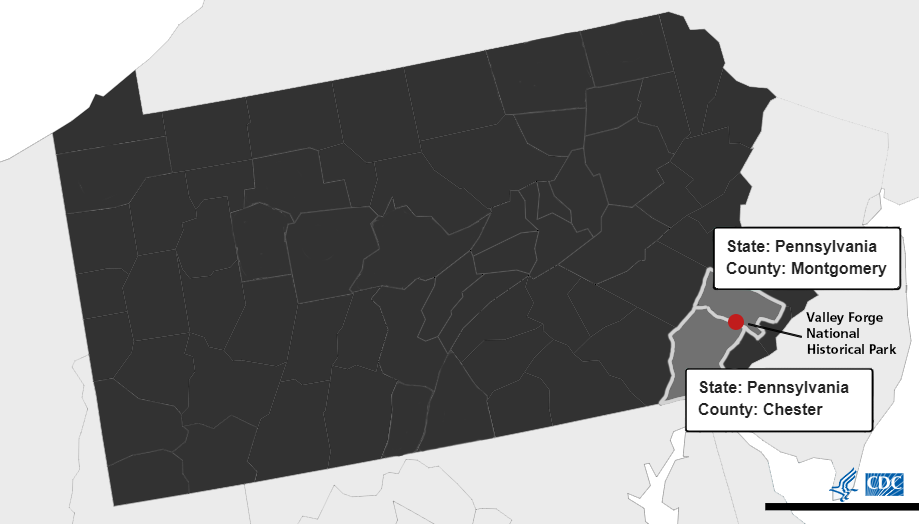 Wearing a Mask at Valley Forge
The NPS has updated its masking guidance based on the CDC's COVID-19 Community Levels tool, which helps communities decide what prevention steps to take. Masking requirements inside public buildings at Valley Forge depend on the COVID-19 Community Levels in Chester County and Montgomery County, Pennsylvania. Masks are optional if community levels are Medium or Low, but if community levels reach High, masks are required for everyone in all NPS buildings, regardless of vaccination status.
You are welcome to wear a mask even when they are not required. Additional details are available at www.nps.gov/coronavirus.
Tips for Visiting the Park Safely
Recreate Responsibly. Follow local area health orders, practice Leave No Trace principles, and avoid crowding and high-risk outdoor activities.

Park in Designated Locations. Vehicles parked illegally will be ticketed, and vehicles that block emergency vehicle access (such as on roads or in front of gates) will be towed.

Plan to Pack Out Your Trash. In-park trash and recycling receptacles are limited.
Last updated: May 30, 2023