Jesuit Expulsion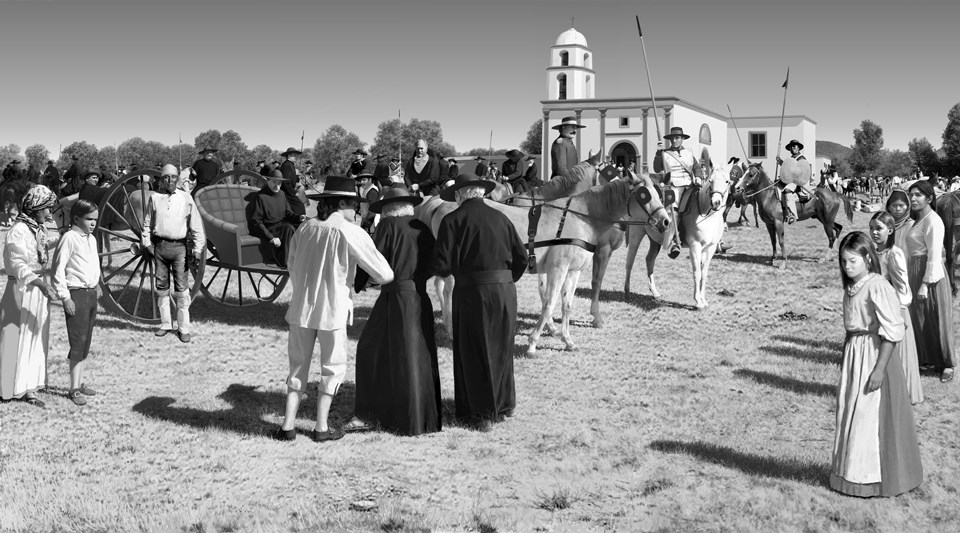 Members of the Jesuit order served not only as missionaries, but also as educators. Although they were not allowed to accumulate wealth for themselves, the Jesuit order succeeded in accumulating wealth (land and buildings) and power for their order. This power, along with their dedication to the pope in Rome, caused the Catholic monarchs concern.
King Carlos III of Spain signed orders on February 27, 1767 to expel all Jesuits from his lands. The first person in Sonora to learn of the edict was Governor Juan Claudio de Pineda. On July 11, the governor opened a sealed packet that had come by special courier from the viceroy.
Governor Pineda chose six officers whom he trusted to be more loyal to himself and the King than they were to the Sonoran Jesuits. These six men, Juan José Bergosa, José Antonio de Vildósola, Bernardo de Urrea, Lorenzo Cancio, Sebastián Azcarraga, and Juan Bautista de Anza, each received a sealed packet with instructions that the message was to be opened in secret after sundown on Thursday, July 23, 1767.
The instructions were precise. The officers were to arrest fifty-two Jesuits in Sonora and Sinaloa, treating them with "the greatest decency, attention, and humanity." They were to take them to the village of Mátape. The officer assigned to arrest father Custodio Ximeno of Guevavi was Bernardo de Urrea. The seasoned soldier, who had lived in the Pimería Alta for more than forty years and served as captain of the Altar Presidio since its creation, was so upset by the assignment that he was unable to complete it. Somewhere south of San Ignacio he went home in tears, leaving his son Lieutenant Miguel de Urrea to complete the job.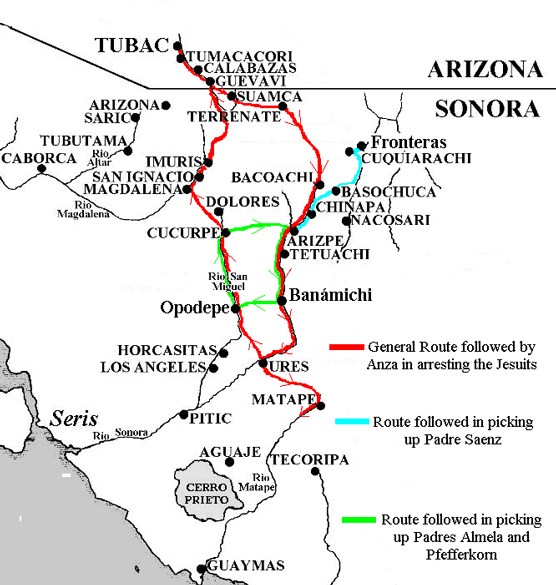 From Mátape, the priests were marched to Guaymas. There they were held for nine months in a stone warehouse before being put on a ship. They were carried across the Gulf of California to Puerto Escondido (Baja California), then down to the port of San Blas. From San Blas, the priests walked overland to Mexico City, then to the port of Vera Cruz. From there they sailed to Europe.
Twenty priests died before reaching Mexico City. 71-year-old Padre Nicolás Perera, a family friend of the Tubac Presidio's Captain Anza, was the first to perish, on August 29, 1768. The thirty-two surviving priests were kept in exile upon arrival in Europe. The Jesuit order was suppressed for forty-one years before finally being restored by Pope Pius VII in 1814.
Last updated: June 11, 2020