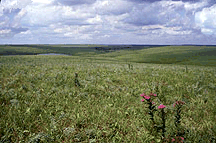 "We shall never achieve harmony with land, any more than we shall achieve absolute justice or liberty for people. In these higher aspirations the important thing is not to achieve, but to strive."
-Aldo Leopold (Born in Iowa in 1887)
Tallgrass Prairie National Preserve, established November 12, 1996, is the only unit of the National Park System dedicated to the rich natural and cultural history of the tallgrass prairie ecosystem. This 10,894 acre portion of the once vast tallgrass prairie is being preserved as a critical resource for the benefit, education, and enjoyment of this and future generations. It is a unique private/public partnership between the National Park Service and The Nature Conservancy.
Learn About Recent Natural Resource Issues
Bring Back the Monarchs - link to monarchwatch.org to learn more

White Nose Bat Syndrome - link to www.whitenosesyndrome.org to learn more

Email us for the following data sheets while we work to make our pdf more fully accessible. Thank you for your interest.
Bison Fact Sheet - (280 KB)

Fire Fact Sheet - (1.34 MB)

Restoration Fact Sheet- (1.01 MB)

Butterfly Count Information

A SEA OF GRASS
Tallgrass prairie once covered more than 170 million acres of the United States, from Indiana to Kansas and from Canada to Texas. Nearly all of it is gone, plowed under for agriculture or urban development. An ancient past survives in the irreplaceable Flint Hills tallgrass, but just as it was then, it takes all season for the grasses to reach their maximum heights. The phrase "Tall in the Fall" is one to remember when visiting the preserve. Like everything in nature, they start out small. By late September, early October the grasses have reached their limits and have turned a golden brown.
In prehistory, what is now a sea of grass was once a shallow sea of water. Between 200 and 300 million years ago, the gray and white limestone and steel tough chert, commonly called "flint," began to form from this Permian Sea floor and with it the famous Flint Hills geology. The result was shallow, rocky land considered unsuitable for plowing but excellent for pasture. The natural prairie cycle of weather, fires, and animal grazing -- once bison, now cattle -- has sustained the tallgrass prairie and its diverse plant and animal species ever since.

Now you can find over 500 species of plants, nearly 150 species of birds, 39 species of reptiles and amphibians, and 31 species of mammals. Much of the prairie flora and fauna is far too tiny to be seen from a passing car. For those who take the time to stop and look closer, a subtle world of special beauty and natural wonder is waiting.
The National Park Service's Heartland Network Inventory and Monitoring Program and others have gathered baseline data on plant and animal communities on the preserve. Click on the hyperlink above to learn more about this program and its importance to the health of the prairie community.
The preserve holds an annual Marvin Schwilling Memorial Butterfly Count.