Preserve Backcountry Hiking Trails

Windmill Pasture is home to the bison herd. The Scenic Overlook trail runs through this pasture to the Scenic Overlook. You are welcome to hike in this area, but please stay on the trails and use caution in their vicinity. The Scenic Overlook can be accessed by taking the Davis Trail and lower portion of the Prairie Fire Loop without needing to access the bison pasture.
Do not attempt to pet or come in close contact with the bison, even if they approach you. These are wild animals and will charge or defend themselves when feeling threatened. Allow at least 125 yards (more than a football field) between you and the bison.

Tour map is available for download below.
Visitors may experience the backcountry of the preserve through the trail system. No permit is required. Trails are open 24 hours, daily; camping and biking not allowed. Preserve trails are for foot traffic only. A bicycle rack is provided in the parking lot for your convenience.

Strollers are welcome on trails, but be aware that trails are gravel roads and mowed trails and may not be conducive to the typical stroller wheels. For safety, please use good judgement before hiking into the bison pasture with children in strollers. Safer trails if hiking with small children are the Southwind Nature Trail, Bottomland, and Fox Creek Trails.

The preserve has over 40 miles of hiking and nature trails. Trail maps are available at the ranger information desk in the visitor center, in the kiosks near the historic ranch buildings, or downloaded from the link above. A short introductory training session is available before hiking into the backcountry during business hours. Visitors are encouraged to wear appropriate clothing and hiking gear, bring plenty of drinking water, use sunblock and insect repellent, and stay on the designated ranch roads and hiking trails. No smoking or pets are allowed on the backcountry trails.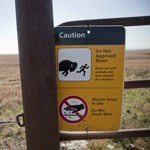 CAUTION SIGNS - Windmill pasture is home to the preserve's resident bison herd. Hikers are cautioned to give a wide distance to the bison and to not cross through the barbed wire fence, as this fence is electrified. Watch for these signs. Pedestrian self-closing hiking gates provide access between all pastures. For your safety, please use the hiking gates and not the cattle guards. Falling through the cattle guards can cause broken bones.
All backcountry hiking trails are moderately difficult and range from 3.8 to 13 miles. Each trail offers a different and unique perspective of the tallgrass prairie ecosystem. Scenic vistas, prairie grasses, wildflowers, wildlife, and rugged terrain may be experienced along the backcountry hiking trails.
The preserve backcountry trails are listed as a year-round event in coordation with the American Volkssport Association. Learn More


Last updated: October 16, 2018