Nature Trails
Three nature trails (shorter in length) allow visitors to experience the tallgrass prairie first-hand, while remaining in closer proximity to visitor services. These trails are dog friendly, but please help all visitors enjoy them by keeping dogs on a visible 6' maximum leash and picking up after your pet. Enjoy your hike by following these important safety rules. Permits are not required to hike the trails. All trails open 24 hours; no camping.

Hiking Rules:
No smoking on trails

Foot traffic only on hiking trails. No bikes, horses, or motorized conveyance.

Pets are allowed on the nature trails only. Pets must be leashed at all times. Please pick up after your pet.

Hunting and projectiles prohibited.

Please do not harass the wildlife. All wildlife is protected.

This is a natural area. Watch for snakes, poison ivy, and wild animals.

Take only pictures, leave only footprints.

Please enjoy the trail by staying on the path.

No camping is available at the preserve.

---
SOUTHWIND NATURE TRAIL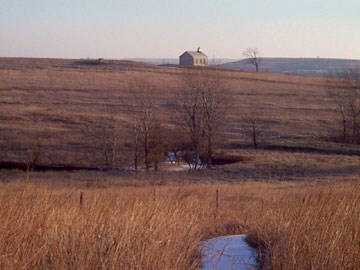 Visit this link for a copy of the Southwind Nature Trail and Historic Ranch Headquarters Map
The Southwind Nature Trail is a leisurely stroll across hill and valley, watercourse and prairie grassland, gives visitors a close-up look at what makes up the preserve. Named for the Kansa Indians, the People of the Southwind, this 1.75 mile trail presents marvelous vistas as well as an opportunity for a detailed view at the prairie ecosystem. Two overlook areas afford visitors a chance to experience the scenic beauty of the prairie.

The trail winds across rolling hills, over a spring-fed stream lined with cottonwoodand hackberry trees, and through a fascinating array of grasses and flowers. Along the way is evidence of the insects, birds, and mammals that make the prairie their home. Take your time and notice the gray and white rock, the limestone and steel-tough chert, commonly called "flint," that was formed between 200 and 300 million years ago and gives the name to the resulting hills. Hike all the way to the little one-room school house on the hill and then back to the ranch headquarters. This photo was taken along the trail.
---
BOTTOMLAND NATURE TRAIL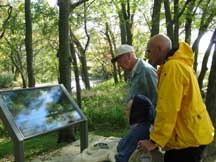 Visit this link for a map and brochure of the Bottomland and Fox Creek Trail
The Bottomland Nature Trail is complete with an information trail head kiosk, five interpretive waysides, benches, comfort station, and relatively level trail loops. During dry weather, the crushed limestone hardened trail surface can support wheelchairs. Choose from two trail lengths- 3/4 or 1/2 mile loops. A brochure has been developed to assist you as you travel the trail. You may receive a brochure at the Visitor Center or you will find one in the brochure box at the trail head kiosk. A small picnic area with table is also available. This trail was made possible through a generous donation by the Cloud Foundation in memory of Roger Cloud who was an avid lover of the Flint Hills.

This trail provides visitors with an opportunity to experience a developing bottomland prairie restoration area, while gaining an understanding of its rarity as a natural plant community and its importance in the human history of the Flint Hills region.

Throughout its lifespan, this area has displayed many uses. One of the earliest and also most recent, the area has seen agricultural use. An area adjacent to rivers and streams, known as bottomland, is prime agricultural land for farming, due to the amount of sediment runoff from the nearby streams.
---
FOX CREEK HIKING TRAIL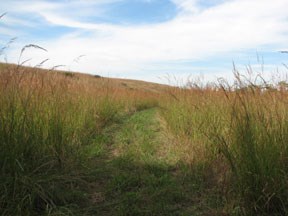 The Fox Creek Trail is a 6.1 mile round-trip trail and starts at the northern end of the Bottomland Nature Trail and extends northward, following Fox Creek. Visitors will experience bottomland prairie restoration plots along Fox Creek's riparian areas. Deep soils and abundant moisture offer 6 feet tall grasses in the fall. Catch and release fishing is also available along Fox Creek.
Last updated: February 14, 2018