Plants at the Preserve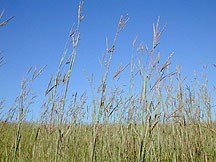 Grasses and Forbs
Scientists and researchers from around the world come to study this amazing and important prairie ecology. They recognize these grasses and forbs are the cornerstone of an important environmental "sink". Here the powerhouse of prairie plants are stored allowing this hearty ecosystem to regenerate despite fire, grazing, flood, and drought.
This "sink" removes tons of carbon from the atmosphere. The balance of prairie life both below and above ground has given the tallgrass prairie ecosystem a resilience surviving 10,000 years of climatic change.
The National Park Service's Heartland Network Inventory and Monitoring Program and others have gathered baseline data on plant and animal communities on the preserve. Collectively, there are 500 different species of plants found on the preserve. The greater plant biomass exists in the long tentacled roots reaching deep underground like an upside-down subterranean forest.
The name tallgrass prairie can be deceiving. Though many grass species grow taller than people, short grasses and several other plant categories are found on the preserve. Tallgrass prairie is classified by the amount of rainfall rather than the species which grow here.
Most native prairie wildflowers are classified as forbs: any herbaceous plant growing in its native habitat except grasses and grass-like forms. Herbaceous plants are non-woody vegetation with succulent leaves and stems.
Through efforts of members of the Kansas Native Plant Society and three speeches presented by Chase County Elementary School children to the Kansas State Legislature, Little Bluestem (Schizachyrium scoparium) was named "State Grass of Kansas" by the Kansas State Legislature on July 1, 2010. Go to the Kansas Native Plant Society website to learn about the project and more.
Read More About Plants and Fire Ecology in the Prairie
Last updated: March 3, 2022