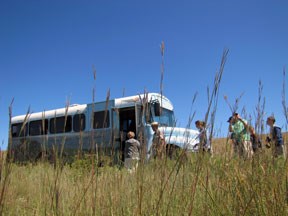 Guided Prairie Bus Tours - 60 - 90 minutes
June 1 - October 28, 2018 -
Monday through Friday - Daily tour at 11 a.m.
Saturday and Sunday - Daily tours at 11 a.m. and 1 p.m.
All tours dependent on staffing availability and dry road conditions.

Bus Tours are provided from the last Saturday in April through the last Sunday in October.
Please call 620-273-8494 (hit 0) to make your free reservation. Walk-ins are welcome, but to assure your space, a reservation is suggested. Please check in at the visitor center to let staff know you have arrived. All activities at the preserve are free of charge.

As no restrooms are available on the prairie, please use the facilities before the tour. We also suggest you use bug spray and bring water for your comfort. Emergency cold water is available on the tour as needed.

Wet road conditions or low staffing levels may cancel a tour. If you have made a reservation and a tour must be cancelled, you will receive a call the morning of the tour. We welcome you to experience the preserve and all its beauty and history.