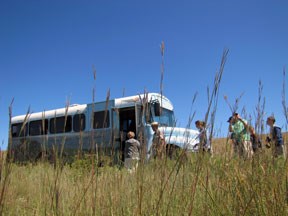 Guided Prairie Bus Tours - 60 - 90 minutes
Tours are provided from the last Saturday in April through the last Sunday in October each year. Please let us know if you require the use of our wheelchair lift when calling to make your reservation. All tours and programs are free of charge.

Schedule for 2019
For the month of May 2019, Wednesday through Friday bus tours will be given at 11:30 am.
Saturday and Sunday, tours at 11:30 am and 1:30 pm.
Advanced reservations are not available for Monday and Tuesday. Tours are based on staffing availability and will be walk-in only.
June 1 - October 27, 2019 -
Monday through Friday - Due to staffing shortage, please call for reservation.
Saturday and Sunday - Daily tour at 11 a.m. and 1 p.m.
All tours dependent on staffing availability and dry road conditions.
Please call 620-273-8494 (hit 0) to make your free reservation. Walk-ins are welcome, but to assure your space, a reservation is needed. With limited staffing, it is best to telephone to make your reservation, rather than email. We may not be able to respond quick enough to an email to meet your travel plans. It's best to talk with a live person.
Please check in at the visitor center to let staff know you have arrived, so we do not give away your seat. Often there is a waiting list and anyone who hasn't checked in runs the risk of losing their seat. Please help us make your trip an enjoyable one.
What to Expect on the Bus Tours
The ranger-guided interpretive bus tour leaves from the visitor center and travels through the historic ranch site, through the bison pasture, and to the prairie overlook area, 3.2 miles one-way, providing information about the flora, fauna, and cultural history of the prairie over the speaker system. Visitors will see the prairie, wide-open spaces, seasonal wildflowers, bison (potentially), and other wildlife, insects, birds, and reptiles. Buses are air-conditioned and heated. Visitors have an opportunity to get out of the bus at the Prairie Overlook Area and experience the wide-open prairie. Visitors then reboard the bus and travel back along the same route to the visitor center. Historic building tours are self-guided and not included with the daily bus tour.
Wet road conditions or low staffing levels may cancel a tour. If you have made a reservation and a tour must be cancelled, you will receive a call the morning of the tour.
Suggestions for a Pleasant Tour -
Please use the restroom before the tour, as there are no facilities available on the bus or on the prairie.
Use bug spray and bring water for your comfort. Emergency cold water is available on the tour as needed during hot weather.
Pets are not allowed on the bus tours, except for service animals. Please do not leave your pet inside a vehicle, tied to a vehicle, or otherwise left unattended. Vehicles become dangerously hot and the outcome could be fatal.
Children are welcome, but strollers may be difficult to maneuver on the bus.
There is no driving on the preserve.
To see more of the prairie, we suggest traveling the Flint Hills National Scenic Byway K-177 to view the tallgrass prairie via your own private vehicle. A Scenic Overlook area is available a few miles south of Cottonwood Falls, KS with interpretive waysides that explain the tallgrass prairie and the cultural history in the Flint Hills. Tune your car radio to 1680 AM to learn more.