Guided Tours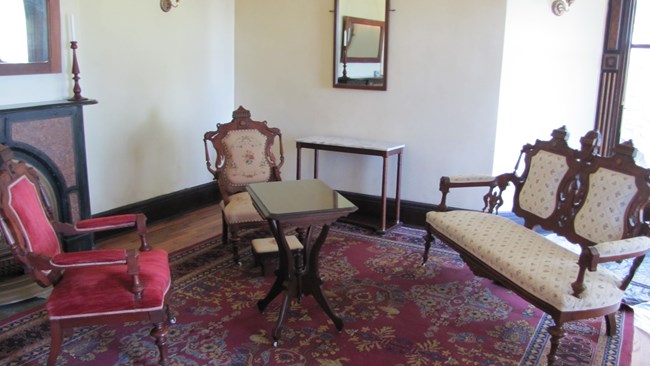 Scenic Vista Van Tours
Once again, guided tours of the prairie are back via a 10 passenger van. With seating so limited, a van tour podcast has been posted here. Van tours are available daily through August 27th.
Monday through Friday, van tour times are 11:30 a.m., 1:00 p.m., and 2:30 p.m.
An extra van tour is added on the weekends (Saturday and Sunday) at 10:00 a.m.
Cell Phone Tours
Cell phone tours are downloadable and on-demand. Cell phone service is often difficult inside the limestone buildings.
Group and School Tours
Reservations for group tours must be scheduled at least two weeks in advance to ensure staffing. School tours focus on the students, accomodating them before adults.
Contact a park ranger for further information and details on group tours.
e-mail us
Call 620-273-8494 (hit 270) for reservations.
Price: Free of charge.
Guided Ranch Headquarters Tour - 1 hour
Tours for groups of fifteen or more can be arranged throughout the year. National Park Service rangers lead visitors on a tour of the ranch house, barn, and outbuildings.
Guided COMBO Tour - 2 hours
Ranch Headquarters and Prairie Tour
The combination tour is available from the last Saturday in April through the last Sunday in October. Groups of fifteen or more may schedule a ranch headquarters tour in conjunction with a prairie bus/hiking tour. The combination tour includes a one-hour tour of the historic house, barn, outbuildings and a one-hour bus/hiking tour into the tallgrass prairie ecosystem. Larger groups will be divided and swap locations.
Podcasts
Our podcast directory contains a collection of podcasts about the nature, history, and culture of Tallgrass Prairie National Preserve and the surrounding region. A transcript is provided for each podcast.
Virtual Tours Via the Website
The historic buildings are viewable at our Virtual Tour Section.The house has undergone a major rehabilitation project in 2021. Our Virtual Tour page can provide you a glimpse of the house interior, as well our Cell Phone tour, but this will be changing, as wallpaper and other furnishings are displayed.
No Self-Driving Tours



There is no driving personal vehicles on the national preserve.
However, the Flint Hills National Scenic Byway along K-177 offers a view of the prairie from your vehicle. Tune your car radio to 1680 AM to learn more. A Scenic Overlook area is a few miles south of Cottonwood Falls, KS complete with waysides of tallgrass prairie and Flint Hills culture.
Last updated: August 28, 2023