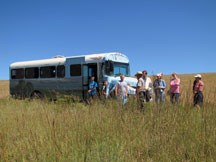 Check out the calendar for special events and activities at the preserve.
Come to the preserve and experience native tallgrass praire, American Indian cultures, and ranching heritage.
Bus Tours - ALERT- For the month of May, the daily Monday through Friday bus tours will be given at 11:30 a.m., so that we may also accommodate our education school tours in the morning. Please call ahead and make your reservation - 620-273-8494 (hit 0). Daily bus tours for May 15th and 17th are cancelled due to lack of staffing available.


June 1 - October 28, 2018 - Normal tour time resumes.
Monday through Friday - Daily tour at 11 a.m.
Saturday and Sunday - Daily tours at 11 a.m. and 1 p.m.
All tours dependent on staffing availability and dry road conditions.