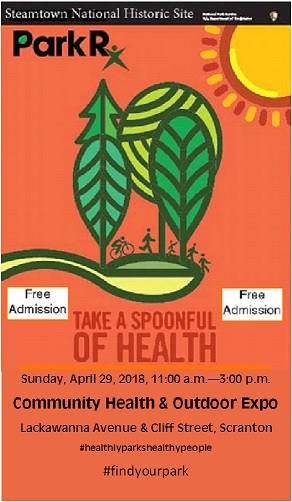 News Release Date:
April 24, 2018
Contact: Bill Fischer, 570-340-5244
Scranton, PA: Steamtown National Historic Site (NHS) in downtown Scranton welcomes visitors to celebrate National ParkRx Day, which runs from 11:00 am until 3:00 pm on Sunday, April 29. This community health fair and outdoor expo day of fun and learning is just what the doctor prescribed!
National Park Prescription (Rx) Day is part of a nationwide initiative promoting the outdoors as an antidote for ailments such as obesity, diabetes, high blood pressure, and depression. The day's events will be a combination community health fair and an opportunity to meet representatives from local organizations that promote active lifestyles for people of all ages and all fitness levels. Geisinger Health System will have sports medicine specialists on hand to answer your questions, Dr. Michael Suk will speak on important Geisinger initiatives, and our local medical school students will be offering some basic health screenings.
Other local organizations, including the American Red Cross, United Neighborhood Centers, Lackawanna Heritage Valley, the YMCA, our neighboring National Park Service sites along the Delaware River, and a host of other hiking/walking/fitness groups will be on site. They will be sharing the incredible opportunities to get out and get active in Northeast Pennsylvania. Master Gardeners will be available to help you make the most of this year's growing season, while Folk's Butterfly Farm will have displays about those important garden pollinators which sustain our own food chain.
The event and park entrance are free, so come see what our great community has to offer! And for those interested, enjoy a short ride in an historic caboose pulled by our own Baldwin Locomotive Works #26 steam locomotive for a nominal $5 fee. No longer used by today's railroads, the caboose was always the last car on freight trains. But being last didn't mean it wasn't important, because the caboose served as the conductor's office, restaurant, and motel on wheels. Take a ride and be an honorary conductor for the day!
While National ParkRx Day activities run from 11:00 am until 3:00 pm, the park is open daily from 9:00 am until 5:00 pm. For more information about this free event or other park happenings, call the Steamtown NHS Visitor Center at 570-340-5206, and visit our website, Facebook page, and Twitter feed.
www.nps.gov/stea
About the National Park Service. More than 20,000 National Park Service employees care for America's 417 national parks and work with communities across the nation to help preserve local history and create close-to-home recreational opportunities. Learn more at
www.nps.gov
.