Maps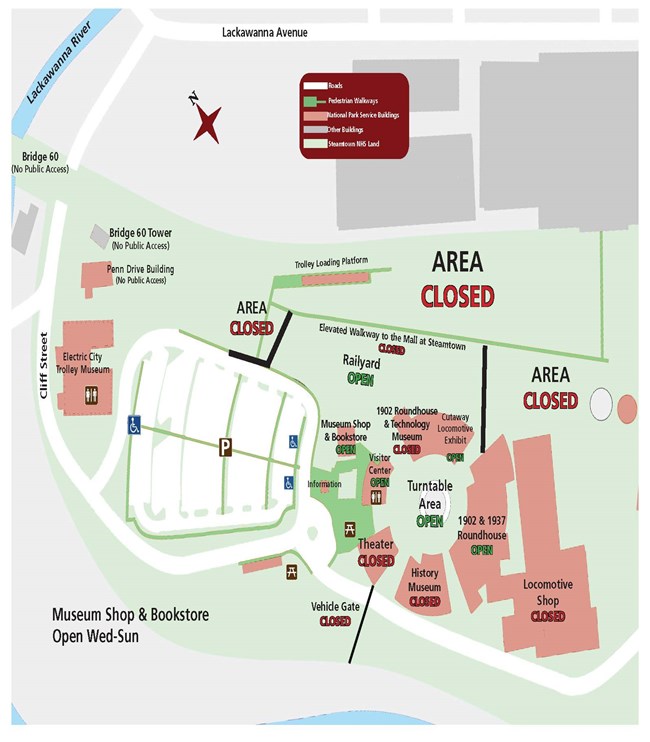 As of 7/8/2020 Steamtown National Historic Site has limited open areas due to the pandemic. This map shows status of areas. If you need additional information, please call our Visitor Center at 570-340-5206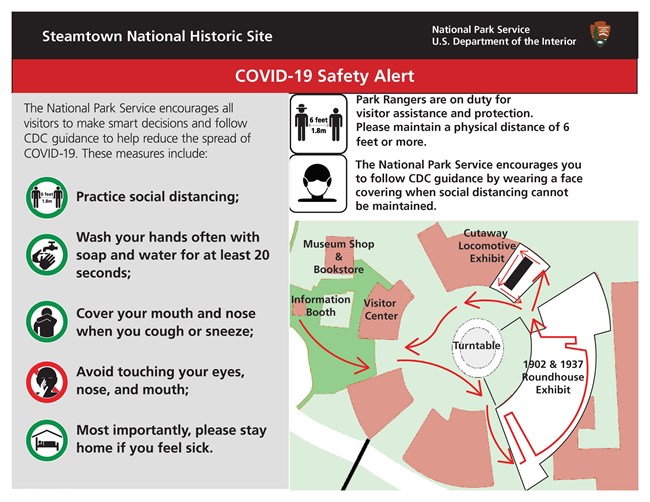 The information listed here are some important guidelines we ask that you follow while visiting Steamtown National Historic Site.
Our physical address is: 350 Cliff Street, Scranton, PA 18503. Please use this as opposed to our mailing address of 150 S Washington Ave, Scranton, PA 18503

Our GPS coordinates are:
+41.410730 (n-latitude), -75.671329 (w-longitude)

If you prefer to use Internet mapping software (Googlemaps), keep in mind that our Headquarters mailing address and our Park Entrance are different; there is no public access from the Headquarters address. The Park Entrance is at the intersection of Lackawanna Ave and Cliff Street in downtown Scranton, PA 18503, or you may try using 4 Lackawanna Ave, 18503 with your GPS.

Note: Some mapping software uses Cliff Avenue instead of Cliff Street.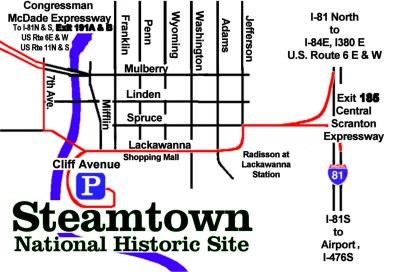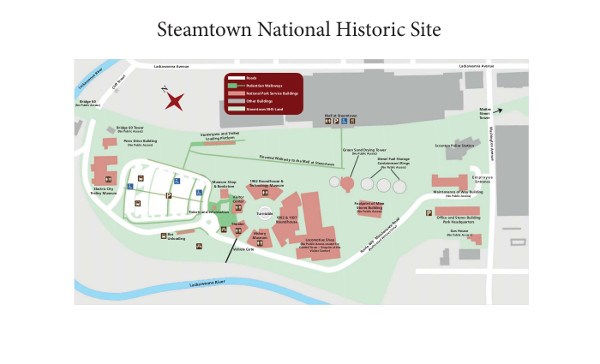 Steamtown NHS Site Map
This map image depicts an overview of the park layout, with the Lackawanna River along the west and south park borders, the Lackawanna Intermodal Center and Marketplace at Steamtown along the northern park border, and South Washington Avenue as the map's eastern border.

Viewing from left (west) to right (east), the image depicts the locations of the county's Electric City Trolley Museum, visitor's parking lot, park entrance fee kiosk, museum complex including the turntable and a portion of the restored roundhouse, buildings used as locomotive maintenance and repair shops, former "green sand" (wet) tower and oil storage retaining rings, the former Mine Stores building (now demolished), and park maintenance and headquarters offices.

Note that other than the museum complex, other park buildings are not open to the general public except via park scheduled tours or by pre-arranged appointment.


Last updated: July 7, 2020