Fees & Passes
Entrance Fee for Steamtown NHS: FREE
That's right! Our Visitor Center, Museum and grounds are free to enter, no pass required! Fees do apply to our train rides and excursions; this information is outlined below.

The following passes are available at Steamtown National Historic Site during regular business hours:
Military: Current U.S. Military (and Dependents), Veterans, and Gold Star families. Documentation is required.
Access: U.S. citizens or permanent residents of the United States that have been medically determined to have a permanent disability (does not have to be a 100% disability). Documentation is required.
4th Grade: U.S. 4th Graders (including home-schooled and free-choice learners 10 years of age).
Due to our fee-free status, we do not sell the Senior or Annual pass. For more information about the America the Beautiful National Parks & Federal Recreational Lands Passes, or to purchase a Senior or Annual Pass, visit the USGS Online Store.

2021 Train Fees
Due to the pandemic there are no excursions planned for the 2021 season at this time, this includes the The Scranton Limited short train ride. All updates will be posted on our home page as an Alert and on our various social media platforms (Facebook, Twitter, and Instagram).

Steamtown NHS is also working to bring on a new online ticketing system that will afford visitors more convenience in purchasing tickets for our excursions (when they are back up and running). Check back for updates on how to purchase tickets and when they will go on sale.
Refund Policy
When train rides are available, tickets are non-refundable unless an event is cancelled by park management and riders are unable to attend a make-up date. In the event you miss your Short Train Ride (yard shuttle), we can put you on the next available shuttle. If you miss the train for a special event or excursion program, tickets cannot be refunded or transferred. If you miss the return ride from a special event or excursion program, you are responsible for getting transportation back to your point of origin.

America the Beautiful - The National Parks and Federal Recreational Lands Pass Series
A pass is your ticket to more than 2,000 federal recreation sites. Each pass covers entrance fees at national parks and national wildlife refuges as well as standard amenity fees (day use fees) at national forests and grasslands, and at lands managed by the Bureau of Land Management, Bureau of Reclamation and U.S. Army Corps of Engineers. A pass covers entrance, standard amenity fees and day use fees for a driver and all passengers in a personal vehicle at per vehicle fee areas (or up to four adults at sites that charge per person). Children age 15 or under are admitted free.

Search a list of all federal recreation sites, including national parks, where the passes are issued. In addition to direct sales of Interagency Passes at national parks and other federal recreation sites, many of the America the Beautiful (Interagency) Passes are available for purchase online. Please visit the USGS Online Store for detailed information about how to purchase a pass online and whether purchasing a pass at this time is the right decision for you.

Please remember when making your purchase that Interagency Passes are non-refundable, non-transferable, cannot be extended and cannot be replaced if lost or stolen.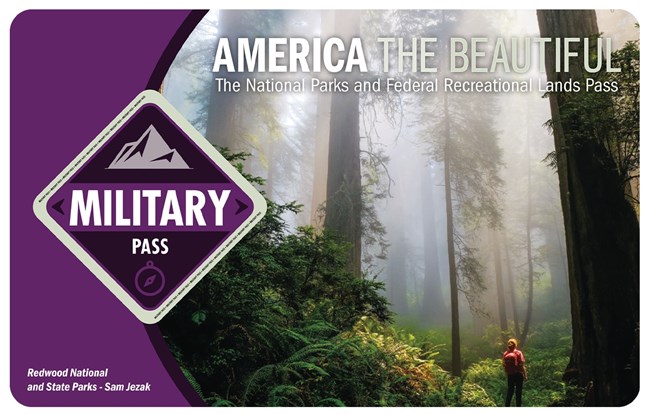 Military Pass
Cost: Free annual pass
Available for:
Current US military members and their dependents in the Army, Navy, Air Force, Marines, Coast Guard, and Space Force, as well as Reserve and National Guard members
US military veterans
Gold Star Family members
How to obtain:
Please check requirements before arriving, such as showing a Common Access Card (CAC) or Military ID (Form 1173) or exchanging a Gold Star Voucher.
Additional Information: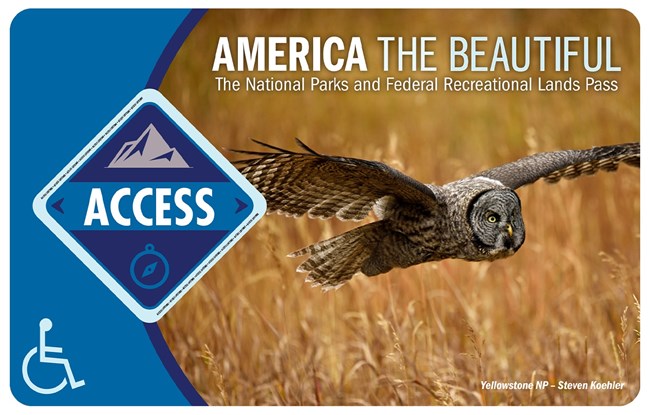 Access Pass
Cost: Free lifetime pass
Available for: US citizens or permanent residents with permanent disabilities (does not have to be a 100% disability). Applicants must provide documentation of permanent disability and residency or citizenship.
How to purchase:
Mail: Purchase an Access Pass using an application form (558KB PDF) that can be exchanged through mail. The cost of obtaining an Access Pass through the mail is $10 for processing the application (the pass is free)
Additional Information:
Find detailed information about this pass on the USGS Store's Access Pass and Frequently Asked Questions webpages.
Find Frequently Asked Questions about this and other interagency passes on the USGS Store's website.
The Access Pass may provide a 50 percent discount on some amenity fees charged for facilities and services such as camping, swimming, boat launching, and specialized interpretive services.
The Access Pass generally does NOT cover or reduce special recreation permit fees or fees charged by concessioners.
Golden Access Passports are no longer sold. However, these passes will continue to be honored according to the provisions of the pass.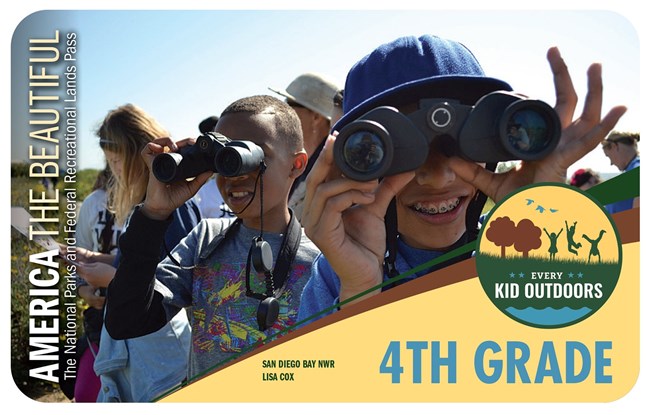 4th Grade Pass
Cost: Free pass valid for the duration of the 4th grader's school year though the following summer (September-August)
Available for: US 4th graders, including home-schooled and free-choice learners 10 years of age, with a valid Every Kid Outdoors paper pass
How to obtain:
Additional Information:


Last updated: July 7, 2021