News Release
Steamtown National Historic Site Commemorates the End of Mainline Steam Locomotive Operations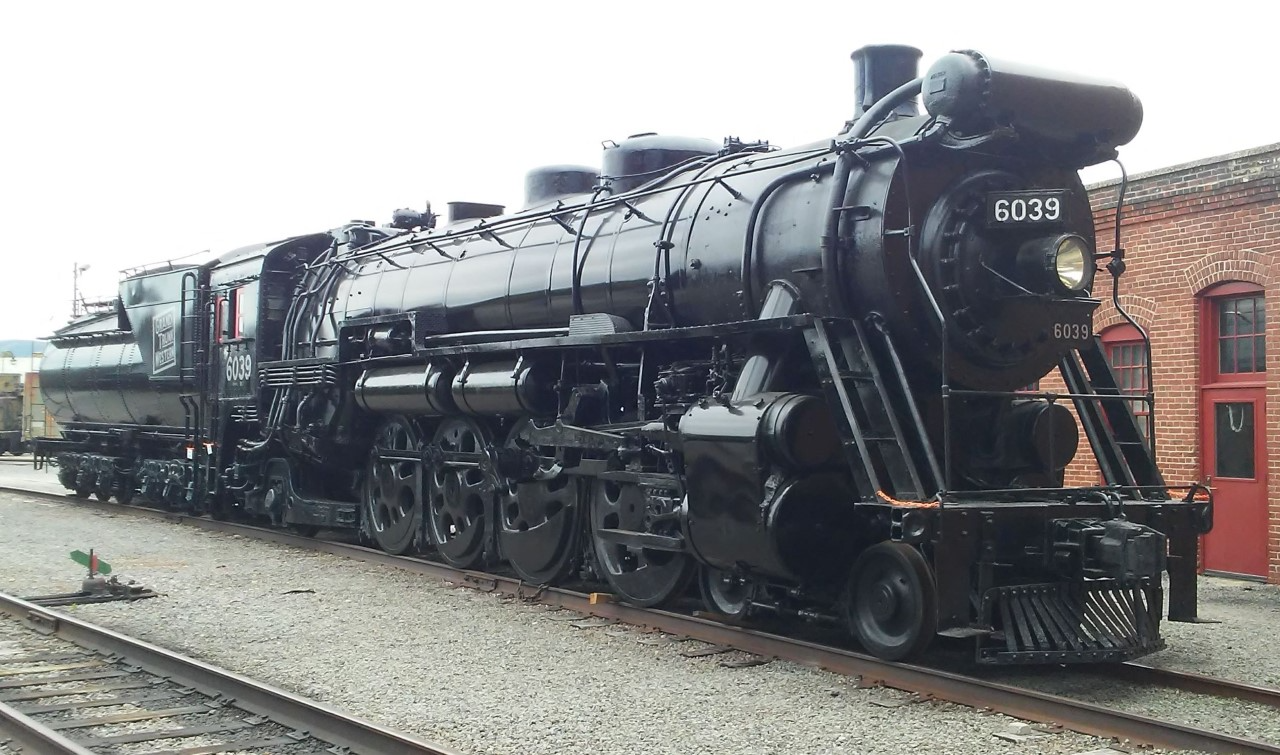 News Release Date:
September 28, 2020
Contact: Bill Fischer, 570-340-5339
SCRANTON, Pa. – It's been 60 years since steam locomotives performed mainline revenue rail operations in the United States and Canada. To commemorate the anniversary, Steamtown National Historic Site (NHS) along with our friends group, the Iron Horse Society, will throughout the month of October highlight some of our mainline steam locomotives. 
Every Thursday morning, beginning October 1, a different mainline steam locomotive will be moved to a place of honor on the museum complex Turntable and remain there for a week.  
The planned schedule of highlighted mainline steam locomotives, subject to change due to unforeseen circumstances, is as follows:   
Week 1 (Oct 1-7)
, Grand Trunk Western No. 6039 (a 4-8-2 "Mountain" type) 
Week 2 (Oct 8-14)
,
Displays
highlighting ongoing Steamtown NHS restoration work: 
 --- in the Visitor Center on the
Boston & Maine No. 3713
(a 4-6-2 "Pacific" type),  
 --- in the Locomotive Cutaway area on the
Union Pacific No. 4012
(a 4-8-8-4 "Big Boy" type)   
 **Please note that neither the No. 3713 nor the No. 4012 will be on display on the Turntable** 
Week 3 (Oct 15-21)
,
Nickel Plate Road No. 759
(a 2-8-4 "Berkshire" type)   
Week 4 (Oct 22-28)
,
Reading Company No. 2124
(a 4-8-4 "Northern" type) 
Week 5 (Oct 29-Nov 4)
,
Illinois Central No. 790
(a 2-8-0 "Consolidation" type)   
Also, Canadian mainline steam locomotives
Canadian Pacific No. 2317
(a 4-6-2 "Pacific" type) and
Canadian National No. 3254
(a 2-8-2 "Mikado" type) will be located on tracks near the core museum complex for easy viewing. 
While visiting Steamtown NHS, which has no entrance fee, all ages can learn more and earn a badge by completing the free
Railroad Explorer
Junior Ranger program. And if you cannot join the commemoration in person, follow the activities on our social media pages: 
Facebook
Twitter 
Instagram
Located in downtown Scranton, Pa., Steamtown NHS is open daily from 10:00 a.m. – 4:00 p.m. From I-81 follow exit 185 (Central Scranton Expressway); then follow the brown and white signs to the park entrance at Lackawanna Avenue and Cliff Street (GPS: N 41.41, W 75.67). General park information is available by phoning (570) 340-5206 during regular business hours, or by visiting the park website anytime. 
www.nps.gov/stea 
About the National Park Service. More than 20,000 National Park Service employees care for America's 421 national parks and work with communities across the nation to help preserve local history and create close-to-home recreational opportunities. Visit us at
www.nps.gov
, on
Facebook
,
Twitter
, and
YouTube
Last updated: March 3, 2021