News Release
Steamtown National Historic Site Commemorates the 150th Anniversary of the Transcontinental Railroad, May 10-12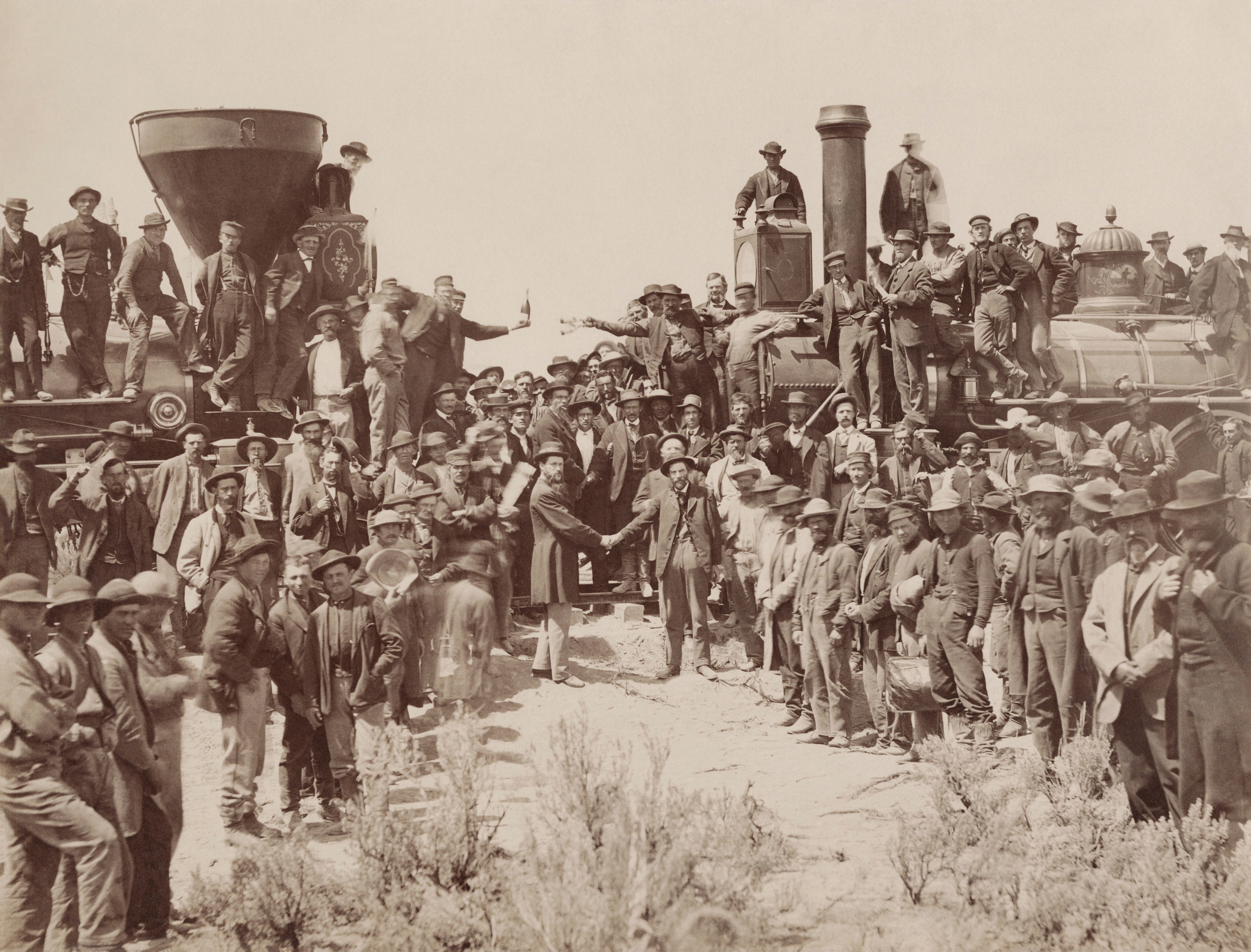 News Release Date:
May 4, 2019
Contact: Bill Fischer, 570-340-5244
SCRANTON, Pa. – Steamtown National Historic Site (NHS) welcomes visitors to help commemorate the 150th anniversary of the completion of the first Transcontinental Railroad with special activities at the park from May 10-12, 2019.  With the driving of a ceremonial golden spike on May 10, 1869 at Promontory Summit, Utah Territory, the nation was linked from coast to coast by rail, accelerating the transit of people and goods across country at a speed not previously known.
Steamtown NHS is offering several different activities to commemorate this historic event. On Friday and Saturday, May 10-11, rangers will lead guided tours of Scranton's luxurious former Delaware, Lackawanna and Western (DL&W) Railroad passenger station, now the Radisson Lackawanna Station Hotel. The tours depart from Steamtown NHS at 10:00 am, 12:30 pm, and 2:30 pm aboard the Scranton Limited, which will be powered by the Baldwin Locomotive Works #26 steam locomotive. Learn about the history of this grand building, which is highlighted by a magnificent skylight and murals of sites found along the DL&W mainline that made the former passenger waiting room one of the most elegant spaces in the city. Don't miss your chance to be taken back in time to when the station was the place to be! Tickets are only $5/person and can be purchased at the park's Ticket and Information Booth in person or by calling 570-340-5204 and paying via credit card (the tickets will be held for you Will Call at the booth).
And don't miss the Marketplace at Steamtown Postal Store special cancellation station set up at Steamtown NHS from 11:00 am until 3:00 pm on Saturday, May 11. The United States Postal Service is honoring the 150th anniversary of the Transcontinental Railroad with three commemorative first class stamps. The stamps and envelopes can be purchased on site at the Steamtown NHS bookstore while supplies last or visitors can bring their own. The store also has a selection of railroad-themed postcards for purchase that could be cancelled as anniversary mementos. Visitors take their stamps, envelopes, and postcards to Steamtown NHS's History Museum, where postal workers will be set up in the Louisville & Nashville Railway Post Office (RPO) car to commemorate the day with a "Steamtown" cancellation.
Then, on Sunday, May 12, make Mom queen for the day aboard a special Mother's Day railroad passenger excursion into the Poconos to the quaint town of Moscow, where the former passenger station and freight depot will be open for viewing. The train departs Steamtown NHS at 1:30 pm and returns after 3:30 pm. Ticket prices are: Adults (ages 16-61), $24.00; Seniors (ages 62+), $22.00; Children (ages 6-15), $17.00, and Children to age 5, free (ticket obtained at fee booth). For more information or to make reservations, please call 570-340-5204.
Steamtown NHS will further observe this special anniversary with regular showings of Golden Spike, the orientation film shown at Golden Spike National Historic Park, Utah, the National Park Service site which commemorates the event, along with other railroad related DVDs. Memorabilia commemorating the 100th anniversary, on loan from the California State Railroad Museum in Sacramento, will be on display in the History Museum.  Steamtown NHS will also bring Nickel Plate Road (NKP) #759 steam locomotive out of the Roundhouse for a rare weekend photo op. NKP #759 pulled the special 1969 Golden Spike Centennial Limited across the Midwest as far as Omaha, Nebraska, before handing the train off to another locomotive to complete the journey to Utah for 100th anniversary activities.
Located in downtown Scranton, Pa., Steamtown NHS is open daily from 9:00 a.m. – 5:00 p.m. daily. From I-81 follow exit 185 (Central Scranton Expressway); then follow the brown and white signs to the park entrance at Lackawanna Avenue and Cliff Street (GPS: N 41.41, W 75.67). General park information is available by phoning (570) 340-5206 during regular business hours, or by visiting the park website anytime.
www.nps.gov/stea
About the National Park Service. More than 20,000 National Park Service employees care for America's 419 national parks and work with communities across the nation to help preserve local history and create close-to-home recreational opportunities. Visit us at
www.nps.gov,
on Facebook
www.facebook.com/nationalparkservice
, Twitter
www.twitter.com/natlparkservice
, and YouTube
www.youtube.com/nationalparkservice
.  
Last updated: June 4, 2019