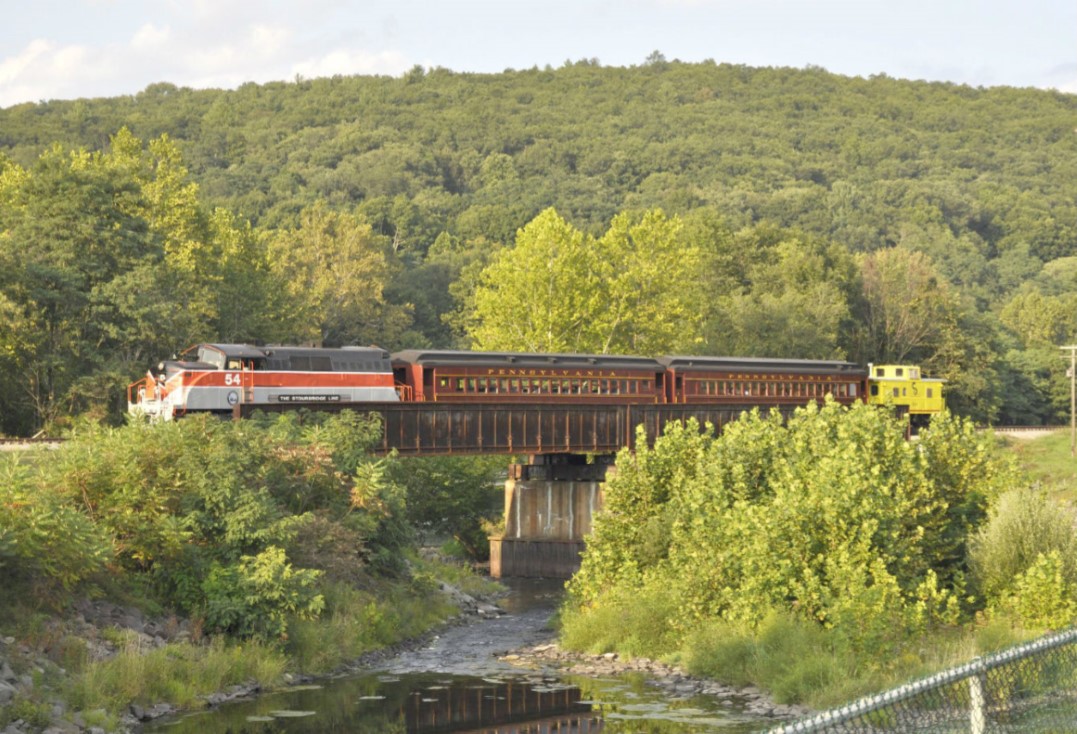 News Release Date:
July 27, 2018
Contact: Bill Fischer, 570-340-5244
Steamtown National Historic Site (NHS) is offering a special railroad passenger excursion, the Northeast PA Railfest Flyer, at Railfest 2018!
Labor Day weekend, Saturday, September 1 and Sunday, September 2, is Railfest 2018. This special two-day event is filled with fun and unique activities celebrating our railroading heritage. Steamtown NHS works with numerous partners to present this end-of-summer family-friendly festivity featuring live music, special displays and shop demonstrations, train rides, and much more!
New this year is a special opportunity! On Saturday, September 1, diehard rail fans will relish in a 5-6 hour long exclusive excursion experience on two passenger railroads running the Northeast PA Railfest Flyer. Enjoy the first section, from Steamtown NHS to Moscow PA, in the foothills of the Pocono Mountains. There you can tour the historic passenger and freight depots, then enjoy a light lunch (hotdog, snack, and soda included in the cost) on the station grounds.
From Moscow you will be bussed to historic Lackawaxen PA, where you will board more vintage railroad equipment for a trip along the scenic Lackawaxen River. This Flyer section, operated by The Stourbridge Line, will terminate in Honesdale PA, where awaiting busses will transport you back to Steamtown NHS. Cost for this all-inclusive excursion, which also includes Railfest admission for both days, is $80 for those aged 13 years and above, and $60 for accompanied youth ages 3-12. Those younger than age 3 are free provided they sit on a parent's lap. We regret that this special opportunity is not handicapped accessible. Tickets are limited and are sure to sell quickly. For more information on this special excursion, please visit:
http://www.laurellines.org/railfesttrip.html
For a more leisurely Railfest, adults (ages 16 and above) may purchase a special $10 one-day or a $15 two-day Railfest pass at the Steamtown NHS information booth upon arrival. Please note that America the Beautiful passes are not accepted for admission to this special event. While children to age 5 can experience this event for free, children 6-15 years of age will require a $7 one–day pass or a $10 two-day pass.
And for those seeking a more relaxed, family-friendly Railfest train ride experience, enjoy a round-trip excursion to Moscow PA, on either Saturday or Sunday. Separate fares for these trips are $24 for adults ages 16 to 61, $22 for seniors aged 62 and older, and $17 for accompanied children ages 6-15. Children ages 5 and younger accompanied by an adult require a "no-charge" ticket.
Excursion tickets to Moscow may be purchased in advance by calling 570-340-5204 or stopping by the Steamtown NHS Fee Booth Wednesday through Sunday from 9:30 a.m. until 4:00 p.m. Please note that the Fee Booth is closed on Mondays and Tuesdays. However, ticket reservations may be secured on those days by calling 570-340-5206 and providing the requested information; park staff will return your call on Wednesday morning to complete your purchase.
Advanced reservations are recommended although day-of-excursion tickets may be available for purchase at the Fee Booth prior to train boarding. Tickets are non-refundable unless an excursion is cancelled by park management. Steamtown NHS accepts all major credit cards, debit cards, checks, money orders, and cash (cash only in person at the Fee Booth).
All excursions are powered using historic diesel locomotives that pull vintage passenger railcars. While excursions to Moscow PA may be handicapped accessible, please state any accessibility concerns/needs before finalizing your ticket purchase. Because we operate in an active railroad yard, share tracks with other operators, and use historic equipment, all excursion and short train ride schedules are subject to change. We appreciate in advance your understanding should unforeseen circumstances cause scheduling delays.
We look forward to seeing you at Railfest 2018!
Located in downtown Scranton, Pa., Steamtown NHS is open daily from 9:00 a.m. – 5:00 p.m. daily. From I-81 follow exit 185 (Central Scranton Expressway); then follow the brown and white signs to the park entrance at Lackawanna Avenue and Cliff Street (GPS: N 41.41, W 75.67). General park information is available by phoning (570) 340-5204 during regular business hours, or by visiting the park website anytime.
www.nps.gov/stea
About the National Park Service. More than 20,000 National Park Service employees care for America's 417 national parks and work with communities across the nation to help preserve local history and create close-to-home recreational opportunities. Visit us at
www.nps.gov
, on Facebook www.facebook.com/nationalparkservice, Twitter www.twitter.com/natlparkservice, and YouTube www.youtube.com/nationalparkservice.