News Release
Railfest 2018 Announcement
Date:
June 27, 2018
Contact:
Bill Fischer
, 570-340-5244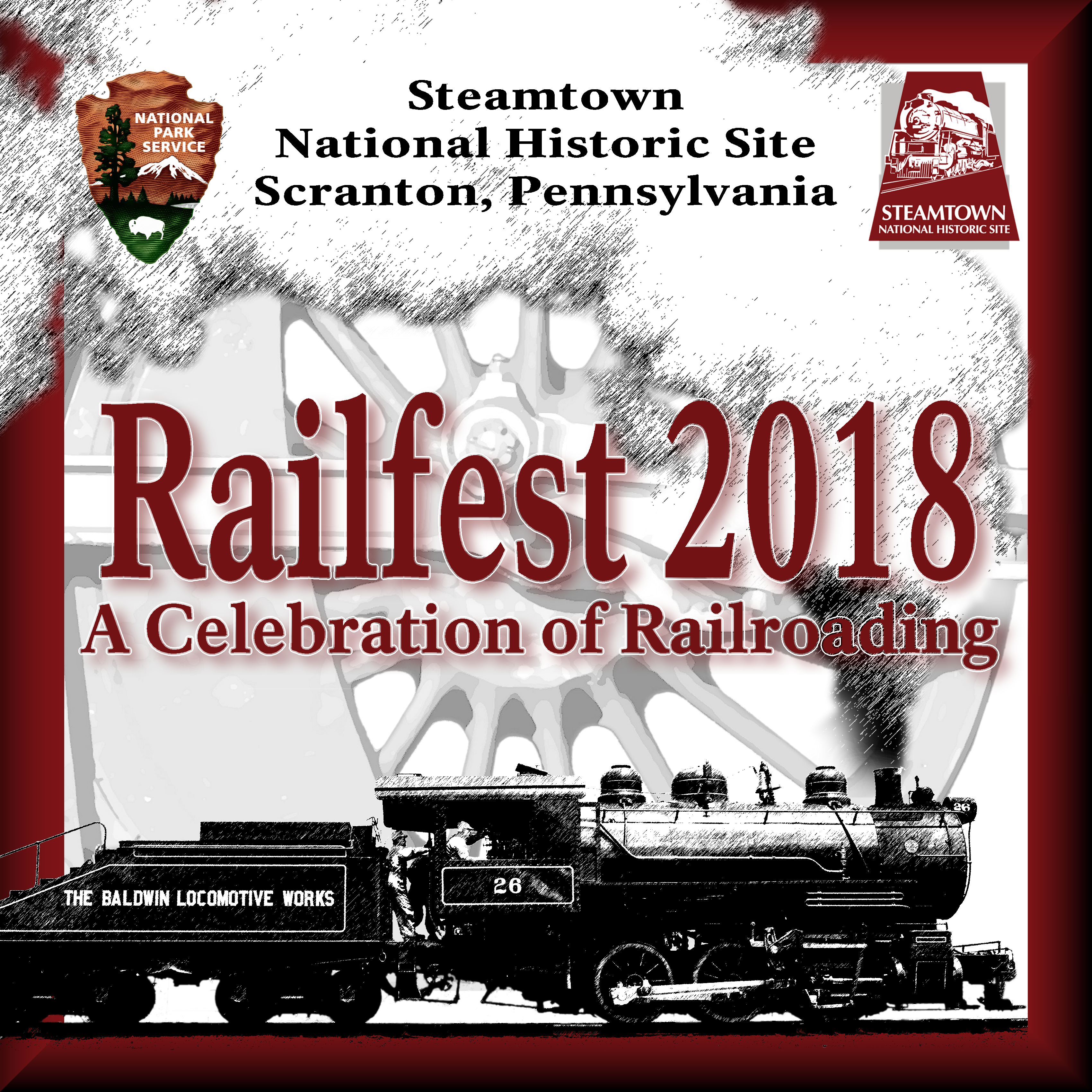 SCRANTON, Pa. – Railfest 2018 at Steamtown National Historic Site (NHS) in downtown Scranton is a celebration of railroading's past, present and future. Held annually on the Saturday and Sunday of Labor Day weekend, this year's event takes place on September 1 and 2, with an opening ceremony on Saturday morning at 10:00 a.m., hosted by park Superintendent Debbie Conway.
The Railfest theme is "Railroading and Coal: A Labor of Love," recognizing the 250th anniversary of anthracite coal's importance to the region and nation. This special two-day event is filled with fun and unique activities. Steamtown NHS works with numerous partners to present this end-of-summer family-friendly festivity featuring live music, themed displays, special shop demonstrations, train rides, and much more!
Adults (ages 16 and above) may purchase a special $10 one-day or a $15 two-day Railfest pass at the Steamtown NHS information booth upon arrival. Please note that America the Beautiful passes are not accepted for admission to this special event. While children to age 5 can experience this event for free, children 6-15 years of age will require a $7 one–day pass or a $10 two-day pass. 
Among the many Railfest events, the special entrance pass affords visitors of all ages the opportunity to enjoy a short train ride through the park, to hop aboard our caboose for a quick jaunt, watch locomotive shop staff operate our giant-sized equipment used to repair engines, power a hand-pump maintenance car, take a ride on a maintenance motor car, and have photos taken with "Miss Phoebe Snow" or "Tux," our minor league hockey team's mascot!  Other activities include 1/8-scale steam train rides, O- and N-gauge model train layouts, magicians, musical concerts, and other family-friendly events. 
Visitors can also enjoy our museums and two very special photo exhibitions; The Call of Trains is a sampling of legendary railroad photographer Jim Shaughnessy's more than 50 years of masterful railroad photography, while Scott Herring, our local Last Anthracite Photographer, will help us celebrate anthracite coal's 250th anniversary as the fuel that helped spur the American industrial revolution and railroad expansion.
While still family-friendly, here's something for diehard rail fans!  On Saturday, September 1, with the purchase of a separate special ticket, visitors can relish in a 5-6 hour long exclusive excursion experience on two passenger railroads running the Northeast PA Railfest Flyer. Enjoy the first section, from Steamtown NHS to Moscow PA, in the foothills of the Pocono Mountains. There you can tour the historic passenger and freight depots, then enjoy a light lunch (hotdog, snack, soda) on the station grounds. From Moscow you will be bussed to historic Lackawaxen PA, where you will board more vintage railroad equipment for a trip along the scenic Lackawaxen River. This Flyer section, operated by The Stourbridge Line, will terminate in Honesdale PA, where awaiting busses will transport you back to Steamtown NHS. Cost for this all-inclusive excursion, which includes Railfest admission for both days, is $80 for those aged 13 years and above, and $60 for accompanied youth ages 3-12. Those younger than age 3 are free provided they sit on a parent's lap. Tickets are limited and are sure to sell quickly. For more information on this special excursion, please call 570-340-5204.
Visitors seeking a more leisurely family-friendly train ride can enjoy round-trip excursions to Moscow PA, on either Saturday or Sunday, in vintage passenger cars pulled by historic diesel locomotives. Fares for these trips are $24 for adults ages 16 to 61, $22 for seniors aged 62 and older, and $17 for accompanied children ages 6-15. Children ages 5 and younger accompanied by an adult require a "no-charge" ticket.
Railfest information will be available at
www.nps.gov/stea/planyourvisit/railfest.htm
or
check out our flyer
.
Also watch for updates on our Facebook page, at:
https://www.facebook.com/Steamtown-National-Historic-Site-151286568217222/?ref=bookmarks
Other event partners include Lackawanna County's Electric City Trolley Museum, which will offer an expanded schedule of trolley rides along a portion of the former Laurel Line. Remember to bring along your appetite for great eats and treats as food trucks will be on site and La Festa Italiana, which takes place at nearby Courthouse Square, has many food options. The County of Lackawanna Transit System (COLTS) will provide free shuttle service between Steamtown NHS and La Festa during the park's operating hours on both days. For more information on the Trolley Museum, phone 570-963-6590; information on La Festa Italiana is available at
www.lafestaitaliana.org
.
Located in downtown Scranton, Pa., Steamtown NHS is open daily from 9:00 a.m. – 5:00 p.m. daily. From I-81 follow exit 185 (Central Scranton Expressway); then follow the brown and white signs to the park entrance at Lackawanna Avenue and Cliff Street (GPS: N 41.41, W 75.67). General park information is available by phoning (570) 340-5206 during regular business hours, or by visiting the park website anytime.  
Last updated: August 2, 2018