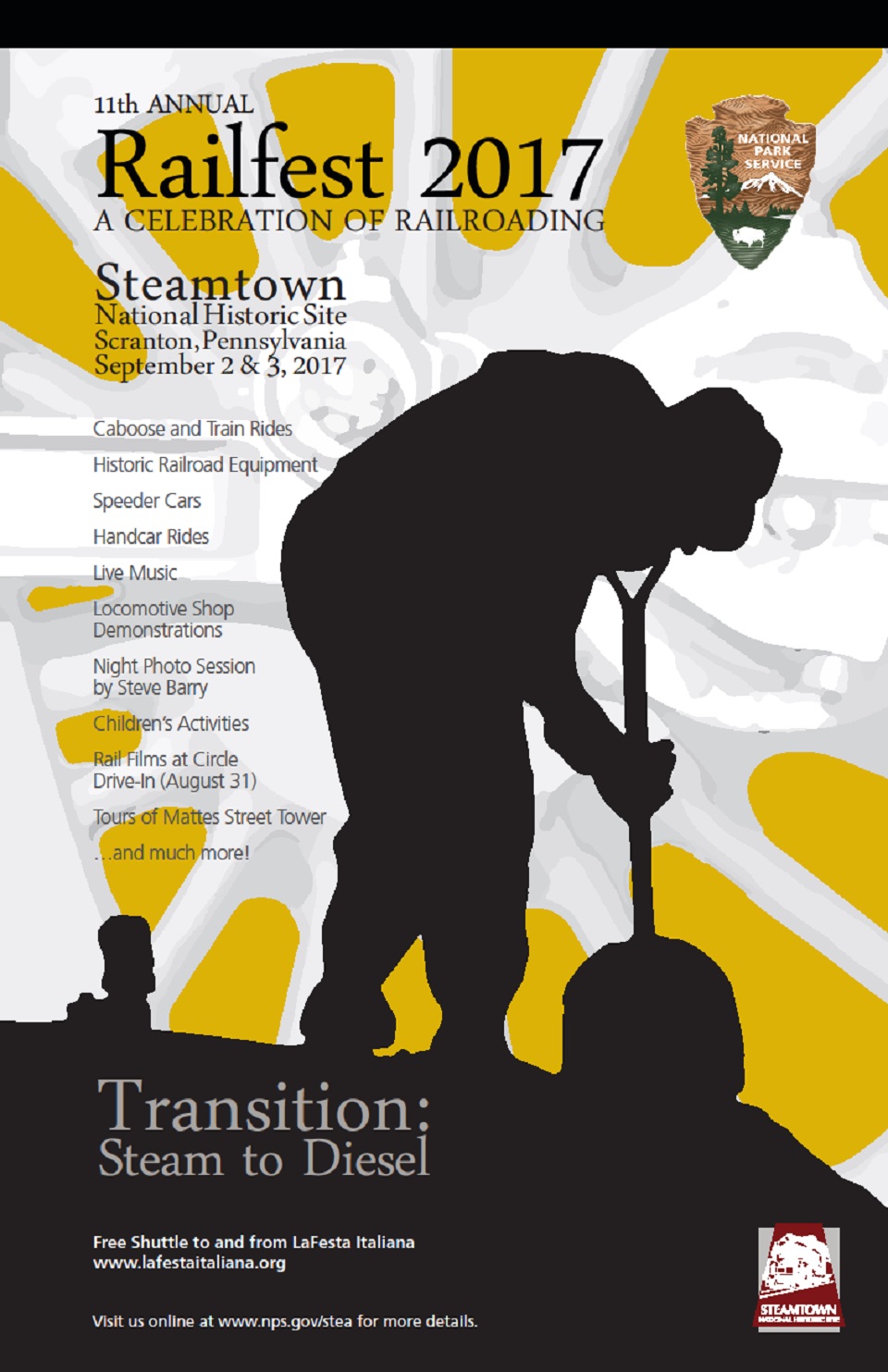 September 2 & 3
Planning is underway!
Railfest 2017 will celebrate Labor Day weekend with visiting equipment displays,
special shop demonstrations and, of course,
tentative train rides on
Saturday, September 2 and
Sunday, September 3
9:00 am - 5:00 pm

Special Event Opening Ceremony
September 2, 10:00 am

Locomotive Shop Demonstrations (tentative)
· Removing wheels from axles using our 300-ton press
· Wheel lathe demonstrations
· King 100 vertical boring mill demonstrations

Excursions & Train Rides (tentative)
·
Caboose rides
·
Hand Car
(Pump Car) rides (weather-permitting)
·
"Scranton Limited"
Short Train Rides (additional fee is required for ages 6 and above)
·
Moscow Excursions
- one daily roundtrip, each departing at 12:30 pm, returning at 3:00 pm - including photo run-bys at Moscow Station - with historic diesel locomotives
(Tentative - ticket sales are not available at this time)
· Trolley Rides at partner site,
Lackawanna County Trolley Museum
(additional fee required)
Special Exhibits & Programs
· Children's programs
· Garden Railroad rides
· Mid Atlantic Motorcar Association

During Railfest 2017, also consider a visit to
La Festa Italiana
on Courthouse Square!
FREE COLTS Trolley Bus shuttles to/from Courthouse Square
via a stop at the Scranton Iron Furnaces
during the Park's operating hours!

All listed participants and events are
subject to change without warning.