Know Before You Go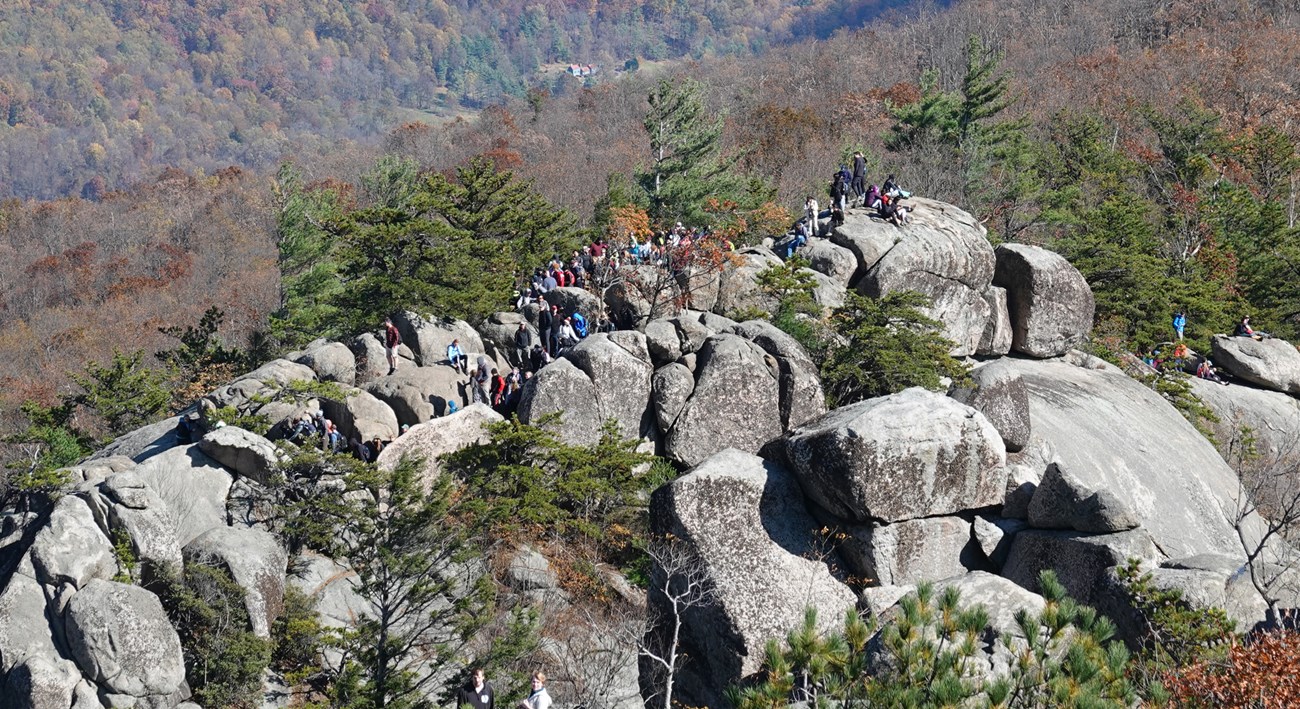 It's no secret that Shenandoah National Park is a great place to get outside and explore, especially during the summer and fall months. Those beautiful days can lead to overcrowding, however, which can cause potential problems for yourself, other visitors, and the wildlife in the Park. So, before you breathe in that fresh mountain air, please take a moment to learn ten simple things you can do to help everyone enjoy a safe and memorable trip to Shenandoah.
1. Avoid the crowds.
Whiteoak Canyon, Old Rag, and Dark Hollow Falls are our busiest trails and can become overcrowded, degrading your experience and damaging sensitive areas. If a parking area is full, it's time to move on to another trail. Use this busy time of year to look for the hidden gems that are less traveled...we have plenty of recommended day hikes for you to choose from! We also strongly encourage you to plan your trip to enter at Swift Run or Rockfish entrance stations to avoid the longer lines at Front Royal and Thornton Gap entrance stations.
2. Stay on the trail.
We are heartbroken that we have had several serious accidents around waterfalls. No picture is worth the pain and suffering of a serious fall. Stay on the trail, watch your footing on slippery rocks, and observe all warning signs.
3. Keep your dog on a leash.
In order to maintain the safety of your pet and any wildlife you may encounter, dogs are required to be on a leash no longer than 6 feet at all times. Be sure to check the list of trails where dogs are not permitted. Shenandoah is one of the few national parks that allows pets; your compliance will help protect that.
4. Plan for dog poop.
If you have a dog – be prepared when duty calls for your pooch. Bag your pet's waste. Pet waste bags should never be left in trees, on trail posts, or discarded along the trail. If no trash receptacle is immediately available, take the waste bag with you until you find one.
5. Keep your fires legal.
Fires are allowed only in the Park-provided fire grates found in picnic areas, campgrounds, and overnight shelters. The use of charcoal grills is prohibited. To prepare your food without a campfire, use a small, packable backpacking stove. All other fires are considered illegal open fires.

You must fully extinguish your fire before leaving the area, even for a short amount of time. To do this, simply douse the fire with water and stir with a stick. Repeat this until you no longer feel warmth coming from the fire grate. It's always a good idea to bring an old plastic milk jug or a bucket for carrying water from the faucet to your campfire!
6. Properly store your food.
Believe it or not, storing your food properly is one of the most important steps you can take to protect wildlife and help keep yourself safe. Allowing a bear, or any other wild animal, to obtain human food can lead to aggressive behavior. For this reason, never leave food unattended, even for a few minutes.
7. Pick up your trash.
Unattended trash can harm wildlife and degrade the experience of other visitors. A national park is different from a city park and trash cans may not be readily available. Bring trash bags along so that you can take your trash with you if there are no trash receptacles nearby. If a dumpster or trash can is full, never leave a bag of trash nearby. Keep it with you until you find a receptacle with space.
8. Drive the speed limit.
The speed limit on Skyline Drive is 35 mph, so feel free to roll down your windows, feel the breeze, and experience every curve and turn of this beautiful drive. Observing the speed limit also helps you to remain vigilant for any hidden wildlife along the road corridor.
9. Bring your 10 essentials.
The 10 Essentials are a collection of first aid and emergency items that can help you in the event of minor injuries, sudden weather changes, or unexpected delays.
10. Get digital with it.
Be sure to purchase a digital entrance pass ahead of time to save on wait times at the entrance stations
Last updated: August 17, 2023