News Release
Shenandoah National Park Announces Temporary Trail Closures during Jones Mountain Cabin Restoration Project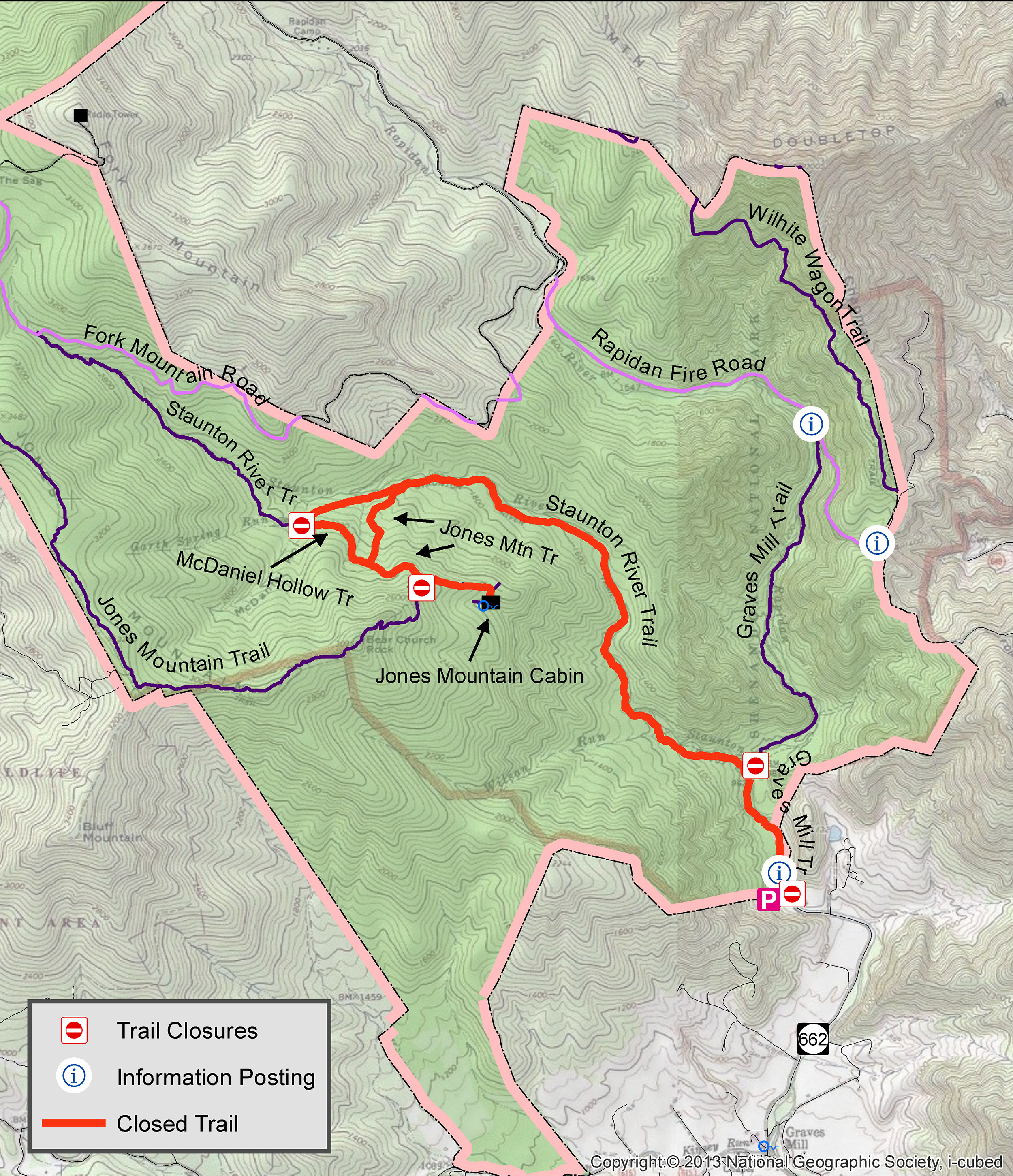 News Release Date:
August 14, 2018
Contact: Sally Hurlbert, 540-999-3500 ext. 3300
Luray, Virginia: Shenandoah National Park managers will temporarily close the trails leading to Jones Mountain Cabin (see map for closure area) to all hiking and backcountry use during two phases of operations associated with the restoration of the historic cabin. Since the cabin is located in a remote area, a team of mules will be used to deliver and retrieve materials between the cabin and the parking area at the Graves Mill trailhead (off of Route 662 in Madison County).

Phase 1 of the temporary closure will be in effect from 8:00 a.m. August 17 to 3:00 p.m. August 24, 2018.* The following areas will be closed while restoration work is completed:
The Graves Mill trailhead parking lot off Rt. 662
Graves Mill Trail from the parking lot off Rt. 662 to the intersection with Staunton River Trail
Staunton River Trail from its intersection with Graves Mill Trail to the intersection with McDaniel Hollow Trail
The entire McDaniel Hollow Trail
Jones Mountain Trail from its intersection with Jones Mountain Cabin Trail to the intersection with Staunton River Trail
The entire Jones Mountain Cabin Trail
Similar closures will be put into effect during Phase 2 of the project from October 29 through November 2, 2018.

The original Jones Mountain Cabin was constructed in 1918 by Harvey Nichols. When Shenandoah National Park was established, the Jones Mountain cabin was within the boundary of the park.  Mr. Nichols left the cabin in 1937 and it was abandoned until 1969. The cabin was restored by the Potomac Appalachian Trail Club (PATC) in 1969-71. The cabin was largely rebuilt on the original foundation.  Since that time, little work has been done to the cabin other than routine maintenance. This project will rehabilitate the cabin including replacing the entire roof, disassembling and rebuilding the existing porch and porch frame, repairing various log timbers using a combination of full replacement, partial replacement and epoxy repairs, stabilizing the fire place hearth, and replacing the wood stove. All repairs are critical to the preservation and structural integrity of this historic cabin. Currently, the cabin is available to the public to rent and is managed by the PATC. However, please note that the cabin is temporarily closed for rental from August 17 until November 2, 2018 while it is being restored. This project will ensure the ongoing safety and positive visitor experience for the visitors who access and utilize this historic structure each year and it addresses one of Shenandoah's deferred maintenance projects.

For updates, please check the hiking alerts, Facebook, Twitter, or Instagram.
*Update on 8/28/2018

The closures discussed above will be reinstated from 8:00 a.m. September 4 to 3:00 p.m. September 7.