News Release
Shenandoah National Park announces additional closures for Quaker Run Fire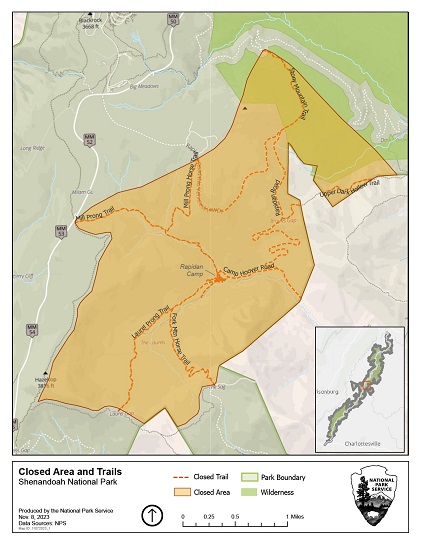 News Release Date:
November 8, 2023
Contact: Claire Comer, 540-999-3500 x3183
LURAY, VA – Shenandoah National Park has closed the Rapidan Camp area near the eastern boundary in the central section of the park (see map) due to a wildfire. The closure includes the area around the historic camp and the trails leading to it including the following:
· Mill Prong Trail
· Mill Prong Horse Trail
· Stony Mountain Trail
· Fork Mountain Trail
· Laurel Prong from Cat Knob intersection
· Upper Dark Hollow Trail (does NOT impact access to falls)
· The lower Rapidan Fire Road beyond the portion open to bicycles
Earlier closures included the entire length of the Graves Mill Trail from the intersection of the Staunton River Trail to the Rapidan Fire Road, and the entire length of the Wilhite Wagon Trail.
Firefighters and support staff from Virginia Department of Forestry (DOF), Virginia Department of Wildlife Resources, and National Park Service continue efforts to contain the fire, which has affected approximately 2,960 acres on private, state, and federal lands. About 670 acres are within Shenandoah's boundary.
Heavy leaf litter and extremely dry conditions prompted a complete fire ban in Shenandoah earlier today. All open-air fires are prohibited including in picnic area and campgrounds.
Heavy smoke from the fire is affecting the central portion of Shenandoah National Park as well as surrounding communities. Visitors are advised to stay alert of local smoke conditions and take necessary precautions. Daily updates, including a smoke outlook can be found on the park website at Quaker Run Fire Information - Shenandoah National Park (U.S. National Park Service) (nps.gov)
Last updated: November 8, 2023