KNP Complex Fire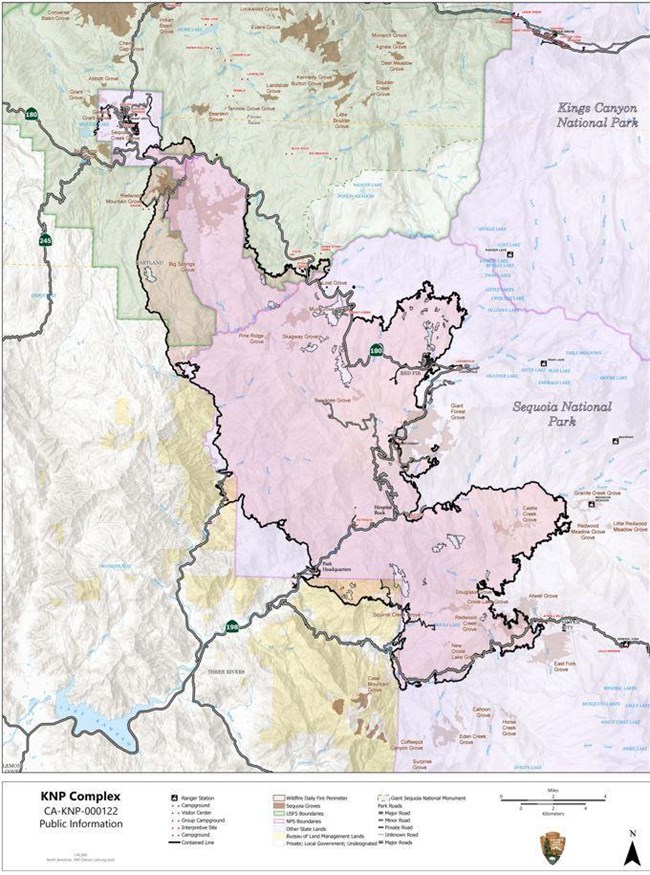 Overview
On Thursday September 9, 2021, the Cabin, Colony, and Paradise Fires were ignited by lightning and discovered the following day. The 1.25-acre Cabin Fire was quickly contained, but the Colony and Paradise fires presented serious challenges to firefighting and spread rapidly. The two fires merged into one large fire on September 17, 2021, referred to as the KNP Complex.

The fire was declared 100 percent contained on December 16, 2021, after more than three months of firefighting and significant precipitation events across the Sierra Nevada. The majority of the acreage of the KNP Complex is within Sequoia and Kings Canyon National Parks. It also burned on Sequoia National Forest, as well as lands under county and state jurisdiction.

The KNP Complex left a broad spectrum of fire effects, with some areas within the fire's footprints very severely burned, others moderately burned, and others affected very little. In the areas of highest fire intensity, 100% of trees and vegetation were killed, including thousands of mature giant sequoias.
Archived Fire Information
InciWeb KNP Complex web page - briefings, maps, images, evacuation notices. This site is no longer updated or searchable but can still be reached with the direct link.
News Releases - While news releases are no longer being generated for the KNP Complex, you can find daily updates on the fire during its most active period here.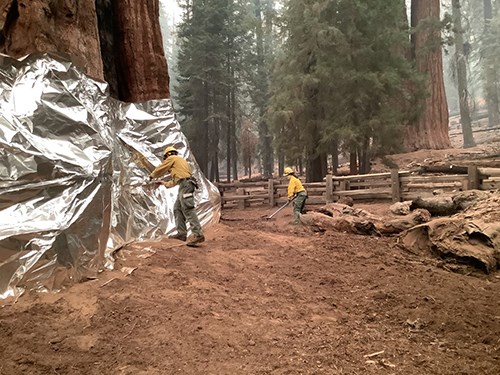 Full Suppression Strategy
As soon as the fires were discovered, Sequoia and Kings Canyon National Parks took full suppression action, meaning that the goal was to totally extinguish them. Recognizing that the location of the fires would present major challenges, the parks ordered additional air and ground resources immediately. CALFIRE, Tulare County Fire, and Tulare County Sheriff's Office worked in close partnership with the parks.
Obstacles
When the fires were discovered on September 10, it was immediately evident that suppression would be difficult and rapid spread was likely, due to the extemely steep terrain, dense, dry vegetation, lack of trail or road access, and an abundance of standing dead trees. Poor visibility due to extremely smoky conditions sometimes prevented aircraft from flying. In addition, the parks were feeling the effects of a prolonged drought in the state of California. Live plants and trees had a low percentage of moisture and were likely to ignite and carry fire.
Priorities
The protection of people and communities was the highest priority in the fire suppression operation. Communities that were at risk at some point during the fire include Wilsonia, Three Rivers, Mineral King, Silver City and Cabin Cove, Advance, Eshom, Hartland, Hume Lake, and employee residences within Sequoia and Kings Canyon National Parks and Sequoia National Forest. These communities were subject to evacuation warnings or orders, some for many weeks.

Another priority during the fire was the protection of park natural and cultural resources. Giant sequoias are the largest trees in the world, and among the oldest (some sequoias are more than 3,000 years old). Their only natural range is within California's Sierra Nevada, and they are the keystone and namesake species of Sequoia National Park.
Tactics
Initial attack on the fires relied heavily on aircraft, dropping retardant and water on the fire. As the fires grew, ground crews utilized indirect firefighting tactics. This meant that they worked at a distance from the fire's edge, in terrain where it was possible to operate with an acceptable margin of safety and a higher probability of success. There were some opportunities for direct attack as the fire moved into more accessible terrain and favorable weather moderated fire activity. This allowed firefighters to work the edge of the fire to attempt to prevent any further growth.

Bulldozers and masticators were brought in to cut wide fuel breaks, tactical burning operations were performed, and giant sequoias and structures were wrapped in fire-resistant structure protection wrap. The teams managing the fire used new technologies, like dropping fire retardant gel on some cabins and giant sequoias.
KNP Complex Fire Timeline
September
9, 2021
A major lightning storm occurs in Sequoia and Kings Canyon National Parks and the surrounding areas. More than 200 lightning strikes occur in the parks.
September 10, 2021
Three new wildfires are reported in the parks, and plans to put out the fires are immediatley put into action. The fires are named the Cabin, Colony, and Paradise.
September 11, 2021
As the fire grows, the Generals Highway from the Sequoia Entrance Station to Giant Forest is closed. The Colony and Paradise Fires are designated the KNP Complex.
September 12, 2021
The Cabin Fire is declared 100% contained. Due to the steep, densely forested terrain, and limited visibility for aircraft, the KNP Complex continues to present a challenge to fire managers. The Generals Highway is closed north of the Giant Forest.
September 13, 2021
The Paradise Fire grows to 807 acres and the Colony Fires grows to 120 acres. Evacuations are issued in the neighboring community of Three Rivers.
September 14, 2021
Lodgepole and Ash Mountain employee housing areas and NPS headquarters are evacuated. The Paradise Fire is 2,531 acres and the Colony Fire is 493 acres. The parks work closely with Cal Fire, BLM, and Tulare County Sherrif's Office as potential for fire growth poses risk to nearby BLM lands and neighboring communities.
September 15, 2021
The fires grow significantly. The Paradise Fire has a new acreage of 5,914 acres, and the Colony Fire has a new acreage of 1,125 acres, with 0% containment.
September 16, 2021
A Type 1 Incident Management Team assumes command of the KNP Complex.
September 17, 2021
The Paradise and Colony fires merge into one fire. The world's largest giant sequoia, the General Sherman tree, is prepped for encroaching fire.
September 18, 2021
Fire arrives in the Giant Forest and nearby developed areas. Fire intensity is low to moderate due to significant prep work and many years of prescribed burn treatments in this area. Despite close proximity, fire does not burn through the Lodgepole or Wukaschi Lodge areas.
September 21, 2021
Growth to the north prompts the closure of Kings Canyon National Park. The only areas in Sequoia and Kings Canyon National Parks that remain open are wilderness lands east of the Pacific Crest Trail.
September 23, 2021
Firefighters conduct tactical firing operations near Ash Mountain and in Giant Forest.
October 3, 2021
The fire burns across Mineral King Road near Lookout Point, resulting in the re-evacuation of several neighborhoods.
October 4, 2021
Fire activity significantly increases. The fire burns at high intensity up Redwood Creek and into Redwood Mountain Grove, destroying a historic cabin and mature giant sequoias.
October 8, 2021
The KNP Complex splits into two zones, managed by two Type 1 Incident Management Teams.
October 11-14, 2021
After several days of favorable weather, containment climbs to 45%. Evacuation warnings are removed for Three Rivers, Hartland, and Eshom. Park employees are permitted to return to housing in Grant Grove, Cedar Grove, and Ash Mountain.
October 18, 2021
Rain and snow fall in the parks, slowing fire growth. Containment rises to 55%. The majority of Kings Canyon National Park and large sections of the wilderness of Sequoia National Park reopen to the public.
October 25, 2021
An atmospheric river brings 2-3 inches of rain. As water flows downstream, rivers temporarily run black with ash and sediment. Some roads in the parks experience small debris flows that temporarily block access.
November 9, 2021
A Burn Area Emergency Response Team visits the parks and evaluates the fire area for hazards.
November 11, 2021
The Generals Highway in Sequoia National Park reopens as far as Hospital Rock. Fire containment is estimated at 75%.
December 11, 2021
The Giant Forest in Sequoia National Park reopens for public access Friday-Sunday as weather and road conditions allow.
December 15, 2021
A Burned Area Emergency Response Report is issued.
December 16, 2021
In light of significant rain and snowfall across the entire fire footprint, the fire is declared 100% contained.
Mar 13-19, 2022
The remaining employees displaced due to the KNP Complex Fire return to their homes in the Lodgepole area of Sequoia National Park.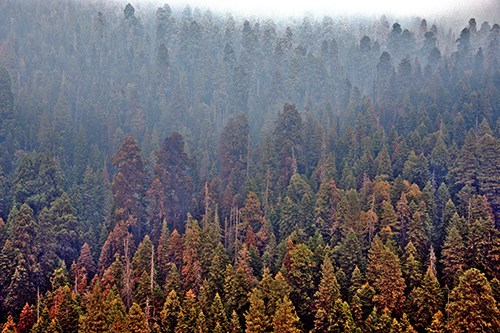 Burned Area Emergency Response (BAER)
Following a significant wildfire, assessments and hazard mitigations must take place to protect public safety.

For the KNP Complex Fire, the first step in this process was to bring in a Burned Area Emergency Response (BAER) team to evaluate post-fire conditions in the parks. The BAER team, made up of hydrologists, biologists, archeologists, and soil scientists, made recommendations to the parks' leadership on actions to stabilize soils and prevent erosion, prevent loss of life and property, and protect natural and cultural resources.
Learn more about how the parks responded after the fire, and watch this video about what a BAER team does to help parks plan for post-fire restoration.
Sequoia Mortality
Perhaps the most enduring and tragic legacy of the KNP Complex is that it killed thousands of mature giant sequoias, irreplaceable in many human lifetimes. To learn more about varied fire effects among sequoia groves, visit
Two Groves and a Wildfire
, a page contrasting fire effects in Giant Forest and Redwood Mountain Grove. Visit the webpage for the
Giant Sequoia Lands Coalition
to read detailed reporting on the losses, and learn more about how the KNP Complex fits into the larger issue of giant sequoia mortality.
Additional Fire-related Resources
Last updated: October 12, 2023