Two Sequoia Groves and a Wildfire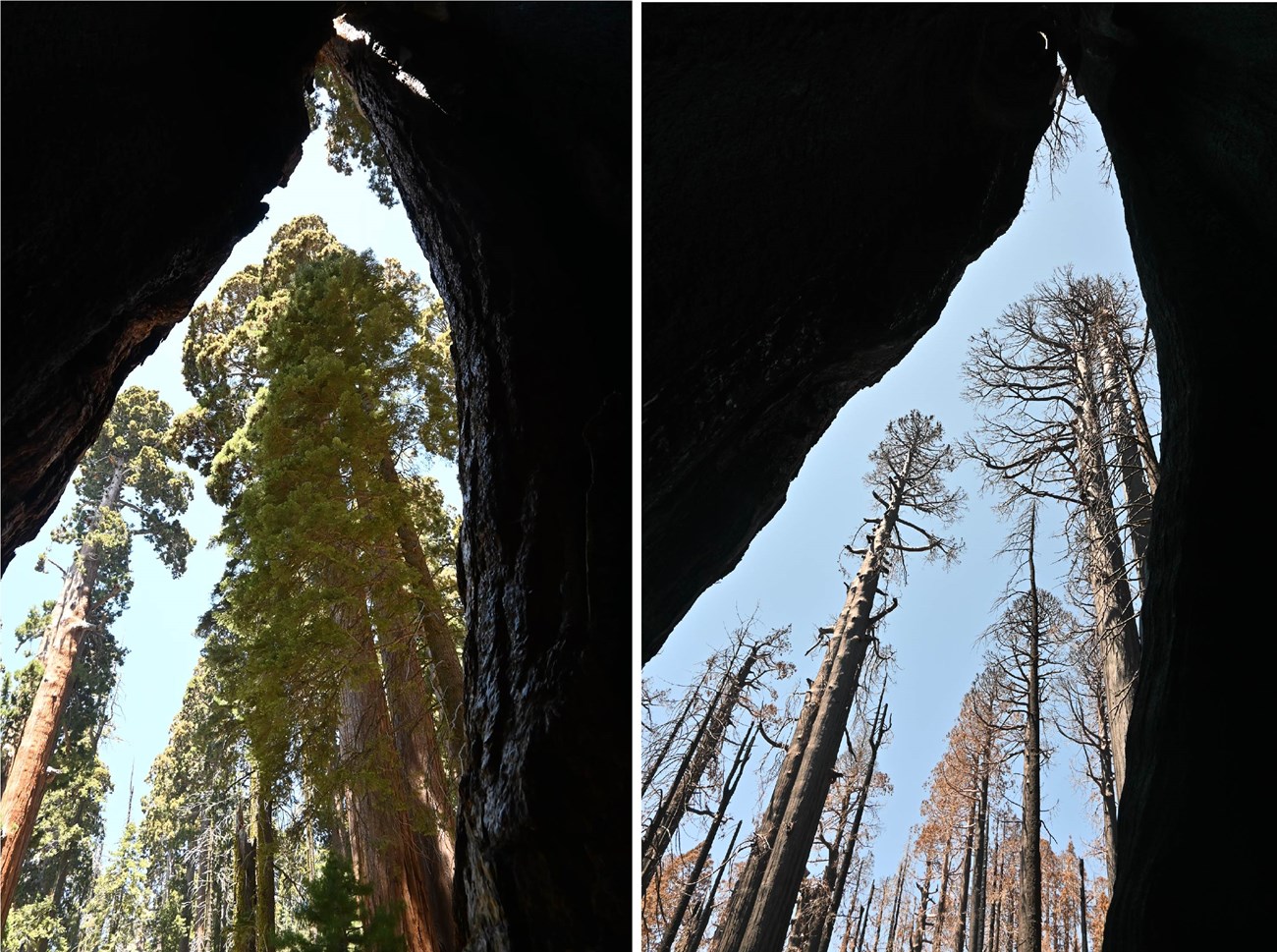 In 2021, the 88,307-acre KNP Complex Fire burned portions of 16 giant sequoia groves, a total of 4,374 acres (1,770 hectares). Here we compare and contrast the fire's effects on two of our largest and well-known groves. We share why the Redwood Mountain Grove lost an estimated 974 to 1,574 large sequoias to the fire, and Giant Forest only had low to moderate fire effects along its west and northwest edges. We share how the following factors affected fire impacts in these groves:
Geography: Location, accessibility, and topography
History of prescribed burning
Fire behavior, or how the fire burned
What actions firefighters took as the fire approached
How did geography influence the different KNP Complex Fire effects in these groves?
Redwood Mountain Grove is located in Kings Canyon National Park and is at the northern end of the KNP Complex perimeter, while Giant Forest is at the eastern edge of the fire perimeter and occurs in Sequoia National Park (see map below).

Redwood Mountain Grove occurs in the bottom and on the slopes of Redwood Creek drainage and extends over Redwood Ridge to the east and into Eshom Creek drainage west of the park. The grove topography includes flatter areas along the canyon bottom, a ridgetop, and moderate to steep slopes that form Redwood Canyon. Fires tend to spread faster up a slope than downslope or in flat areas. Fire burning upslope preheats and dries fuels above it, making for more rapid burning and spread. Narrow and wide canyons, ridges, and saddles can dramatically affect how a fire burns. These features can change prevailing wind patterns, increasing wind speed, and intensifying fire behavior— such as rate of spread and the amount of heat the fire produces. All of these factors can make a prescribed fire more challenging to plan and manage and a wildfire more dangerous to fight.

Giant Forest is set on a rolling plateau between the Marble and Middle Forks of the Kaweah River. Portions of the grove extend down smaller creek drainages, with steeper topography, but the plateau-like terrain of much of the grove tends to favor more moderate fire spread that is easier to manage.

Access to these groves from roads and trails also played a role in the different prescribed fire history, and in the actions that were safe for firefighters to take during the KNP Complex Fire. Being closer to roads and more trails, Giant Forest has easier and safer access for firefighters to conduct prescribed burns and to take protective actions when severe wildfires approach the grove.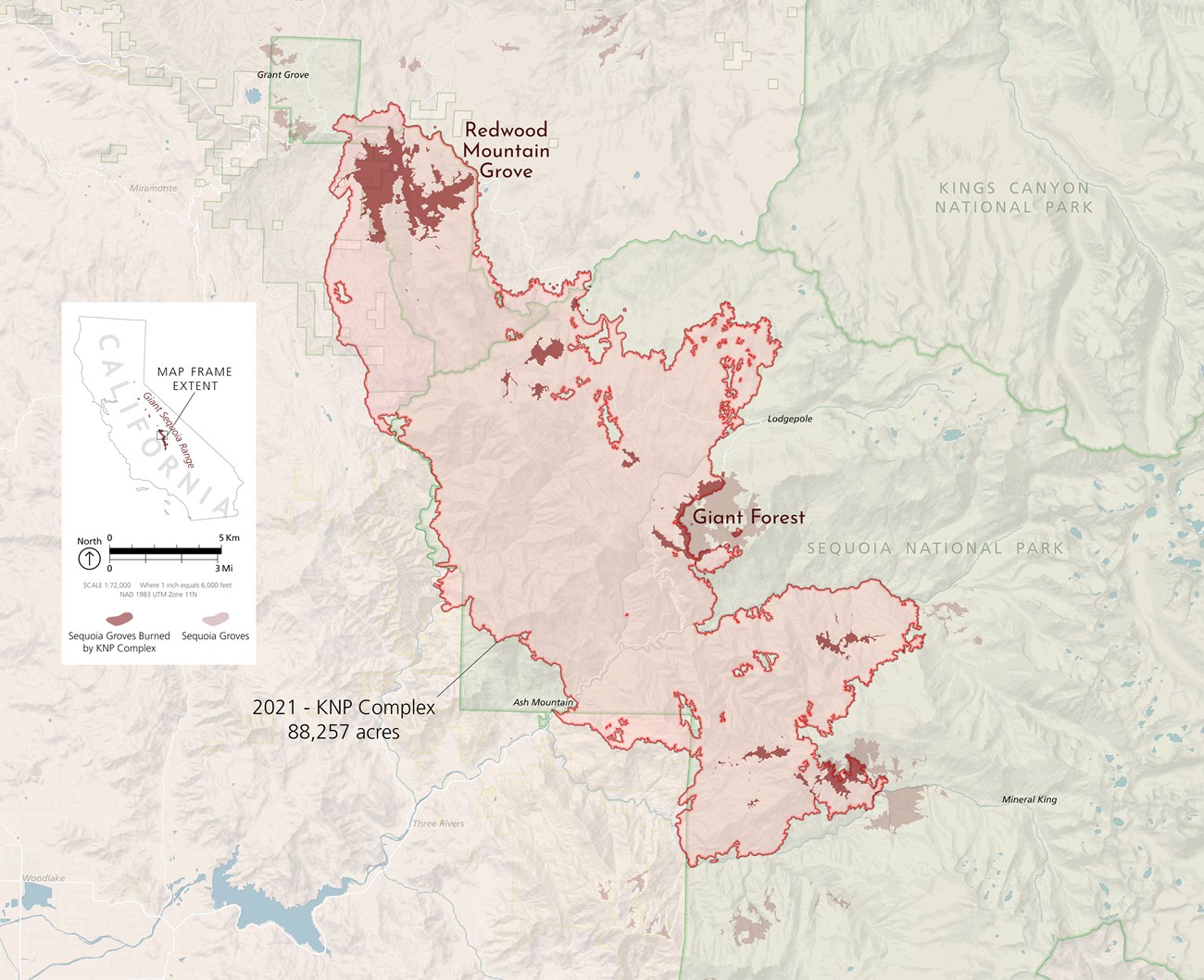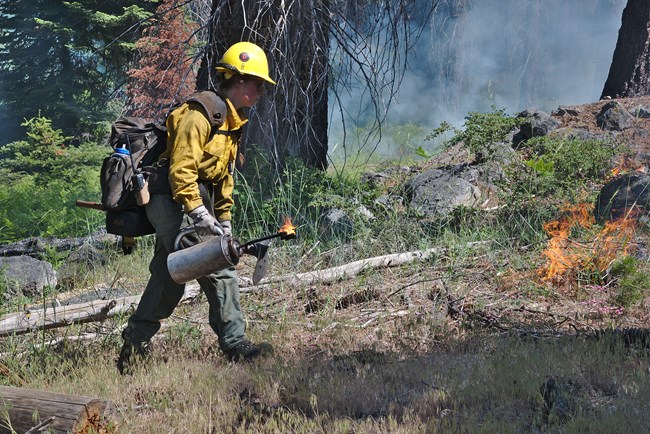 History of Prescribed Burning
While the Redwood Mountain Grove had an earlier start to prescribed burning, beginning with small burns conducted for fire effects research projects in the mid-1960s, Giant Forest has since had many more prescribed burns over a larger area. Between 1980 and 2022, park staff conducted 62 prescribed burns in Giant Forest. By contrast, between 1964 and 2016, a total of 18 prescribed burns were done in Redwood Mountain, and the 1964 and 1965 burns were small and centered around areas where scientists did research projects on fire effects and giant sequoia seedling establishment. The prescribed burns in Giant Forest are distributed throughout most of the grove area. Prescribed burns in Redwood Mountain are primarily in the northern portion of the grove, which is more accessible, and therefore, safer for fire staff to work in, and less complex to prepare and burn.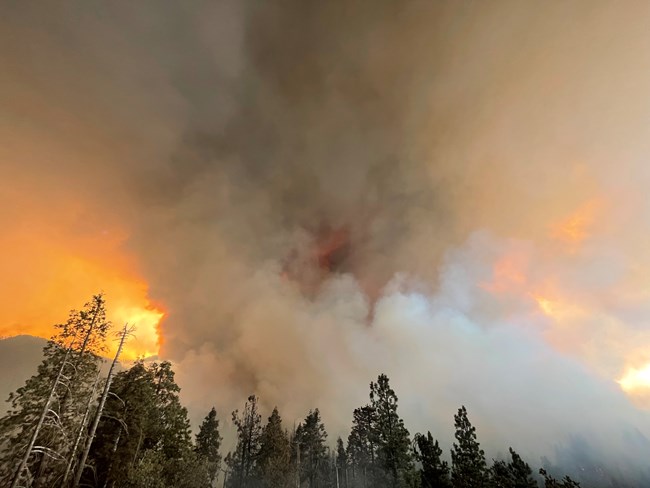 How did the fire burn in the two groves?
Redwood Mountain, Kings Canyon National Park
On October 3 and 4, 2021, two fronts of the KNP Complex Fire burned into Redwood Mountain and Redwood Canyon. Fire burning to the west of Redwood Mountain made a run across the ridge into the main canyon and merged with another portion of the fire burning up-canyon from north of the Big Springs Grove. The resulting fire burned the southern end of Redwood Mountain Ridge and lower portions of the grove in Redwood Canyon as a high severity fire torching the crowns of giant sequoias. This fire then burned east, to the East Fork of Redwood Creek and onto the Big Baldy Ridge. It then burned west of Redwood Mountain Ridge into Eshom Creek drainage, where late in the day it made a high severity crown fire run out of the grove and across Generals Highway onto Park Ridge.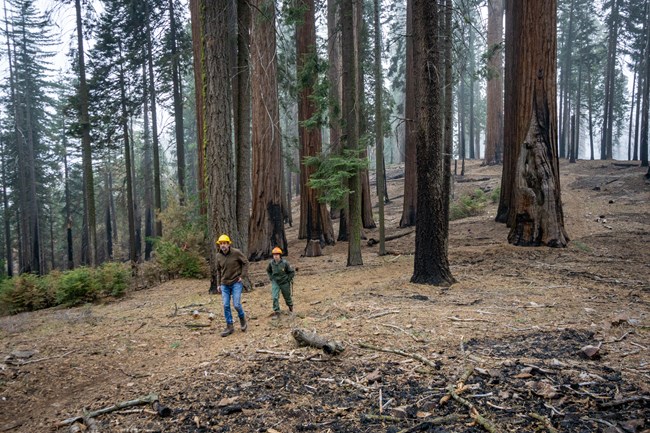 The fire also burned north through Redwood Canyon until reaching the areas burned out by fire crews at the upper part of the grove. Recent prescribed burns conducted in 2004, 2006, 2009, 2011, 2012, and 2016 moderated the fire's severity in this area because ground fuels and small trees and undergrowth had already been reduced. Some areas had been burned in prescribed fires 2-3 times. The difference in fire effects between the north portion of the grove, which had been treated with prescribed burning in fairly recent history, and south portions of the grove, which lacked recent fire history, is stark. In the south, the groups of charred, dead sequoias are heartwrenching to see. In the north, the fire killed some small trees and shrubs, but sequoias and most other trees still stand – a green haven of forest.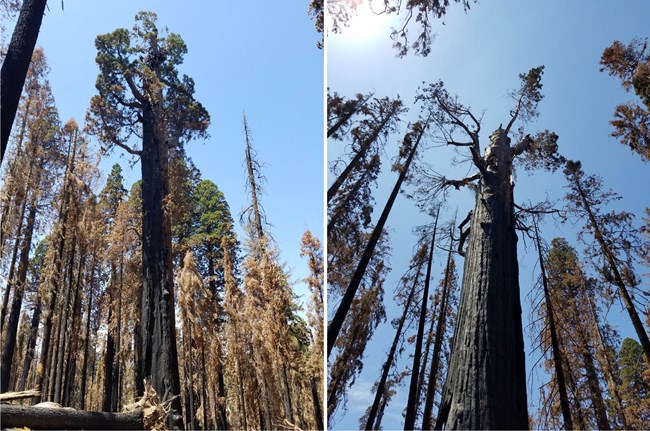 Impacts to Named Trees and Cultural Resources
The fire destroyed the National Park Service's historic Redwood Saddle Cabin, just off the road near the Redwood Mountain Grove trailhead. Along the Hart Tree Trail, the fire burned Barton's Cabin Log and much of the Tunnel Log (note: not to be confused with the more famous Tunnel Log in Giant Forest). The Hart Tree had moderate amounts of crown scorching, but the tree is overall in good shape with numerous green branches remaining. The Roosevelt Tree, just upslope from the Hart Tree, had an old, large fire scar that the fire burned into, burning out the center of the tree and causing the tree's crown to collapse. Several small, green branches remained as of late July 2022, but the probability of this tree surviving is low.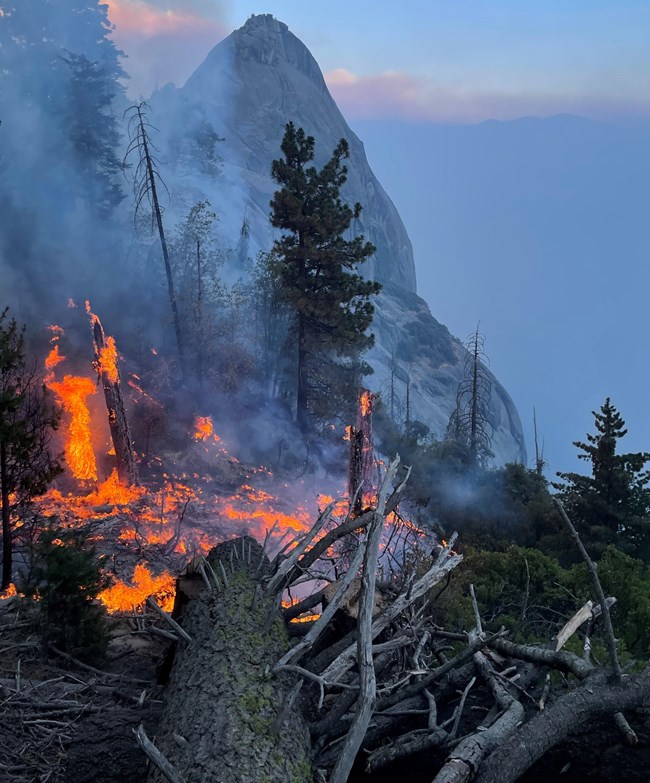 Giant Forest, Sequoia National Park
On September 17, 2021, after the Paradise and Colony fires merged, the main front of the KNP Complex Fire made an upslope run into western areas of Giant Forest and burned into lower Deer Creek. On September 18, the fire pushed further east, burning across the Generals Highway and the Crescent Meadow Road on the grove's west side, and into Sherman Creek on the northwest side. The fire's growth was stopped below the General Sherman Tree by a 2019 prescribed burn unit on the west side of the Generals Highway, illustrating the effectiveness of reduced fuels (e.g., logs, sticks, young trees) in slowing wildfire growth.
Impacts to Named Trees and Cultural Resources
By October 3rd, the fire had grown around the south side of the grove and burned the historic restroom building near Moro Rock. No impacts to sequoias of special interest (such as named trees) occurred, except for some basal charring of two of the Four Guardsmen along the Generals Highway.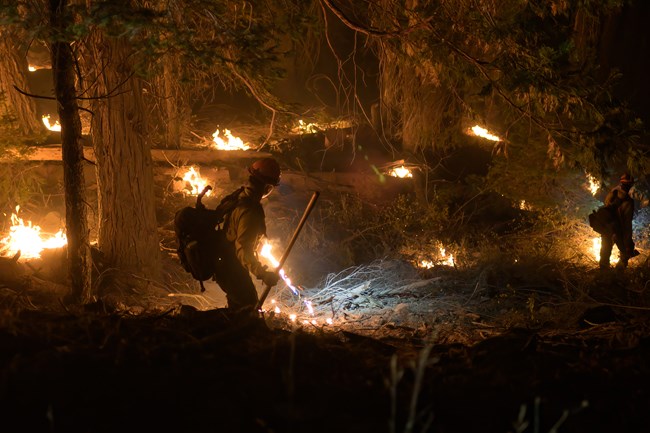 What actions did firefighters take prior to the fire's approach?
Redwood Mountain, Kings Canyon National Park
In September, firefighters cleared fuels away from the bases of 45 large sequoias in in the more accessible northern portion of this grove. On October 1-3, 2021, firefighters conducted backfiring operations at night along the Generals Highway in areas upslope of the grove. Backfiring is a firefighting tactic where firefighters intentionally set fire to fuels within a control line, such as a road, to contain a rapidly-spreading fire. This reduces the chance of fire jumping over the fireline (or road in this case) and makes it safer for firefighters to put out spot fires that may result from embers blowing upslope or across the road. Backfiring operations continued along Big Baldy Trail and west from the highway overlook to Redwood Ridge. Early on October 4th, firefighters burned along the east flank of Redwood Ridge, south of Redwood Saddle parking area.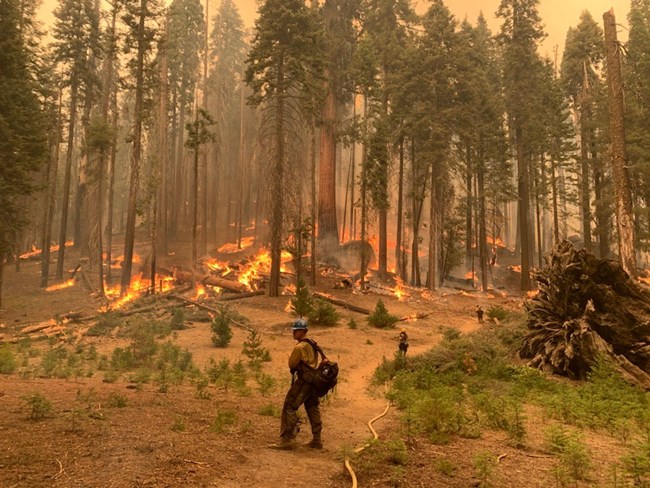 Giant Forest, Sequoia National Park
To prevent spread of high-intensity fire into Giant Forest, firefighters conducted burning operations starting on September 19, 2021, and continuing subsequent days. Using hand ignitions with drip torches, firefighters reduced woody material and fine fuels like pine needles and younger trees that can carry fire up into the canopy of larger trees. This fuel removal helps to reduce the intensity of the approaching wildfire and slow its spread. These occurred near Crescent Meadow Road, upper Sherman Creek, Pinewood area, and Sunset Rock, to protect the area from a fire run upslope out of the MIddle Fork where the fire was spreading upcanyon. In case the fire made an uphill run, additional burning operations continued into late October within the grove, south of Crescent Meadow Road and the High Sierra Trail.
How many acres burned at different severities?
Satellite imagery is used to estimate the fire's severity, or how the fire altered or disrupted the ecosystem. The change between pre-fire and post-fire vegetation is used to estimate the severity of the fire. The table below provides estimates of the areas (acres and percent) of Giant Forest and Redwood Mountain Grove that were burned at different severities and how much area was entirely outside the fire perimeter. Areas detected as "unchanged" had some underburn, but ground surveys are needed to determine its extent and effects as they are not as observable by satellite.

As the table indicates, only 24 percent of Giant Forest was within the fire perimeter, compared with 100 percent of Redwood Mountain Grove. Only 1.2 percent of Giant Forest burned at moderate or high severity, but 40 percent of Redwood Mountain sustained moderate to high severity fire, which killed large numbers of giant sequoias.
Acres and percent of area burned by severity class (including acres and percent outside of fire perimeter) by sequoia grove. Severity classes are based on Rapid Assessment of Vegetation Condition after Wildfire (RAVG) analysis comparing pre-fire and immediate post-fire changes in vegetation. Note that Redwood Mountain Grove includes lands managed by the National Park Service, the US Forest Service, and University of California, Berkeley. Some rows don't sum exactly to 100 percent because of rounding to whole numbers.
Grove
Outside Fire Perimeter
Unchanged
Low Severiy
Moderate Severity
High Severity
Total Burned Area
Giant Forest
1609 (76%)
284.8 (14%)
183.3 (8%)
24.0
(1%)
3.7 (0.2%)
495.8 (24%)
Redwood Mtn
0 (0%)
631.7 (24%)
957.7 (36%)
519.7
(19%)
560.6 (21%)
2669.7 (100%)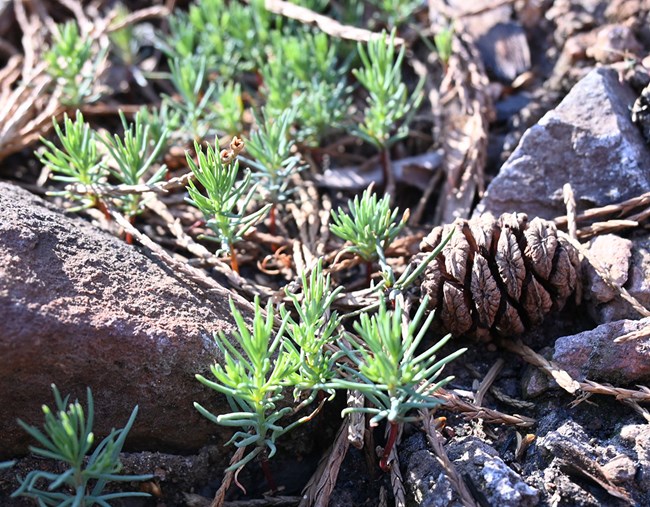 Caring for Sequoia Groves
Park managers and other entities that manage giant sequoia groves are learning more about the health of sequoia groves and planning how best to restore and protect them from future major wildfires. Here are some of the current priorities:
Working with scientists to learn more about how sequoias are responding to climate change (hotter droughts and more severe wildfires)
Planning and conducting prescribed burns
Planning and implementing selective thinning and pile burning
Re-planting some parts of severely burned sequoia groves (a possibility currently undergoing a public review process)
Sharing knowledge and findings about changes in groves related to fire and warming climate
Working across boundaries with other agencies, private organizations, and tribal partners who also manage giant sequoia groves
Learn more about threats to giant sequoias.
Last updated: October 20, 2023