Current Conditions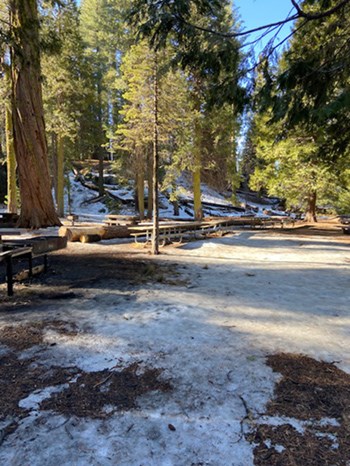 ~Page last updated January 21, 2021~
Current Road and Weather Conditions
A storm is forecasted to bring snow to the parks' higher elevations this weekend, with significant snow coming later this week. If you plan to travel to the parks, expect tire chain requirements to be in effect.
Grant Grove Area Conditions
Warm conditions in the Grant area are quickly melting snow, though more snow is on the way. Accumulation is very patchy—where snow is found, it is about 3 inches in depth or less. Big Stump and Columbine Picnic/Snowplay Areas do not have enough snow for winter sports. All Grant Grove area trails can be accessed on foot, but some may be more difficult to follow. Well-used trails like the North Grove Loop and Big Stump Trail are easier to follow. Trails have a mix of bare ground or packed snow/ice, so be sure to bring traction devices or cleats for your shoes/boots. Waterproof boots are recommended. Panoramic Point Road is closed to vehicles, but feel free to hike along the road (5 miles round trip) to the overlook.
Giant Forest/Lodgepole Area Conditions
Giant Forest and Lodgepole has only a few inches of packed snow, though more snow is in the farecast for this weekend. Most trails are covered with packed snow and boots are recommended. Currently, there is not enough snow to ski or snowshoe.

The main Sherman Tree Trailhead and Parking Area is currently open. The trail that descends to the Sherman Tree from this parking area is steep and can be quite slippery in fall and winter—use caution. Other parking in the area is extremely limited. If you'd like to visit the General Sherman Tree, and the main lot is not open, we recommend you visit this area early in the morning or late in the afternoon, and visit other areas during peak times of day. Trails here are packed and icy at this time.

Larger parking areas at Giant Forest Museum offer options for trails that lead to a variety of hikes through giant sequoia groves. Moro Rock / Crescent Meadow Road is closed to vehicles but you may access it by foot. A number features can be found along this road (Auto Log, Buttress Tree, Tunnel Log). Additional locations to visit include Beetle Rock, Big Trees Trail, and Hazelwood Nature Loop.
Foothills Area Conditions
Currently, the warm weather in foothills offers excellent dayhiking opportunities. Explore the changing colors on the trails, which may be wet from recent rains. Marble Falls currently has flowing water for those who enjoy waterfall hikes. If you hike on Foothills trails after a storm, be ready for stream crossings. Turn back if you don't feel comfortable crossing.
Picnic Areas/Snowplay Areas
Our picnic areas, some of which are snowplay areas in winter, are open. Wolverton, Big Stump, and Columbine Picnic and Snowplay areas will be open for gathering and recreating. Currently, there is just a small amount of very melting, icy snow covering the ground, exposing rocks, tree's, and stumps and making it unsafe to sled. Please use caution in these areas as hazards (rocks, logs) beneath shallow snow depths lead to injuries each year. Trash receptacles will be available for food waste and ash—please dispose of garbage and properly store your food from wildlife such as ravens and bears.

Wildfire-Related Closures and Restrictions in Sequoia National Park
The South Fork area and some wilderness areas in Sequoia are closed due to the SQF Complex fires.
Closures of Campgrounds, Lodges, and Most Commercial Services
Due to a regional stay-at-home order issued by the State of California for the San Joaquin Valley region, all park campgrounds are closed through at least February 9, 2021. Park lodges and restaurants are currently closed until further notice.

In Sequoia National Park, all visitor services at Wuksachi Lodge are closed until further notice, including the lodge, the restaurant, gift shop, and restrooms. There will be no food service in Sequoia until the lodge reopens, and travelers are advised to bring food from outside the parks.

In Kings Canyon National Park, Grant Grove Market remains open with limits on occupancy. John Muir Lodge and Grant Grove Restaurant are closed.

For more information about lodging and other commercial services, please visit Delaware North's website or contact their reservations number: (866) 807-3598.

Reservations for Potwisha Campground in Sequoia National Park have been canceled through February 9, 2021. Reservation holders will be contacted and reservations will be fully refunded. Reservation holders for dates beyond February 9, 2021, will be notified at least 48 hours in advance if the closure is extended, though we will provide this information with as much advance notice as possible. No first-come, first-served sites will be available at Azalea or any other park campgrounds through at least February 9, 2021.

Overnight backpacking into wilderness areas is still available with a self-issued wilderness permit. Wilderness travelers must be self-reliant and prepared for quickly changing mountain weather. Winter storms are likely at this time of year. The minimum distance for overnight stays is usually at least two miles from the trailhead, though it can be quite a bit longer from most trails. For more information, check our overnight backpacking web page and our wilderness safety videos.
COVID-19 Safety
The National Park Service encourages you to follow CDC guidance to reduce the spread of COVID-19:
If you feel sick, please visit another day.
Practice social distancing. Maintain at least 6 feet of distance between you and others.
Wear a face covering when social distancing cannot be maintained.
Avoid touching your eyes, nose, and mouth.
Cover your mouth and nose when you cough or sneeze.
Wash your hands often with soap and water for at least 20 seconds or use hand sanitizer.
Visitor Centers and Access to Trip-Planning Information
In accordance with guidance from the White House, Centers for Disease Control and Prevention (CDC), and state and local public health authorities, Sequoia and Kings Canyon National Parks have closed access to some facilities due to the pandemic. Three visitor centers may provide outdoor information services: Foothills Visitor Center, Giant Forest Museum, and Kings Canyon Visitor Center in Grant Grove, though these services may be limited or closed at any time due to staffing, weather, or other conditions. Park stores at each visitor center offer sales of books, trail maps, and other educational items. Exhibit halls and theaters are closed.
Your safety is our number one priority. The health and safety of staff and visitors alike is critical to us. We are working with the NPS Office of Public Health and the US Public Health Service to closely monitor the coronavirus (COVID-19) situation. Please follow COVID-19 safety procedures.
Information on Neighboring Public Lands
Traveling to Yosemite National Park? Reservations are no longer required to enter the park, though they're strongly recommended for camping and lodging.

For information on the status of the Sequoia National Forest or Giant Sequoia National Monument (managed by the US Forest Service), visit the Sequoia National Forest website. Sequoia National Forest issued an order prohibiting camping (both developed campsites and dispersed camping) on the Hume Lake Ranger District through at least January 31, 2021.

For information on Lake Kaweah (managed by the U.S. Army Corps of Engineers), visit their website.
Last updated: January 21, 2021