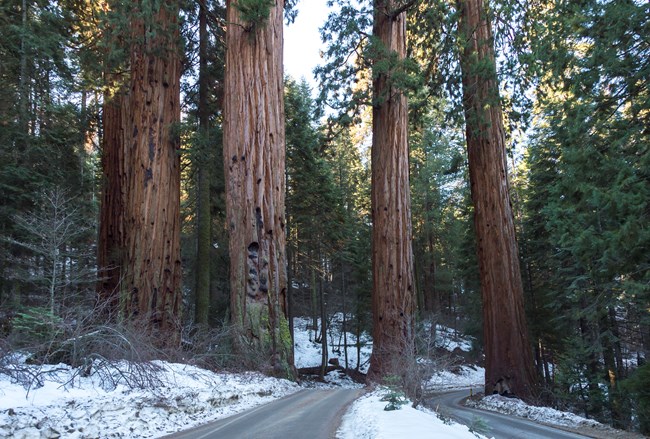 The updated 2019 Campground Opening and Closing Schedule is now available. Several campgrounds throughout these parks will open late due to deep snowpack and hazard trees. Years of drought have left thousands of dead trees, which may suddenly fall into campsites or buildings. Visitor safety is our top priority. If you're planning on camping, please check this schedule for frequently for updated opening dates. Recreation.gov is available to those looking to make campground reservations for the coming months.

Spring has brought wildflowers to the foothills, but winter continues high in the mountains with deep snow and cold temperatures. If you're traveling into the mountains, be prepared for winter conditions. As the weather fluctuates throughout the spring, tire chains may be occasionally required for travel. Please check weather forecasts before you come and drive safely!

Roads in the Giant Forest and Grant Grove areas are mostly free of snow and ice. Sidewalks and paths may be icy at the elevation of the sequoia groves and we recommend traction devices for shoes. Some trails are snowpacked and hiking boots are suitable for travel during cool mornings. Shoe traction devices can help avoid slips and falls. Other trails may require snowshoes or skis. Trail conditions change day to day, so check in at the Giant Forest Museum or Kings Canyon Visitor Center before your hike for the most up-to-date information.

Snow depths are variable throughout the Giant Forest, Wolverton, and Grant Grove areas. If you visit a snowplay area, stay safe, as there are many sledding injuries here each year. Snowplay areas are becoming slushy as spring temperatures rise.

Temperatures in the Foothills area are warming. It's shaping up to be an exceptional wildflower year. Ticks are especially common here at this time of year; check yourself after a walk. Also, rattlesnakes have been sighted at low elevation areas.

Be extremely cautious near rivers, especially during spring and early summer. Spring rainfall and melting snow from the mountains makes river waters swift, icy cold, and extremely hazardous. Strong currents often run under apparently calm water, and cold water will quickly sap your strength. Creek crossings along trails are unstable; If you're unsure if it's safe to cross, turn back.

Cedar Grove and Mineral King are closed for the season.