Current Conditions
~Page last updated April 16, 2021~
Current Road and Weather Conditions
Warm conditions in the foothills can be deceptive! At higher elevations, such as Grant Grove, Lodgepole, and the Giant Forest, winter can linger. As unlikely as it sounds, it's not uncommon for those areas to get snowfall in May. If you travel to the sequoia groves, expect winter closures to still be in place on many park roads until later in spring.

CalTrans is scheduled to open Highway 180 to Cedar Grove at noon on April 23, depending on conditions. Even if no snow falls between now and then, much work remains to clear the highway of months of winter debris. Mineral King Road is scheduled to open at noon on May 26, depending on snow conditions and access. Other park roads, such as Moro Rock / Crescent Meadow Road and Panoramic Point Road, are also scheduled to open on May 26, depending on conditions.

At the elevation of the sequoia groves (Giant Forest, Lodepole, Grant Grove), much of the parks' recent snow has melted and roads are bare and dry. However freezing and thawing patterns may cause patches of ice. Be cautious while driving in early morning when temperatures are coolest, or when driving in heavily shaded areas. We recommend slower speeds and more distance between vehicles.

The Generals Highway between Sequoia and Kings Canyon is open. Spring storms may cause temporary closures along this stretch of highway, but we plan to keep it plowed and open when possible.

In the foothills, roads are bare and dry.
Grant Grove Area Conditions
In the Grant Grove area, almost all of the winter snowpack has melted and there is no snow in snowplay areas. Higher-elevation trails may still be covered by snow.

We're expecting the Redwood Canyon Trailhead to be accessible by car, depending on your vehicle. Roads in Sequoia National Forest near Grant Grove may be open and passable. Spring snowstorms are still possible, though!
Giant Forest / Lodgepole Area Conditions
Warm weather has melted nearly all of the snow in the Giant Forest and Lodgepole areas, and there is no snow at Wolverton Snowplay Area. You may find some snow on shady north-facing slopes, but nearly all trails are bare and dry. Unless you hike to higher elevations, hiking boots should be appropriate for most trails near the sequoia groves.

The main Sherman Tree Trailhead and Parking Area is open. The trail to the Sherman Tree may be slippery from morning ice—use caution on this sloped trail.

Moro Rock / Crescent Meadow Road is free of snow and is accessible to hikers and bicycles. A number of features can be found along this road, such as the Auto Log, Buttress Tree, and Tunnel Log. As of a March 30, 2021 report, Moro Rock is snow free, but still slippery, especially in morning or when cool out. Please use caution when climbing the stairs and turn around if conditions become dangerous.

If you hike to higher elevations, be prepared for snow that's still deep and difficult to navigate.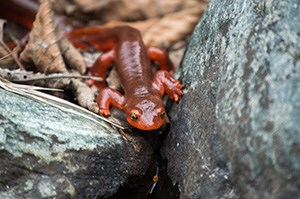 Foothills Area Conditions
Currently, the mild weather in the foothills offers opportunities for dayhiking. Our rangers report blooms of pink manzanita and redbuds, purple lupine, and orange poppies! Many new wildflowers are beginning to emerge and trees are sprouting green leaves as well. This time of year, keep on the lookout for harmless, bright-red newts on trails or near the water's edge. As you hike, consider that warm temperatures mean that rattlesnakes may begin to emerge, and ticks may be present.

As temperatures climb, it may be tempting to head to park rivers. Melting snow at higher elevations makes rivers run swift and cold. Drowning is the leading cause of death in these parks. Many people don't plan to swim but fall in after slipping. Please stay safe around park rivers by enjoying them from a distance at this time of year.

Some trails have stream crossings that may become dangerous after heavy rain. If you hike on Foothills trails after a storm, be ready to turn back if you don't feel comfortable crossing, or if rockfall, tree hazards, or other factors make the trail unsafe.
Wildfire-Related Closure in Sequoia National Park
The Dillonwood area wilderness area closure in Sequoia remains in effect, due to impacts from the SQF Complex fires.
Campgrounds
Campgrounds are beginning to reopen in these parks. For more information, please visit our 2021 Campground Opening page.
Visitor Centers
Two visitor centers are providing outdoor information services, weather depedent: Foothills Visitor Center and Giant Forest Museum. Kings Canyon Visitor Center is open, but only a few people are permitted to enter at a time. Park stores at each visitor center are open, offering sales of books, trail maps, and other educational items. Exhibit halls and theaters are closed.
Lodging and Food Services
In Sequoia National Park: Wuksachi Lodge and Gift Shop are open. Limited to-go food services available. In Kings Canyon National Park: John Muir Lodge and some Grant Grove cabins open on April 2, 2021. Grant Grove Market is open, as is Grant Grove Gift Shop. For more information about lodging and other commercial operations opening in April, please visit Delaware North's website or contact their reservations number: (866) 807-3598.
Backpacking
Overnight backpacking into wilderness areas is available with a self-issued wilderness permit until May 27, 2021 at your nearest permit-issuing station. The quota season begins May 28, 2021 and it is recommended that reservations are made on Recreation.gov. For more information, check our Wilderness Permits web page.
COVID-19 Safety
Sequoia and Kings Canyon National Parks urge you to follow National Park Service and CDC guidance to reduce the spread of COVID-19:
Wearing a mask is required in federal buildings. Masks are required outdoors on federal land when social distancing cannot be maintained.
If you feel sick, please visit another day.
Practice social distancing. Keep both yourself and park employees safe, by respecting the 6-foot distance rule when you are interacting with them.
Avoid touching your eyes, nose, and mouth.
Cover your mouth and nose when you cough or sneeze.
Wash your hands often with soap and water for at least 20 seconds or use hand sanitizer.
Your safety is our number one priority. The health and safety of staff and visitors alike is critical to us. Please follow COVID-19 safety procedures. In accordance with guidance from the White House, Centers for Disease Control and Prevention (CDC), and state and local public health authorities in relation to the pandemic, Sequoia and Kings Canyon National Parks are working to increase access to facilities.
Information on Neighboring Public Lands
Traveling to Yosemite National Park? Reservations will be required to enter the park for day use beginning February 8.

For information on the status of the Sequoia National Forest or Giant Sequoia National Monument (managed by the US Forest Service), visit the Sequoia National Forest website. Sequoia National Forest issued an order prohibiting camping (both developed campsites and dispersed camping) on the Hume Lake Ranger District through at least January 31, 2021.

For information on Lake Kaweah (managed by the U.S. Army Corps of Engineers), visit their website.
Last updated: April 16, 2021