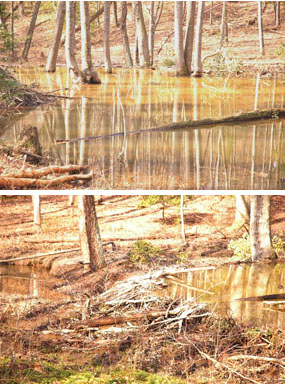 South Valley Trail (8.7 miles; 14.0 km)

South Valley Trail is the longest trail in the park. It runs from Oak Ridge Campground, south to Pyrite Mine Road along South Fork Quantico Creek. While traveling through the Oak Ridge area, you will notice burn marks on many of the trees. This is the result of a 318-acre wildland fire that began near the B-loop of Oakridge Campground. The fire began on March 27, 2006 and was finally extinguished on April 4, 2006 with the help of over 70 wildland firefighters. To view the full story, refer to park newsletter, The Oasis, Vol. 1 Issue 8.

About 40 minutes down the trail you will come upon a large beaver dam on South Fork Quantico Creek. This has opened up new habitats for many for many of the park's wildlife.