South Valley Trail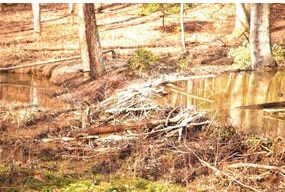 9.7 miles, 15.6 kilometers
South Valley Trail is the longest trail in the park. It runs from Oak Ridge Campground, south to Pyrite Mine Road along South Fork Quantico Creek. Visitors may see wildlife along this trail. Many birds and small mammals frequent this part of the park.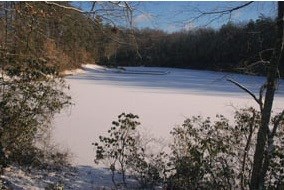 Cross over Mawavi Road, and Lake 2 and 5 will be about 15 minutes down the path. Across the lake you will see a group of cabins. There are five different cabin camps located throughout the park. All were built by the Civilian Conservation Corp (CCC) in the 1930s under FDR's New Deal. The CCC was created to reduce unemployment during the Great Depression, conserve natural resources, provide skills to young men, and create outdoor recreation areas for public use. The cabin camps were originally built for use by urban youth groups and welfare agencies. During World War II, the park and cabin camps used by the Office of Strategic Services as a training grounds for recruits. Today, the cabins can be rented out by different groups and individuals.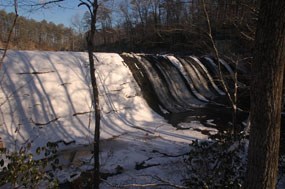 On the south end of Lake 5, there is a large man-made dam. Please be careful in this area and stick to the trail.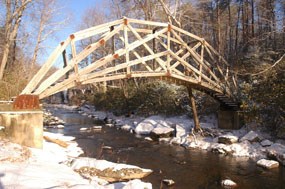 Just past the dam, you will notice an arching footbridge that connects South Valley Trail to Cabin Camp 5. This bridge was built by the Sierra Club for a bridge-building demonstration. The area just over the bridge is for permitted campers only.

About an hour past Mawavi Road you will come upon High Meadows Trail. This trail leads up towards Parking Lot H and Turkey Run Ridge Group Campground.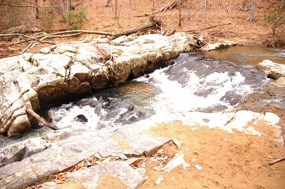 As you follow along the creek, there will be multiple opportunities to see small cascades.
About an hour after passing High Meadows Trail, you will cross over Scenic Drive. Before crossing Scenic Drive for the second time, you will pass Taylor Farm Road on your left.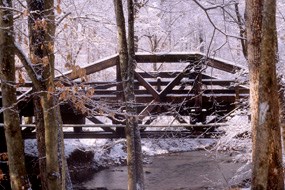 About 30 more minutes down the trail, you will pass over Scenic Drive for a third and final time. A few minutes past the bridge, which was built by the Civilian Conservation Corp, you have the option to take
Turkey Run Ridge Trail
.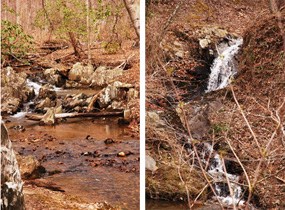 Past Turkey Run Ridge Trail, South Valley Trail becomes more hilly, providing hikers with more opportunities to see cascades. Also, notice Cabin Camp 3 on the hillside to the right. These cabins can also be rented by groups or individuals.

About 15 minutes past Cabin Camp 3, you can meet up with North Orenda Road. A few more minutes down the path, you will notice a small bridge to the right which takes you over the creek to Laurel Loop Trail. From here it is only about 30 more minutes until you reach Pyrite Mine Road and North Valley Trail.
Last updated: September 25, 2018