Oak Ridge Campground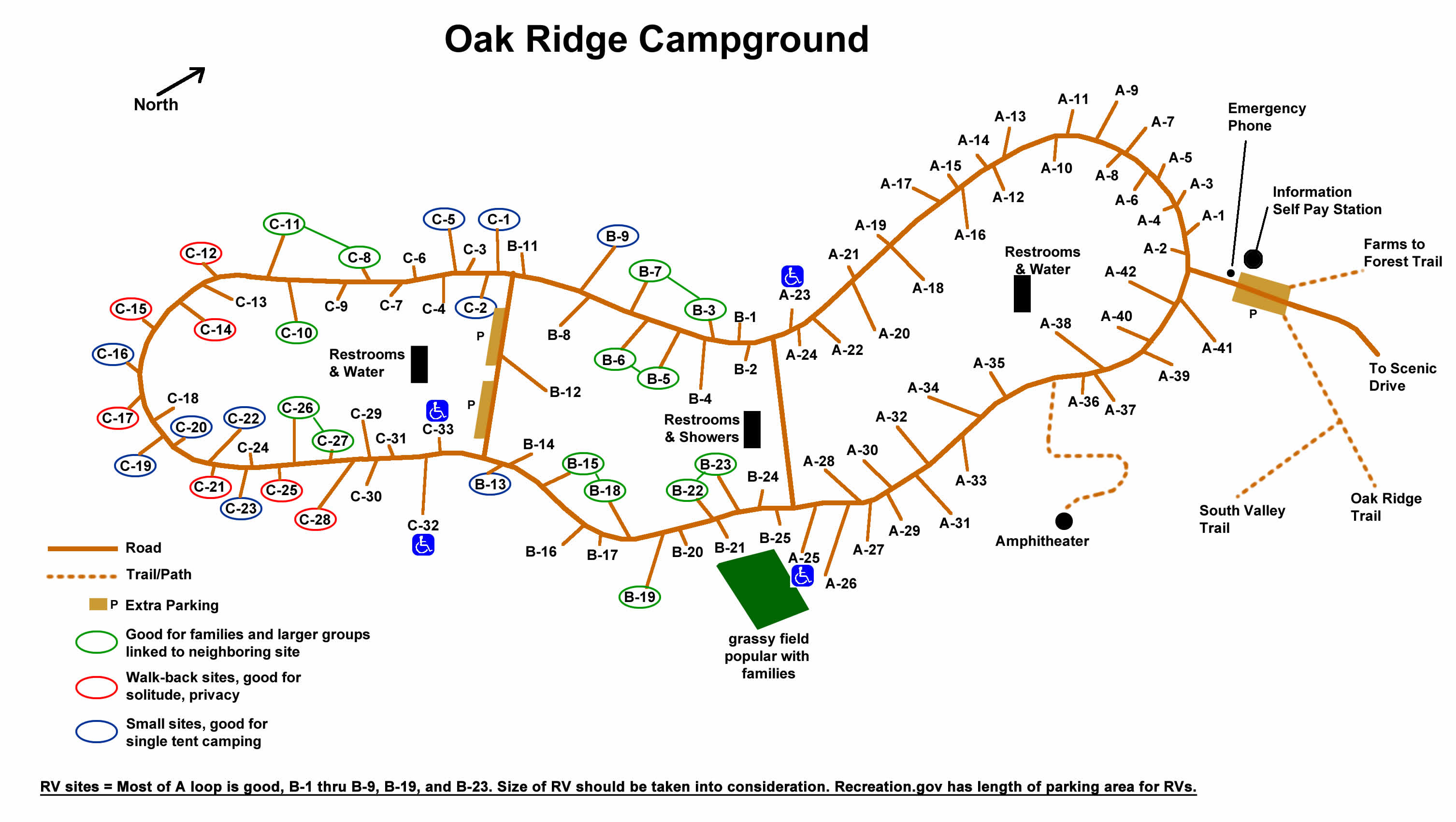 A Loop: 42 sites

Open
March - November

B Loop: 25 sites

Open
March - November

C Loop: 33 sites

Open
April - October

Tents and RVs (no hookups)

First Come, First Serve (March to end of November)

Restroom is operational from April to October. Use B-Loop restroom during other months.

xxxxxxxxxxxxxxxxxx

Tents & RVs (no hookups)

Off Season: First Come, First Serve (March to mid April and late October to end of November)
High Season: Reservations Only on

Recreation.gov

(Late April to Mid October)

Restroom open when campground is operational

Tents Only (no hookups)

High Season: Reservations Only on Recr

eation.gov

(late April to mid October)



Amenities
Each site has a picnic table, parking slip, grill and lantern post. Each loop has restrooms featuring sinks and flush toilets and the "B" loop restroom has showers. Evening ranger programs and campfire talks are offered during summer weekend evenings at the centrally located amphitheater. An emergency phone is located by the registration booth. Restrooms are handicapped-accessible.
Camping limitations
Campsite capacity is a family unit or six people or less and two tents (or camping units) per site. Campers may stay no longer than a total of 14 days in a calendar year (January through December). Organized group camping is not permitted at Oak Ridge Campground. Group camping is available at Turkey Run Ridge Group campground.
RV Length Limits
Trailers and fifth wheels are limited to up to 26 feet in length and 12 feet in height and motor homes up to 32 feet in length and 12 feet in height. Check out time is 12:00 p.m. Hook-ups are not available. Full hook-ups are available at the concession-run Prince William Forest RV Campground, located three miles North on Route 234 off exit 152. For information on the Travel Trailer Village, please call 703-221-2474 or 888-737-5730.
Fees
A camping fee of $20 per night per site is collected at the visitor center or self-service registration station at the campground entrance for A loop and on Recreation.gov for B and C Loops (late April - October 31). Holders of either an Interagency Senior or Access pass are eligible for a 50% discount per campsite ($10).
Prince William Forest Park is a federal recreation area. A park entrance fee or pass is required to gain admittance into the park. This entrance fee is valid for seven consecutive days. A Prince William Forest Park annual pass is also available at a cost of $30. This pass may be purchased at the visitor center. If the visitor center is closed, feel free to include your entrance fee in your campground envelope. We also have an "After Hours" fee drop slot at the visitor center to pay your entrance fee. Entrance fees help fund park projects and upkeep of park resources.
Accessibility
Sites A23, A25, C32 and C33 are handicapped-accessible sites with wheelchair accessible picnic tables and fire grills. Please reserve these sites for visitors with disabilities unless there are no other sites available.