Office of Strategic Services (1942-45)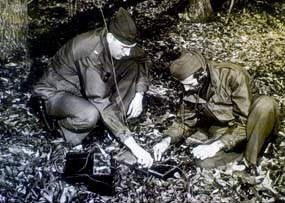 Spies in the Park
Prince William Forest Park was built as Chopawamsic Recreational Demonstration Area during the 1930s as an outdoor recreation area for urban youth. Cabins were built in its peaceful, rolling hills to shelter children during their first experiences in the great outdoors. Like so much of America, the bombing of Pearl Harbor forever transformed Chopawamsic and the people who used it. From 1942-1945, America's first centralized intelligence agency, the Office of Strategic Services (OSS), converted Chopawamsic's sleepy summer camps into secret training Areas "A" and "C". For 4 years, thousands of military men and everyday citizens came here to learn the art of spying and survival behind enemy lines. Learn more...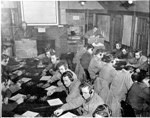 Listen to the oral histories about the OSS at Chopawamsic Recreational Demonstration Area.
Last updated: September 25, 2018