High Meadows Trail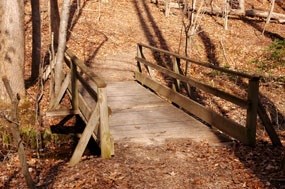 2.1 miles, 3.4 kilometers
High Meadows Trail is a moderate hike that starts on the bridge and descends to the South Fork Quantic Creek. The trail can be reached from Turkey Run Education Center. From here take either Old Black Top Road to reach the beginning of the orange blazed trail, or take Little Run Loop Trail which meets High Meadows about a quarter-mile down the trail. The trail head for Little Run Loop is located behind Turkey Run Education Center.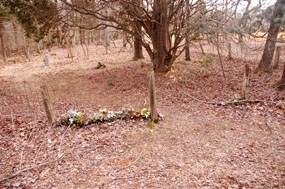 After about 20 minutes you will cross over Taylor Farm Road. To your left you will notice a clearing where the Taylor family farm was once located. Just off the trail you will see the Taylor family cemetery. This is a small 50' x 50' cemetery, enclosed by a wire fence with wood posts. An informal pathway leads to the middle of the site.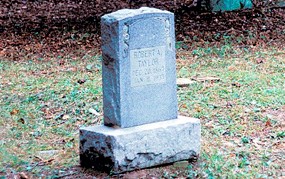 In the Taylor family cemetery there are two remaining head stones which are inscribed; they include the grave of "Robert A. Taylor" and "H.M.L."
As many as six graves were noted here at one time. Among them were Manda Taylor (August 1870 - December 4, 1900), Marie T.C. (October 1, 1841 - March 19, 1900), and an eroded, undecipherable concrete headstone. All of these are missing or have been removed by the family.
Note: It is illegal to remove, harass, mark or vandalize the resources of Prince William Forest Park, a unit of the National Park Service. Please treat these family graveyards with respect and report any violations to park rangers at the visitor center or by calling 1-866-677-6677.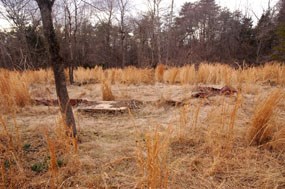 Located northwest of the cemetery you will see a large, open site containing the remains of the different Taylor farm structures. A concrete foundation with a connected concrete pad was most likely the house with adjoining porch or other addition. Nearby is the well, made of dry-laid stone with a concrete collar, and another three-sided, concrete structure may have served as a spring house.
Part of another foundation can be found about forty feet downhill. The depressions suggest a structure of about 20' x 20', but all that remains is dirt with parts of a stone wall on one side.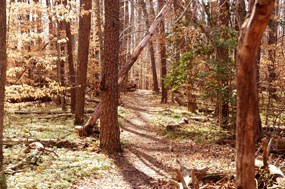 Continue down the trail for about a mile and you will come upon Scenic Drive and Parking Lot H. The trail picks up on the other side of the road and it is a little under one mile until you reach South Fork Quantico Creek. Here you will dead end into South Valley Trail.
Last updated: September 28, 2017