Laurel Loop Trail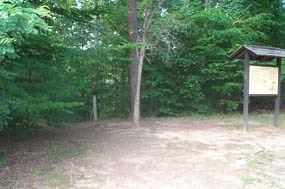 1.4 miles, 2.3 kilometers
This short loop trail is perfect for a quick trip to South Fork Quantico Creek. Laurel Loop can also be used as an access trail to Birch Bluff Trail, The Crossing Trail, South Valley Trail, and North Orenda Road.
Access the trail from the Pine Grove Picnic Area by parking near the picnic area's bathrooms. Walk behind the bathrooms and face the forest to see the trailhead.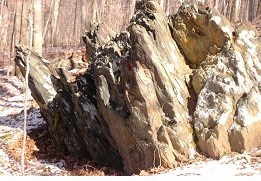 After only a short while on this trail you will see red blazes that mark the beginning of the Birch Bluff Trail. You can bear right here to join Birch Bluff Trail, which is a 1.8 mile extension that connects back up with Laurel Loop Trail. If you decide to continue on Laurel Loop, you will come upon a small rock outcropping.

After a short descent, the trail will meet up with South Fork Quantico Creek. The trail runs along the creek for about five minutes crossing over a small footbridge.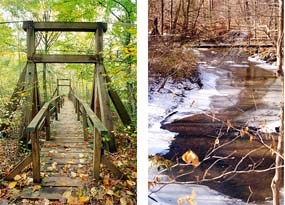 A little farther down the trail, Laurel Loop Trail begins to bear left away from the creek and back towards the visitor center.
Here a small bridge can be found that crosses the South Fork Quantico Creek and meets up with the South Valley Trail and North Orenda Road.
Last updated: September 28, 2017