Cabin Camping
Go camping in one of Prince William Forest Park's historic cabins!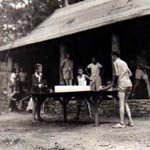 What makes the cabin camps historic?
Four of the five cabin camps in Prince William Forest Park are listed on the National Register of Hisoric Places. Each camp is composed of group of wood, stone, and brick structures constructed by the Civilian Conservation Corps and Works Progress Administration workers of the Great Depression. The camps were built as summer camps that the government hoped would instill the poor children of Washington, DC with the 'character and health-building' benefits of the great outdoors. In World War II, the camps were used by the Office of Strategic Services as a spy training area.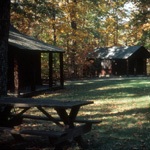 Rent a Historic Cabin
Looking for a way to camp without a tent? Does the idea of sleeping on the cold ground prevent you from camping? Our rustic cabins are the perfect solution! Complete with cots, a ceiling fan, and light bulb these wooden tents are a definite step up from camping in a tent. Cabins sleep 4, 6, or 10 people and come equipped with a picnic table and grill. Cabins are available from May-October. Application for Single Historic Cabin rental - Renting a Single Historic Cabin!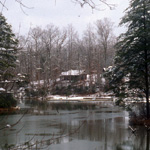 Rent a Historic Cabin Camp
Looking for a place to take your school group? How about an organizational retreat or family reunion? The 5 historic cabin camps at Prince William Forest Park offer a variety of options. These rustic camps contain sleeping cabins, mess halls with complete kitchens, craft lodges, council rings, and recreational lakes. Sleeping capacity in the camp rangers from around 70 to 200 people. Day use is also permitted.
Apply for Renting a Historic Cabin Camp!
Please note that pets are not allowed in any of the cabin camps.


Last updated: October 19, 2016