Exotic Invasive Plants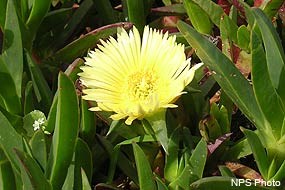 There is a silent yet sinister struggle occurring at Point Reyes National Seashore. Native habitats are being significantly altered as invasive, non-native plant species out-compete native plants. As natives are replaced by non-natives, "habitat value" (the ability for an area to support the natural variety of plant and animal species) decreases. Non-native species are one of the most serious threats to the earth's biodiversity. Second only to habitat destruction, they threaten about half of all endangered species (Wilcove 1998)! All it takes is one seemingly harmless seed to disturb natural systems that have been in place for hundreds of thousands of years.
Click on a link below to read more.
A Blight on the Land
Changing our Natural Ecosystems
Choosing our Battles
Integrated Pest Management at Point Reyes National Seashore
Be Part of the Solution
References
Last updated: February 28, 2015