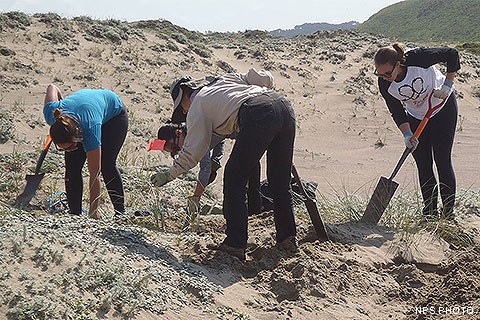 Overview
Join the original Habitat Restoration Program (HRP) at Point Reyes National Seashore to help protect and restore endangered plant and wildlife habitat at Abbotts Lagoon, the Lighthouse Bluffs, the Estero area, and other high-value habitat areas at Point Reyes National Seashore. Visit some of the most beautiful areas in the park and learn about local plant ecology while you work alongside park staff to carry out ecological restoration projects. Get involved, meet new people, and make a positive impact on your environment!
Duties
Conduct manual removal of invasive non-native plant species under supervision of park staff
Track amount of plant material removed in each workday
Use hand tools safely and responsibly, returning them to park staff at end of workday
Knowledge/Skills/Experience Desired
Ability to perform moderate physical labor, sometimes on steep, uneven terrain in windy, wet, foggy, cool, or hot conditions.
Special Requirements of the Position
Volunteers are advised to wear long pants, sturdy shoes and other seasonally appropriate clothing, as well as bring lunch and water. Gloves and tools will be provided. Weather at work sites may be considerably cooler than that at Bear Valley.
Schedule and Time Commitment
Workdays are scheduled throughout the year on either the second or last Sunday of the most months and on some third Thursdays.
For the Sunday workdays, we meet at 9 am at the Bear Valley Visitor Center and carpool to a work site elsewhere in the park, then work until about 1 pm. If you wish to participate in a Sunday workday, please confirm your attendance with Ellen Hamingson (see contact information below) before 4 pm on the Thursday immediately preceding the Sunday workday.
You are also invited to join the Marin Chapter California Native Plant Society's Third Thursday Weeders. This group meets on the third Thursday of most months. Please email Carolyn Longstreth in advance to get directions to the meeting place and other details. Plan to meet near the work site at 9:30 am and work until 1 pm, followed by lunch on-site.
For additional details about the next Sunday HRP workday or the next Third Thursday Weeders workday, visit our Calendar page and search for "Habitat Restoration."
Currently scheduled workdays for 2019 include:
Thursday, March 21, 2019
Sunday, April 14, 2019
Thursday, April 18, 2019
Sunday, May 12, 2019
Volunteers are not required to work more than one day at a time. However, volunteers are welcome to work as many of the work days as desired.
Training
Training is provided on-the-job.
Benefits to the Volunteer
Volunteers have the opportunity to work in some of the most beautiful areas in the park and learn about local plant ecology while working alongside park staff. Volunteers enjoy the satisfaction of helping to protect and restore endangered plant and wildlife habitat.
Group Type
Individuals and groups welcome. Minimum group size is 4, maximum group size is 20. If you have a group of 5 or more, please call as far in advance as possible to see whether space is still available since many sites can support only a limited number of volunteers. Many groups contact us a month or more in advance. However, do not hesitate to call as late as the Thursday preceding the Sunday workday. Program staff usually take their weekends on the Friday and Saturday preceding the Sunday workday.
Minimum Age
Minimum age is 9. Minimum age for groups of 8 or more is 16. All volunteers under 18 must have a signed parental consent form. Please contact us (see below) for more information.
Accommodations
Housing and RV sites are not available.
Application and Contact Information
Please confirm your attendance before 4 pm on the Thursday immediately preceding the Sunday workday, or apply here. (You will be directed to Volunteer.gov.)

To confirm attendance and to request more information, contact Ellen Hamingson at 415-464-5196 or by email.
Visit the Habitat Restoration Volunteer Program page for more information.