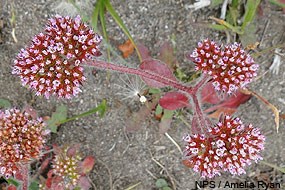 Point Reyes National Seashore has a variety of habitat types, from coastal dunes, to dense forests. The broad range of habitat types supports over 900 species of vascular plants. Of these plants, over 50 are currently listed by the Federal government, State government, or the California Native Plant Society as being rare, threatened, or endangered.
Why Are Threatened, Rare, and Endangered Plants Important?
We as humans are intricately connected to all species around us. By saving something as seemingly insignificant as a rare plant you also save other organisms that depend upon those plants. These may be insects or herbivorous animals such as rabbits, deer, or even mice that need the seeds of the flower of a particular species to live.
Did you know that a tiny plant could save your life? Plants are important sources of medicine and are potential ingredients to remedies for ailments humans may not yet have experienced. Drawing from the soil and a lush matrix of interdependence between organisms, the plant itself may someday hold the key to curing and treating future illness and disease.
Why Do We Need to Save Them?
At the cellular level...organisms need healthy "genetic stock" or diversity in genetic make-up to withstand environmental or catastrophic conditions. In other words….an organism that has many different genes as opposed to similar genes is likelier to withstand blight or a storm, disease or a drought. Having diverse genes acts as insurance against extinction and adds to an organism's resiliency. We need healthy populations, or as scientists say "viable populations", of organisms to continue to have a healthy gene pool. When populations become small, all offspring turn out to have the same genetic makeup. This makes that particular species more prone to being wiped out by factors such as blight or environmental events such as hurricanes and floods. Larger populations are healthier because of the reservoir of genes to produce healthier more resilient offspring.
What is the Park Doing to Protect Threatened, Rare, and Endangered Plants?
Rare plant populations and their protection depend on us as conservationists and land stewards to take action. Their survival becomes entrusted to our care as land use values shift and these populations suffer from grazing pressure and the competition of non-native plant species. The fragile nature and fate of these organisms rests within our willingness and capacity to locate, map, monitor and protect these plants. If you would like to help the park protect threatened, rare, and endangered plants, visit the Habitat Restoration Volunteer Program page.
Species List: Threatened, Rare, and Endangered Plants of Point Reyes National Seashore (18 KB PDF)