Non-native Species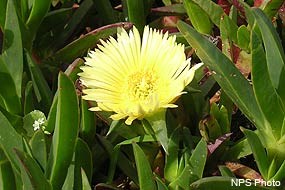 The Seashore has more than 10 nonnative species of animals such as mammals, reptiles, and marine organisms. Of the over 900 species of plants in Point Reyes National Seashore, approximately 300 are nonnative. Of those, at least 30 are invasive enough to threaten the diversity of native plant communities in the Seashore. The Seashore also supports 51 special status (rare) plant species, many of which are directly affected by invasive nonnative species. Exotic species can have severe impacts on natural plants and animals and ecosystems.
Parks like Point Reyes are specifically mandated to control exotic species "up to and including eradication" of a population if that species does not meet an identified park purpose and if such control is "prudent and feasible." Only through the removal of exotics and other changes resulting from human disturbance can the NPS return its park units to the most natural condition possible and meet its mandate to preserve them in this condition for future generations.
To learn about the nonnative deer in the park visit the Exotic Deer page.
To learn about nonnative plants in the park visit the Exotic/Invasive Plants page.
Learn more about Invasive Species in the Fall 2004 Special Issue of Park Science. (html or 4.72 MB PDF).
Please visit our Help Stop the Spread of Non-Native Species page to learn how you can help prevent the introduction and spread of non-native plants and animals.


Last updated: February 28, 2015