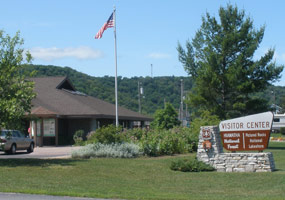 Pictured Rocks National Lakeshore & Hiawatha National Forest Interagency Visitor Center
Phone: (906) 387-3700
400 East Munising Avenue, junction of state highway M-28 and county M-28 and county road H-58 in Munising.
Open year round 9 a.m. to 4:30 p.m.
Closed Sundays and holidays from October until Memorial Day weekend.
Open daily during the summer months with extended hours, typically 9 a.m. to 5:00 p.m.
Lakeshore visitors are encouraged to stop first at the Interagency Visitor Center. Here you can obtain information on a variety of recreational opportunities within Pictured Rocks National Lakeshore, the Hiawatha National Forest, and the general area. The center also maintains schedules of interpretive activities presented by park and forest rangers.
The visitor center features attractive exhibits and a Hiawatha Interpretive Association sales area where visitors can purchase posters, clothing, and a variety of publications that will foster a greater understanding of the region.